Yale mulls paying for students' sex change operations
By Joshua Rhett Miller, ,
Published December 01, 2015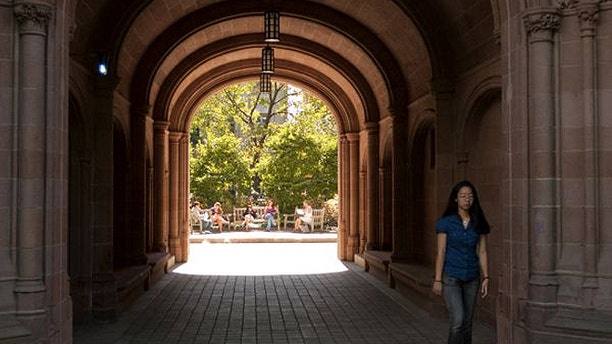 Yale is considering joining Brown, Penn, Harvard and Cornell universities by picking up the tab for Ivy League students who want sex changes.
The New Haven, Conn., school is still reviewing policies regarding the procedure for its 5,322 undergraduate students and its 6,526 graduate and professional students, but has already extended gender reassignment coverage to employees.
"The benefit is offered to faculty and staff, and is being considered for students," Yale spokeswoman Karen Peart told FoxNews.com in an email. "Cost would vary depending on treatment."
Gabriel Murchison, a member of Yale's Resource Alliance for Gender Equity (RAGE), told FoxNews.com gender reassignment surgery is just one of several areas where student health care should be on par with that offered to faculty, staff and their dependents.
"It's among a handful of health care issues that are of concern to students right now; another would be improving access to mental health and counseling services," Murchison wrote in an email Thursday.
[pullquote]
If Yale makes the change, it won't just join fellow Ivies. At least 36 colleges and universities nationwide cover sex-change surgeries in their student health plans. It's not known how many students have the surgery, which can cost $25,000 or more, but Murchison doubted that it would be enough to make much of a financial impact.
Dr. Paul Genecin, director of Yale's University Health Services, told the Yale Daily News that he has noticed "increasing interest" in offering insurance coverage for the procedure. A "small number of requests" have been received and changes to student benefits are currently "under consideration," Genecin said, adding that gender reassignment surgery coverage was not offered to students when it was extended to faculty and staff because the policies are considering separately.
Brown University made headlines earlier this month when it announced that its student health plan would include sex-change surgery beginning in August, becoming the 36th U.S. college or university to do so, according to the Transgender Law and Policy Institute.
Some 25 other colleges do not cover gender reassignment surgery but do cover related hormone therapy for students, including American University, Massachusetts Institute of Technology, The Ohio State University and Princeton University.
The American Medical Association has since 2008 classified gender identity disorder as a "serious medical condition" characterized as a persistent discomfort with one's assigned sex and with one's primary and secondary sex characteristics. Victims may suffer severe depression and may be at risk for suicide.
The trend among schools follows one in the corporate world, where  25 percent of Fortune 100 companies have insurance plans that cover sex changes, up from just 1 percent in 2004, according to the gay rights advocacy group The Human Rights Campaign.
https://www.foxnews.com/us/yale-mulls-paying-for-students-sex-change-operations