Video captures moment off-duty New York City cop shoots 'love rival' on the street
By Robert Gearty, ,
Published August 04, 2018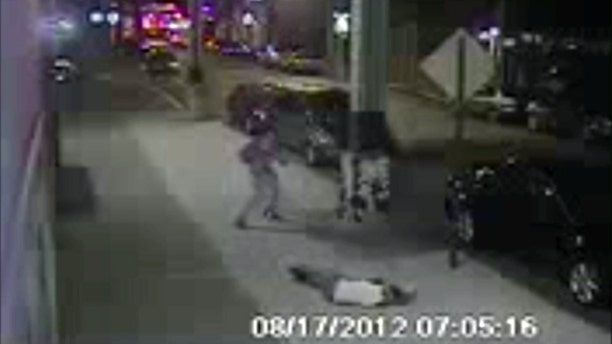 Surveillance video captured the moment an off-duty New York City police sergeant shooting and wounding a love rival on the street, the New York Post reports.
The video shows Sgt. Ritchard Blake shooting Thavone Santana in East New York, Brooklyn, Thursday, after the two men appear to argue.
Warning: graphic content. 
In the video, Blake pulls out a gun, Santana recoils and starts to turn away, then falls to the ground on his right side, the paper reported.
The clip then shows Blake pacing around Santana, before bending down to place an object next to Santana's body, according to the paper.
Blake then appears to talk into his cellphone before picking up the objectm the Post reported.
Law enforcement sources told the Post the object was a knife.
Blake reportedly told cops at the scene that Santana tried to rob him.
But the Post quoted sources as saying that the two men knew each other and were involved in an ongoing dispute over a woman, who was the mother of Blake's 10 year-old son.
Sanatana, 21, was struck in the jaw. He was expected to survive, the Post reported.
Blake, 40, was place on modified duty pending an investigation.
"The video captures actions that raise serious questions, and require further investigation," NYPD spokesman Phil Walzak told WNBC-TV after the station showed an edited version of the video in a report Friday.
https://www.foxnews.com/us/video-captures-moment-off-duty-new-york-city-cop-shoots-love-rival-on-the-street