Venezuelans living in US cast ballots in Louisiana
By ,
Published November 30, 2015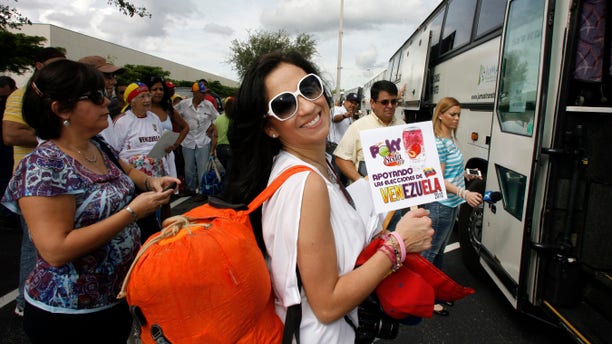 For Orlando Sequera, voting in Venezuela's presidential election Sunday meant more than simply deciding whether Hugo Chavez serves another six years in office. It could mean the difference between staying in the U.S. and returning to his homeland.
Sequera, 37, came to the U.S. for a chance to go to college in 1997. He went back to Venezuela in 2002 and returned to the U.S. in less than a year upon finding his home country in ruins, he said -- unsafe and unstable.
"This election means everything," said Sequera, who still has many relatives in Venezuela. "It means whether we become a communist country like Cuba or become more progressive with a future of opportunity and freedom for our people. It really is a struggle between good and evil."
Sequera was among thousands of U.S.-based Venezuelans who flocked to New Orleans by bus, car and airplane to vote. The election pits Chavez, who has been in office 13 years, against Henrique Capriles, a 40-year-old state governor who has pledged solutions to crime, corruption and poorly run public services.
Most Venezuelans in the U.S. are professionals or businesspeople who left their country after Chavez became president in 1999. Most Venezuelan voters in the United States live in the Miami area, and the vast majority of those are critical of the Chavez government.
Voting was held in New Orleans because the consulate in Miami was closed earlier this year after the State Department expelled consul Livia Acosta amid an investigation into recordings that seemed to implicate her in an Iranian plot for a cyber-attack against the U.S.
The closure affected nearly 20,000 Venezuelan voters living in Florida, Georgia, North Carolina and South Carolina who had registered to vote at the Miami consulate. That's only a fraction of the 18.9 million registered voters in Venezuela, but the vote is expected to be a close one.
Venezuelans around the world also came out to vote en masse: An anti-Chavez Venezuelan television station showed people traveling to a consulate in Germany to vote, and others voting in Panama.
Sequera said the closure did not deter the thousands who turned out, chanting "Venezuela" and waving their nation's flags from cars. A street party unfolded as voters left the convention center, where votes were cast because New Orleans' consulate couldn't handle the crowds. Vendors sold food and drinks to the cheering crowd.
"We're tired of the situation at home, and we've come together to make a stand for change," he said.
Cuba, an isolated nation ruled by a communist regime led by Raul Castro, who succeeded his brother Fidel, is in many ways closely tied to the election. Some Venezuelan expatriates fear their home country is going down the same path as Cuba, stifling opposition and pushing people into poverty with communist policies.
Across the Gulf of Mexico in Havana, about 400 Venezuelans were registered to vote. Many are workers for the state oil company, university students or patients from binational medical programs. And several expressed strong support for Chavez.
Dariela Ortega, 25, urged compatriots to get out and vote.
"That's the best thing they can do so our country continues to be what it is now," Ortega said. "May they vote for the best one -- and they know who the best one is."
Back in New Orleans, Alexandra Viamonte had a different message. She moved to the Florida at age 17 because she saw few opportunities for higher education in Venezuela. So she moved in with an aunt while studying English and medical technology. She married a man originally from Cuba, and together they have five children. However, most of her extended family remains in Venezuela, and she fears their fate if Chavez wins another term.
Chavez, however, underestimated the resolve of voters in the U.S.
"He thought that we wouldn't drive almost 900 miles to vote, but he was wrong," she said. "We have the opposition we needed."
https://www.foxnews.com/us/venezuelans-living-in-us-cast-ballots-in-louisiana