US invites Brazil president to reschedule visit cancelled in protest over spy program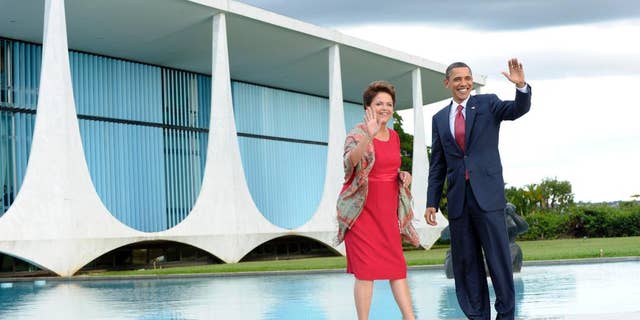 SAO PAULO – SAO PAULO- Brazilian President Dilma Rousseff's office says she has again been invited to make a state visit to Washington, two years after she declined a similar invitation to protest an American spy program.
Her office said Tuesday night that Vice President Joe Biden extended the new invitation to Rousseff during a March 13 telephone conversation offering the choice of a full state visit in 2016 or a "high-level working visit" this year.
Rousseff is to decide when she will go to Washington after meeting with President Obama during the April 10-11 Summit of the Americas in Panama.
White House National Security Council spokesman Patrick Ventrell said in an email that the visit was being rescheduled. He had no information on potential dates for the visit.
"Brazil is a major player on the world stage and high-level visits are a demonstration that we want to invest in a strong bilateral relationship," he said.
A state visit by Rousseff would be the first by a Brazilian president since Fernando Henrique Cardoso came in 1995.
Rousseff postponed the initially scheduled state visit to the U.S. in 2013 to protest an American spy program that targeted the Brazilian government and private citizens alike.
A series of reports on Brazil's Globo TV revealed that Rousseff's communications with aides were intercepted, that the NSA hacked the computer network of state-run oil company Petrobras and that the NSA scooped up data on billions of emails and telephone calls flowing through Brazil, an important hub for trans-Atlantic fiber optic cables.
_____
Darlene Superville in Washington D.C. contributed to this report.