US Deploys A-10s to Europe Amid Debate to Arm Ukraine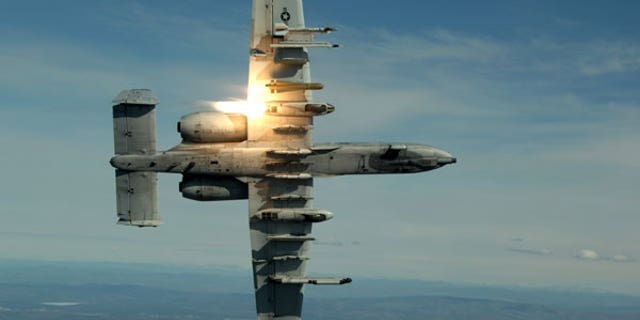 The U.S. military has deployed a dozen Cold War-era A-10 attack aircraft to Europe amid the escalating assault from pro-Russian separatists in the Ukraine, an official said.
The aircraft, known officially as the Thunderbolt II and unofficially as the Warthog, on Monday departed Davis-Monthan Air Force Base in Arizona for Spangdahlem Air Base in Germany in support of Operation Atlantic Resolve, according to Lt. Col. Christopher Karns, a spokesman for the Air Force at the Pentagon.
"While in Germany these aircraft will forward-deploy to locations in Eastern European NATO nations," he said in an e-mail. "Units will conduct training alongside our NATO allies to strengthen interoperability and to demonstrate U.S. commitment to the security and stability of Europe."
The deployment comes as President Barack Obama is weighing whether to approve the transfer of weapons in addition to non-lethal assistance to Ukraine.
The top NATO commander, Air Force Gen. Philip Breedlove, last week warned that any action the U.S. or other Western nations take "could trigger a more strident reaction from Russia," even while acknowledging that Russia continues to supply separatists on the border with heavy, state-of-the-art weapons, air defenses and fighters, according to an article by The Associated Press.
The A-10 has flown numerous missions to support U.S. and coalition ground forces in Afghanistan and, more recently, in Iraq, where American troops are helping Iraqi and Kurdish forces battle militants affiliated with the Islamic State in Iraq and Syria, or ISIS.
The low, slow-flying gunship's snub-nose packs a seven-barrel GAU-8/A Avenger Gatling gun that fires 30mm rounds designed to shred the armor on tanks, combat vehicles and other targets.
The Air Force has proposed retiring its fleet of almost 300 Warthogs by 2019 to save an estimated $4.2 billion a year and free up maintainers for the F-35 Joint Strike Fighter, a stealthy multi-role fighter jet and the Pentagon's most expensive acquisition program.
Congress rejected the service's request to begin the process of divesting the A-10 this fiscal year and approved $337 million in funding to keep them in the inventory. While lawmakers did allow the Air Force to move up to three dozen of the planes to back-up status, they blocked the service from sending any to the bone yard.
"The Air Force values the A-10 and will continue to use it while it remains in the Air Force inventory," Karns said.
Ashton Carter, the White House's nominee to replace Chuck Hagel as defense secretary, last week signaled a willingness to hear arguments from joint tactical air controllers, or JTACS, for keeping the A-10 in the force.
The U.S. has in recent months deployed both troops and equipment to Europe as part of Operation Atlantic Resolve, which is designed to reassure NATO allies of Washington's commitment to security in the region in light of Russia's intervention in Ukraine.
The White House last year began targeting Russian officials for economic sanctions in response to Russia's invasion and subsequent annexation of Ukraine's Crimea region.
American lawmakers have also questioned the Pentagon's reliance on Russian military hardware. Congress in the current fiscal year approved funding to develop a domestic alternative to the Russian RD-180 engine used to launch military and spy satellites.