Unidentified tar-like substance washes up on southern California beach
By ,
Published December 01, 2015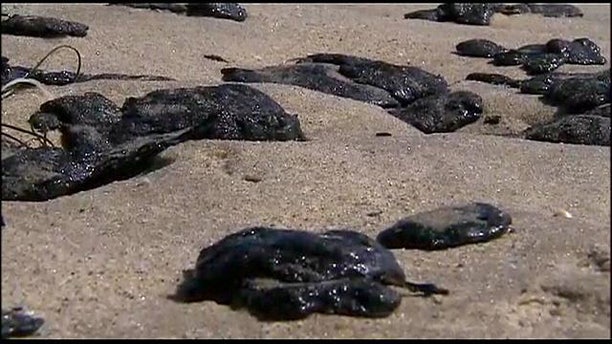 A two-mile stretch of southern California coastline was closed Wednesday after an unidentified black tar-like substance began to wash ashore.
The Los Angeles Fire Department said that lifeguards in Manhattan Beach noticed the globs of the substance, which first made landfall at 10 a.m. local time and continued for approximately two hours. The U.S. Coast Guard and other agencies collected samples of the material and were still trying to identify the substance and its source.
It was not immediately clear whether the substance was related to last week's oil spill in Santa Barbara County, when a burst pipeline dumped over 100,000 gallons of oil. However, Sarah Sikich and Jose Bacallao, scientists with the environmental group Heal the Bay, said a connection was unlikely.
They told KTTV that the substance appeared to be a combination of "large clumps of oil and tar ... The sand along the tideline is peppered with thousands of thick globs ranging in size from a baseball to a football."
Public health officials have advised residents to avoid contact with water, wet sand, or any material that washed up in the area, warning that contact with oil can cause skin irritation and result in long-term health problems. There was no indication that any wildlife had been harmed.
Click for more from MyFoxLA.com.
https://www.foxnews.com/us/unidentified-tar-like-substance-washes-up-on-southern-california-beach