UC Berkeley student group cancels 'Free Speech Week' event
By ,
Published September 23, 2017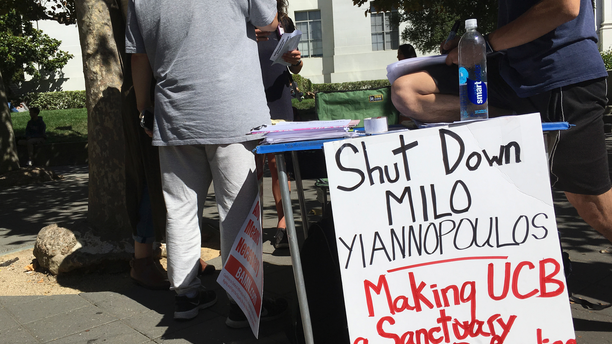 Confusion swirled over the fate of University of Berkeley's controversial "Free Speech Week" after the student group that organized it canceled the event but a featured speaker insisted it was still being held.
UC Berkeley spokesman Dan Mogulof said Saturday that the Berkeley Patriot student organization told university administrators that the four-day event scheduled to start Sunday had been canceled.
But the event's co-organizer, right-wing provocateur Milo Yiannopoulos, said in a Facebook post that while the student group may have pulled out, he and other speakers had not.
"We shall speak in Berkeley, we shall speak on the plazas and the steps. We shall defend free speech, whatever the cost may be. We shall never surrender!" Yiannopoulos wrote, adding that he was paraphrasing Winston Churchill.
The conservative student group Berkeley Patriot was dropping out for safety reasons, the Berkeleyside, a local website, reported Saturday.
"The university has made it impossible to hold the event," the group's attorney, Marguerite Melo, told the website. "A lot of these speakers have withdrawn. To have an empty gesture of 'Free Speech Week,' when there are no speakers is impossible. And the university couldn't guarantee our speakers would be safe."
"We are very disappointed," she added "We are going to cancel. We have made a determination, or our clients have, that it is just not safe. If we had had Zellerbach Hall, that would be a different story. But my clients didn't want to be responsible, even morally, if something happened."
The website reported that the group's withdrawal does not mean Yiannopoulos and the other speakers he has invited can't come to public spaces on the campus. It only means there won't be amplification provided.
"It is extremely unfortunate that this announcement was made at the last minute, even as the university was in the process of spending significant sums of money and preparing for substantial disruption of campus life in order to provide the needed security for these events," Mogulof said in a statement, according to KNTV.
Some headline speakers, including Ann Coulter, have backed away from the event or said their names were listed without their knowledge.
In an email to the Associated Press Friday, Coulter said she considered going but opted not to after she heard "the administration was dead set on blocking this event."
"I also don't think Berkeley deserves to hear a brilliant and entertaining Ann Coulter speech," Coulter added in her email.
Steve Bannon, the former chief strategist for President Donald Trump, was on Yiannopoulos' lineup of speakers, but has not said publicly if he plans to attend. It was reported Friday that Bannon would not travel to Berkeley and was focusing his energies on campaigning for Roy Moore in next week's Republican runoff for the Senate in Alabama.
A number of other listed speakers have posted comments on social media saying they don't plan to show up, either. Among them is James Damore, a former Google employee who was fired for writing a memo viewed as sexist. He tweeted that he never knew he was on the list.
Yiannopoulos' attempt to speak at Berkeley in February was shut down by masked anarchists who rioted on campus.
The Associated Press contributed to this report.
https://www.foxnews.com/us/uc-berkeley-student-group-cancels-free-speech-week-event