Two years after 'Hotshot' tragedy, Arizona to honor all fallen firefighters, medics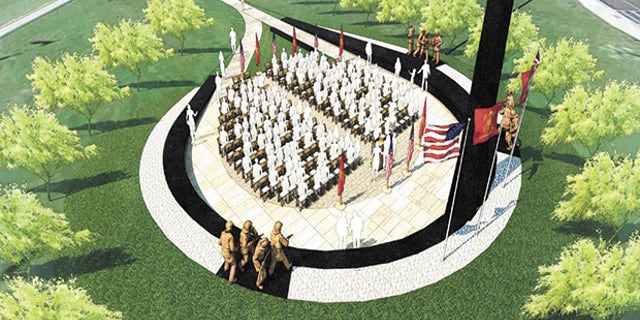 The wildfire that killed 19 members of an elite Arizona firefighting squad in 2013 was a grim reminder of the sacrifices the Grand Canyon State's bravest have made over the last century, and a new memorial begun on Friday will ensure they and 86 other firefighters and paramedics who died in Arizona fires are never forgotten.
"It means a lot for the broad community of Arizona firefighters and paramedics."
When completed in September, the Arizona Fallen Firefighter Memorial in Phoenix will feature 10 life-size bronze sculptures of male and female firefighters, paramedics and volunteer emergency responders. The memorial, paid for with nearly $1 million raised from corporate and individual donations, honors all 105 who have died fighting fires and saving lives since 1902.
"These men and women died in our cities, towns, forests and on our highways – we promise to never forget," states a passage on the memorial's website.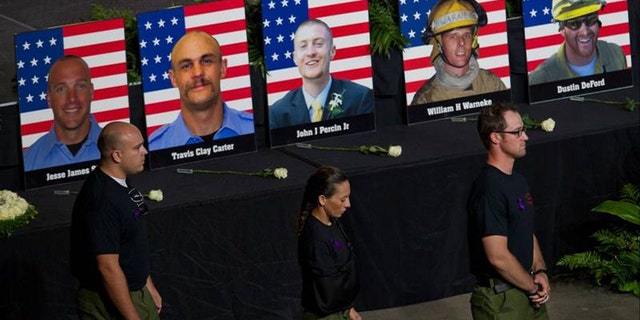 The tragic June 30, 2013 fire that decimated the city of Prescott's elite team remains fresh in the minds of state residents. In that event, all but one of the highly trained, 20-man team from the Prescott Fire Department called the Granite Mountain Hotshots were killed in the worst U.S. wildland firefighting tragedy in 80 years.
The men were battling a brush fire near Yarnell, about 80 miles northwest of Phoenix, amid a sweltering heat wave and gale-force winds when they found themselves surrounded by flames and unable to to scramble into cocoon-like personal shelters. Then-Gov. Jan Brewer called the deaths "one of our state's darkest, most devastating days" and ordered state flags flown at half staff.
"The smoke had turned and was blowing back on us," former Yarnell Fire Chief Peter Andersen, who was also fighting the fire, recalled. "It looked almost like a smoke tornado, and the winds were going every which way."
There are about 100 "Hotshot" crews in the U.S., each consisting of 20 firefighters who have been specifically trained to respond to fires in remote regions with little or no logistical support. Experts consider them the "special forces" of firefighting. Prescott has not re-established its hotshot crew.
Tim Hill, former president of Professional Firefighters of Arizona, and a member of the Arizona Fallen Firefighters & Emergency Paramedics Memorial Commission, said breaking ground on the memorial represents a hard-fought victory for first responders throughout the state. More than 40 other states have memorials specifically to honor fallen firefighters.
"It means a lot for the broad community of Arizona firefighters and paramedics," Hill said. "It means the state as an entity is going to recognize those men and women, as well as their families."
Republican Gov. Jan Brewer said in a statement: "Every day, courageous men and women charge into danger in selfless defense of people and property. The memorial that will stand at the State Capitol will commemorate the Arizona first responders who have laid down their lives in a desperate bid to save others. We're proud to honor them, their families, and all first responders who perform a difficult but necessary job to protect our communities,"
The Associated Press contributed to this report