Two Bodies Found in Black Hawk Wreckage off Florida Coast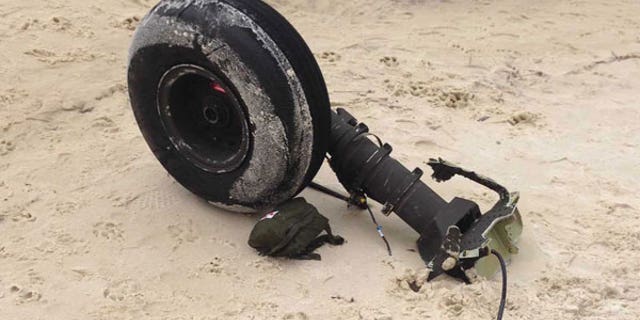 A local Fire Department diver on Thursday found the wreckage of an Army Black Hawk UH-60 helicopter that crashed into coastal waters off the Florida Panhandle, killing all seven Marines and four Louisiana Army National Guard members aboard. Two bodies have since been recovered.
Louisiana National Guard Col. Monte Cannon said that the search and rescue operation by the military and civilian agencies had switched to a recovery operation, meaning that all those aboard are presumed dead. "At this point, we are not hopeful of survivors," he said.
The military has not yet cleared release of the names of the victims of the crash Tuesday night, but several family members have identified their loved ones to local newspapers.
More human remains were found Thursday in the waters of the Santa Rosa Sound east of Pensacola, Florida, in addition to those recovered in the first phase of the search Wednesday.
"It is with a heavy heart that we announce that two of our own have perished in this tragic accident," said Maj. Gen. Glenn Curtis, adjutant general of the Louisiana Army National Guard. "We believe the other two remain with the aircraft.
"We have retrieved remains, okay, and that's all I can tell you at this point," said Mark Giuliano, chief of the Eglin Air Force Base fire department.
Giuliano said a diver with the department found wreckage of the Black Hawk about 45 feet beneath the surface of the water near the Navarre bridge. A second search with side-scan sonar showed that the utility helicopter had broken apart with "several pieces" scattered across the bottom of the sound, possibly indicating that the helicopter hit the water at a high rate of speed, he said.
Giuliano said an Army medical examiner was at the scene to help in the recovery and identification of human remains. He also said a Coast Guard salvage vessel was en route from Mobile, Alabama, to recover the helicopter wreckage.
The helicopter crashed in dense fog at about 8:30 p.m. Tuesday, and the continuing fog and poor visibility was hampering the recovery effort, Giuliano said. The recovery operation would likely be suspended Thursday night and possibly on Friday until the fog lifted, he said.
The Marines on the Black Hawk were from the Marine Special Operations Command (MARSOC) at Camp Lejeune. They were involved in the HAVEACE training exercise involving quick extractions and inserts by helicopter and small boat. The helicopter was manned by four Louisiana Army National Guard members from the 1-244th Assault Helicopter Battalion based in Hammond, Louisiana.
-- Richard Sisk can be reached at richard.sisk@military.com