Train kills 2 track workers amid San Francisco Bay strike
By ,
Published November 21, 2015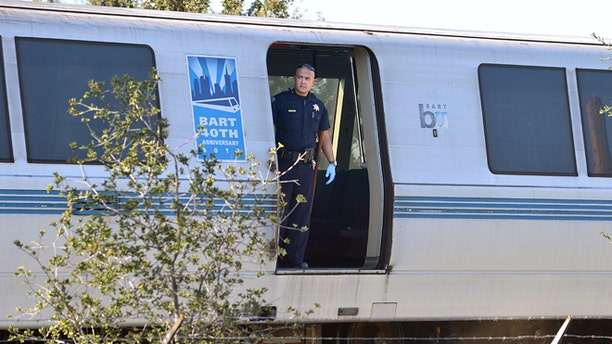 A commuter train that is part of a San Francisco Bay Area system whose employees are on strike hit and killed two maintenance workers Saturday afternoon, officials said.
The accident that killed one system employee and one contractor in the East Bay city of Walnut Creek occurred shortly before 2 p.m. as the train was on a routine maintenance run operated by a manager, Bay Area Rapid Transit officials said.
"This is a tragic day in BART's history," the system's general manager, Grace Crunican, said in a statement. "The entire BART family is grieving."
BART officials said in a statement that the manager was an "experienced operator" and the four-car train was being run in automatic mode under computer control at the time of the accident.
Officials from the two unions representing BART workers, who have been on strike since Thursday, have warned of the danger that could come with allowing managers to operate trains.
At least one of the unions, Amalgamated Transit Union 1555 announced that its 900 workers would not be picketing on Sunday out of respect for the victims and their families.
Also Saturday, ATU local president Antonette Bryant said she was taking a final contract offer from BART before members for a vote, but expects it will be rejected.
"It's our hope we can get it to members this week," Bryant told The Associated Press in a telephone interview. She said she expects the vote to be "a resounding no."
The two workers killed were performing track inspections about a mile from the Walnut Creek station in an area some 25 miles northeast of San Francisco in response to a reported dip in the track, BART said.
"Both people had extensive experience working around moving trains in both the freight train and the rapid transit industry," BART said.
The procedures for such maintenance require one employee to inspect the track and the other to serve as a lookout for oncoming traffic, BART officials said, but they did not immediately say whether that procedure was being followed.
Police placed yellow tarps over the two dead who were about 150 yards apart on the tracks.
The victim's names and ages were not immediately released.
The manager was shuttling the train cars between yards to have graffiti cleaned off them, BART Assistant General Manager Paul Oversier told the Contra Costa Times.
Before the accident, union leaders spent the day attempting to convince the riders who make 400,000 daily trips on the system that workers' demands are not unreasonable amid increasing hostility in social media and other outlets.
The ATU agreed with BART management on the economic parts of the contract, including a 12 percent pay raise that when increased pension and health insurance costs becomes nearly a 1 percent salary loss for workers, Bryant said. The two sides came to an impasse over work rules, including the length of the work day and when overtime pay kicks in, the union said.
BART spokesman Rick Rice said that the two sides remain in communication though they were not expected back at the bargaining table.
Messages left for negotiators from the Service Employees International Union, which also represents workers, were not immediately returned.
However, SEIU president Roxanne Sanchez said they were willing to sign off on pay, health care and pension issues, and send the remaining snarl -- work rules -- to an arbitrator, a proposal BART has previously refused. But BART officials later said they would be willing to send the entire contract to arbitration but not the work rules alone.
Thus, with no deal in place, residents were spending a weekend without BART service, complicating vacation plans and making it tough for fans heading to events including a music show on Treasure Island and art exhibits throughout San Francisco's Open Studios.
Six months of on-again, off-again negotiations have brought agreement on key issues such as raises, health care and pensions. But there remained a snarl late Thursday that sent workers back to picket lines for the second time since July: a package of work rules involving when schedules are posted, whether workers can file for overtime when they've been out sick, and how paychecks are delivered.
Weekend BART use is light compared with the workweek, and frustrated commuters Friday said they hoped an agreement could be quickly reached.
The Bay Area Rapid Transit system carries its ridership through tunnels under the bay and into the region's urban core of San Francisco from four surrounding counties, relieving what would otherwise be congested bridges.
In an effort to alleviate delays, many of the Bay Area's other 27 transit systems added bus, ferry and rail service Friday. Carpools and rideshare programs were also busy, and more cyclists took to the streets. Ferry operators said their ridership doubled.
But traffic was sluggish during both commutes, and lines at bridge toll plazas were backed up for miles.
Many simply avoided the hassle, telecommuting instead.
https://www.foxnews.com/us/train-kills-2-track-workers-amid-san-francisco-bay-strike