Houston veteran police officer killed, second wounded while serving narcotics warrant, chief says
William 'Bill' Jeffrey was just shy of 31 years of service, Houston police chief says
A veteran Houston police officer died from his injuries, while a second officer who was shot and wounded while serving a narcotics-related search warrant early Monday remains in surgery and is believed to be in stable condition, Houston officials said in their latest update.
William "Bill" Jeffrey, a nearly 31-year veteran of the force, was shot several times and succumbed to his injuries. Sgt. Michael Vance, who's been on the force for 20 years, was also wounded and was in surgery Monday. His condition is believed to be fairly stable. Both officers were members of the Houston Police Department. The fire department, as well as the Harris County Sheriff's Office, later responded to the scene.
MILITARY PLANE CRASHES INTO TEXAS NEIGHBORHOOD, EJECTING CREW AND DAMAGING MULTIPLE HOMES
Members assigned to the Houston police's Major Offenders Division arrived at the home located at 5350 Aeropark Drive at about 7:28 a.m. Monday to serve a narcotics-related warrant. A female answered the door and spoke with officers who asked where the suspect was, Houston Police Chief Troy Finner said at a press conference later Monday. The suspect came out and "immediately" started firing at officers – despite his girlfriend and small children being also inside the apartment. He struck Jeffrey several times. Vance was also hit, though Finner would not say where on his body.
Officers returned fire, striking the 31-year-old Black suspect, who was pronounced dead at the scene. Finner declined to release any other identifying information about the suspect at this time.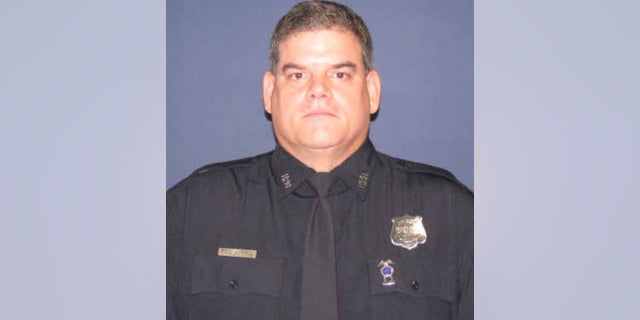 "Most of us know him personally. I've known him his entire career," Finner said of Jeffrey, asking the city of Houston for prayers. "Just as his wife said, what a great man. What a great officer. His wife just retired, building their dream home with one kid. Right now, I want to celebrate the service of him and all of our other officers around the nation and in this great city. … We are going to uphold the family number one, and we are going to uphold our city and do whatever we can in cooperation with our citizens to crush violent crime."
"This has been a tragic day today. It is another reminder that police work is inherently dangerous," Houston Mayor Sylvester Turner said. "Police officers never know what they are going to face when they leave their homes during the course of their duty. It is inherently dangerous."
Harris County Sheriff Ed Gonzalez confirmed that officers were serving a "very serious, high level, felony warrant" related to narcotics. Authorities said more information about the warrant would be released at a later time.
"Our heart breaks for our brothers and sisters with the Houston Police Department," Gonzalez added.
The update came after Houston police confirmed in a tweet that chiefs, commanders and public information officers were responding to reports about two officers shot at 5350 Aeropark Drive in Houston. Local news broadcasts showed a large law enforcement presence on the residential street.
CLICK HERE TO GET THE FOX NEWS APP
Police said the officers were being transported to Memorial Hermann Texas Medical Center. KHOU 11 reported that a Life Flight helicopter landed at the hospital carrying one of the officers shot. The second officer was transported to the hospital via ambulance, according to the station.
Jeffrey, 54, joined the police department in 1990 and was assigned to the Major Offenders Division for nearly 13 years, Houston police said. Vance, 49, joined the police force in 1998. Authorities declined to release his image, citing his undercover work.
Fox News' Louis Casiano contributed to this report.
Danielle Wallace is a Digital Reporter for Fox News and FOX Business. Follow her on Twitter at @danimwallace. If you've got a tip, you can email her at danielle.wallace@fox.com.