Texas man can be tried as adult in childhood crime, judge rules
By ,
Published December 01, 2015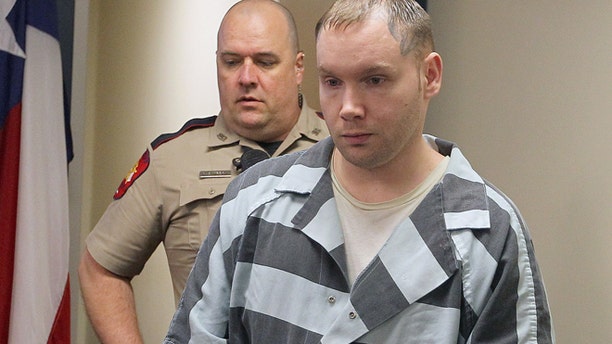 In the years that followed the 1998 attack that horribly burned her then-8-year-old son, Colleen Middleton felt fear and frustration over the possibility that the person she believed was responsible would never be taken to trial.
That fear and frustration was replaced by relief Thursday as a judge ruled that a Texas man accused of dousing the boy with gasoline and setting him on fire when he was a teenager can be tried as an adult for murder after the victim died from his burns 13 years later.
Don Willburn Collins was 13 when authorities allege he attacked Robert Middleton on his eighth birthday near the younger boy's home in Splendora, about 35 miles northeast of Houston. Middleton was burned across 99 percent of his body and endured years of physical therapy before he died in 2011 from skin cancer blamed on his burns.
Colleen Middleton said she is happy her son will finally get his day in court.
""When Robert died we were thinking maybe nothing will ever happen, maybe someone is just going to get away with what they did to him," she said. "It's been a long road."
Robert Middleton named Collins as his attacker and the older boy was arrested in 1998. Collins spent several months in juvenile detention but was released after prosecutors said they didn't have enough evidence to pursue the case.
Shortly before he died, Middleton gave a videotaped deposition in which he accused Collins for the first time of sexually assaulting him two weeks before the attack. The sexual assault allegation prompted investigators to reopen the case. Prosecutors charged the now 28-year-old Collins with murder last year, but they needed to move the case from juvenile to adult court to take him to trial.
After a three-day hearing on the issue this week, state District Judge Kathleen Hamilton ruled that Collins could be tried for murder by an adult court.
"Because the state did not have probable cause to proceed in juvenile court and new evidence has been found since the 18th birthday of (Collins), I have further determined there is probable cause to believe that (Collins) committed the offense alleged," Hamilton said.
Several witnesses testified at the hearing that Collins had confessed to them or others that he was responsible for the attack on Middleton. Part of Middleton's taped deposition also was shown.
Collins was convicted in a separate case of sexually assaulting another 8-year-old boy. Now an adult, the victim testified this week that Collins had threatened to burn him if he told anybody what happened.
Collins' attorney, E. Tay Bond, questioned the reliability of Middleton's statements, as well as secondhand statements from other witnesses.
"There is no physical evidence that links Don Collins to this case," Bond said. "There are no eyewitnesses."
Bond also argued that the case should not be transferred to adult court because in 1998, a juvenile had to be at least 14 years old for a capital felony offense case to be transferred. The law was changed in 1999 to lower that age to 10.
Prosecutors said the murder didn't take place until 2011, well after the law was changed.
Once the trial concludes, Collins could appeal Hamilton's ruling and any conviction in Middleton's death.
Montgomery County Attorney J.D. Lambright called the ruling a "tremendous victory" for the Middleton family. He said the prosecution will now be turned over to the county district attorney's office, which will work to indict Collins. Lambright's office is responsible for matters involving juveniles.
Prosecutors said they believe their work to transfer a case under these circumstance is a first for Texas. Legal experts say they have not heard of a similar case before.
Some legal experts say prosecutors will have difficulty convicting Collins of murder and preventing the decision to transfer the case to adult court from being overturned on appeal.
Grant Scheiner, a Houston criminal defense attorney not involved in the case, said the biggest hurdle for prosecutors will be linking Middleton's death in 2011 from cancer to the attack in 1998.
"I think (prosecutors) are going to face an uphill battle here," Scheiner said.
Collins, who is being held on a $1 million bond, will remain jailed.  He also faces a charge in neighboring San Jacinto County of failing to register as a sex offender.
https://www.foxnews.com/us/texas-man-can-be-tried-as-adult-in-childhood-crime-judge-rules