Supporters of Missouri inmate say he shouldn't be executed for 1998 killing over child support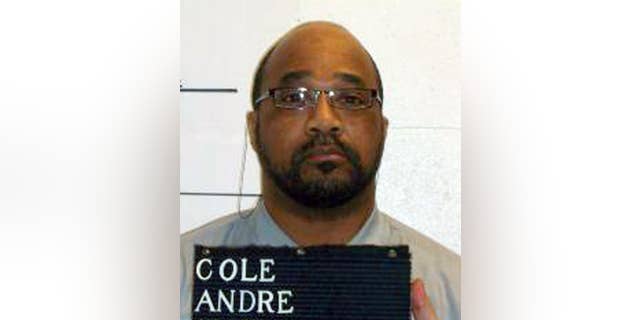 ST. LOUIS – The brother of a Missouri inmate facing execution says the killing that landed his sibling on death row was out of character, a sudden act of passion that doesn't merit a lethal injection as punishment.
Andre Cole, who is scheduled to die Tuesday for fatally stabbing a man in 1998 in a fit of anger over having to pay child support, would be the third Missouri inmate executed this year.
"It was a one-time thing," said Cole's brother, DeAngelo Cole, 38, of Las Vegas. "He didn't have a history of that kind of behavior."
Three appeals are pending before the U.S. Supreme Court, including one that claims executing the 52-year-old Cole would be unconstitutional because he is mentally ill. Meanwhile, members of a coalition that includes Missourians for Alternatives to the Death Penalty, the NAACP, the American Civil Liberties Union and other organizations on Monday urged Gov. Jay Nixon to halt the execution and appoint a board of inquiry to examine concerns that there is racial bias in Missouri's jury selection process. Cole, who is black, was convicted and sentenced by an all-white jury.
"The criminal justice system in this country is unfair," said Jeffrey Mittman, executive director of the ACLU office in St. Louis. "It targets persons of color. It treats the African-American community differently."
A spokesman for Nixon said Monday that the clemency petition was under review.
Cole and his wife, Terri, divorced in 1995. The couple had two children and fought about visitation. Evidence showed that Andre Cole was upset that his wages were being garnished to pay $3,000 in unpaid child support.
The first deduction appeared on his Aug. 21, 1998, paycheck. Hours later, Cole forced his way into his ex-wife's St. Louis County home and was confronted by Anthony Curtis, who was visiting. Andre Cole stabbed Curtis and Terri Cole repeatedly. Curtis died, while Terri Cole survived.
Andre Cole fled the state but surrendered 33 days later. He claimed at trial that he did not bring a weapon into Terri Cole's house and that Curtis initiated the attack with a knife.
St. Louis County prosecutors removed three black potential jurors from the pool of candidates, Cole's supporters said. Mittman said one black man was removed because he was divorced, but a white juror was not removed even though he was paying child support — the alleged source of Cole's anger.
Another supporter, Jamala Rogers, said the racial unrest in the St. Louis County community of Ferguson after last summer's fatal police shooting of Michael Brown as well as the scathing Department of Justice report about Ferguson should send a signal that poor treatment of blacks, including those in the criminal justice system, will no longer be tolerated.
"All the scabs have been taken off. Ferguson did that," Rogers said. "For us to keep going with blinders on, it's not going to be healthy for us as a nation."
Cole's attorney, Joseph Luby, said Cole suffers from severe psychosis.
"He hears voices over the TV, over the prison intercom, everywhere," Luby said. "He believes that Gov. Nixon, St. Louis County prosecutor Bob McCulloch and others are giving him messages about his case."
The same point was raised before the Missouri Supreme Court, which ruled last week that Cole was competent for execution.
A spokesman for McCulloch did not respond to a message seeking comment.
Luby said concerns that blacks are being unfairly removed from St. Louis County jury pools goes beyond Cole's case.
"There have been quite a number of St. Louis County cases where we see African-American men sentenced to death by all-white juries, and it's just not the kind of thing that can be explained by randomness or chance," Luby said. "There's just been a repeated pattern."