Soldiers and Families Push Back against Army Drawdown at Town Halls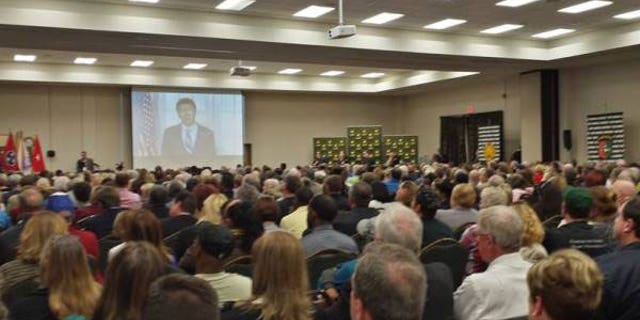 Governors and community leaders nationwide have been lining up to voice their opposition to the Army's planned drawdown due to budget cuts.
On Tuesday night, Maj. Gen. Gary Volesky, the commander of the 101st Airborne Division, who is leading the fight against Ebola in Liberia, phoned in to an Army "listening session" before overflow crowds at Fort Campbell, Kentucky.
Volesky urged speakers to "leave nothing in your rucksacks" in defending the base, the Leaf-Chronicle of Clarksville, Tennessee, reported.
Lt. Gov. Crit Luallen, D-Kentucky, and Gov. Bill Haslam, R-Tennessee, also spoke against projections that would cut about 16,000 soldiers and civilians through 2021 at Fort Campbell.
"Fort Campbell should not be considered for any more cuts, but should be maximized as the premier power projection platform in the Department of Defense," Luallen said.
"We've got the facts, we've got the statistics, we understand what is here at this installation. We want to hear Fort Campbell's story," said Brig. Gen. Roger Cloutier, the Army's director of Force Management.
The Army began holding the base listening sessions on force reductions in late November and planned to conduct 30 through March at bases nationwide.
The tenth session was held Wednesday at Joint Base Lewis-McChord in Washington, where the Army is considering cutting 8,000 soldier and civilian positions, resulting in the potential loss of an estimated 17,000 jobs in the surrounding community.
In a statement, the Army said that the listening sessions were "designed to enable community leaders to provide their concerns and unique perspectives on topics regarding their communities for additional force reductions anticipated to take place between 2016 and 2020."
Army active-duty troop strength currently is at about 510,000 and was scheduled to go down to 490,000 under sequestration. Army Chief of Staff Gen. Ray Odierno and others have warned that the number could go as low as 450,000 or even 420,000 unless Congress provides relief from sequestration.
"At this point, the Army has not made final decisions on the specifics for re-alignments resulting from force reductions below 490,000," the Army statement said.
To enhance prospects for sparing bases in their states, some governors have been making pre-emptive moves to improve amenities at their bases.
In his state-of-the-state address Wednesday, Gov. Andrew Cuomo, D-New York, announced $1 million in improvements for Fort Drum, home to the 10th Mountain Division in northern New York near Watertown.
Cuomo said the $1 million was "one of several key efforts to maintain the facility as an active army installation and vibrant part of the North Country economy."
Last year, Cuomo made the case for sparing Fort Drum in a letter to Odierno and Army Secretary John McHugh, a former Republican representative from New York whose district included Fort Drum.
Troop reductions at Fort Drum would "devastate Northern New York's regional economy," Cuomo said in the letter.
The sequester cuts for the military were eased in 2015 budgets, but are slated to resume in 2016 unless Congress acts.
President Obama was expected to call for lifting sequestration in his 2016 budget proposal in early February. Sen. John McCain, R-Arizona, the new chairman of the Senate Armed Services Committee, and Rep. Mac Thornberry, the new chairman of the House Armed Services Committee, have also called for ending sequestration.
"Clearly, there has to be relief," Thornberry said Tuesday of sequestration, but "I don't know that anybody has a magic formula to do that."
Notably, President Obama didn't use the word "sequestration" once in his State of the Union address on Tuesday night.
-- Richard Sisk can be reached at Richard.Sisk@military.com.