School District Looks for Court to Order Striking Teachers Back to Work
By ,
Published November 28, 2015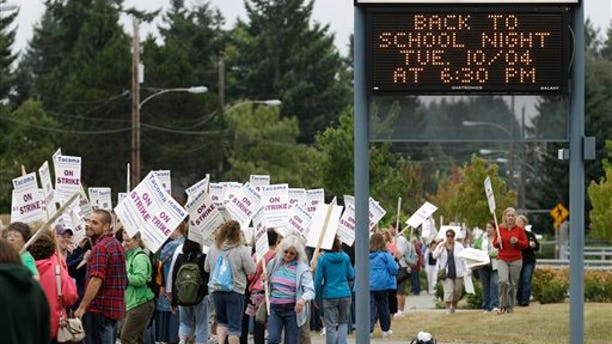 Thousands of students in Washington state's third-largest school district will be spending a second day out of class as school officials seek a court order to force hundreds of striking teachers back to work.
A Superior Court hearing has been scheduled at 9 a.m. Wednesday on the Tacoma School District's request for an injunction to order nearly 1,900 teachers back to work. The district's lawyers contend that public employees cannot legally strike under state law. Tacoma Education Association spokesman Rich Wood said union lawyers will be ready with a response.
The district has canceled Wednesday classes for Tacoma's 28,000 students. In Washington state, only the Seattle and Spokane school districts are larger.
Teachers hit the picket lines Tuesday after voting overwhelmingly Monday night to strike over issues that include teacher pay, class size and the way the district's teachers are transferred and reassigned. Tacoma teachers had been working without a contract since school started Sept. 1.
Both the Washington attorney general and state judges have ruled that state public employees do not have the right to strike.
The News Tribune newspaper reported (http://bit.ly/puJUa6) that the walkout is the first public school teachers strike in Tacoma in 33 years, since 1978.
District lawyer Shannon McMinimee said school officials hoped for a decision from the judge Wednesday.
"The district is doing everything it can to get its staff back to work," McMinimee told the newspaper outside court Tuesday afternoon. The teachers "are engaging in an illegal strike. From what I understand, the teaching union has refused to negotiate since Saturday. Letting that go on longer is not going to do anyone any good."
Union spokesman Wood called the district's move to court "extremely disappointing."
"We think it's a shame the Tacoma Public Schools administration and the Tacoma School Board would rather drag their teachers to court than negotiate a fair contract settlement," he said, adding, "Tacoma teachers care about their students, and they will decide when to end this strike."
Eighty-seven percent of the Tacoma Education Association's total membership voted to walk out, after weekend contract negotiations failed to result in an agreement.
"It's my 39th year of teaching. I've never struck before," fourth grade teacher Robert Brown, 60, said shortly after helping assemble signs at Wilson High School. "I'd rather be in school, I'd rather not have adversarial relationships. The principal at my school is just wonderful. My relationship with him is great. It's very negative from the central office."
Brown said he voted to strike because of the district's attempts to move teachers around the district despite seniority, saying, "in the view of this 60-year-old, it's age discrimination."
A strike vote at the end of August failed by about 28 votes. Union bylaws require approval by 80 percent of the nearly 1,900 members to authorize a strike.
A 2006 state attorney general's opinion said state and local public employees, including teachers, have no legally protected right to strike. That opinion also noted state law lacks specific penalties for striking public employees.
During several past teacher strikes, Washington school districts have gone to court and judges have ordered teachers back to work.
Tacoma teachers earned an average salary of $63,793 during the last school year, according to the district. They are the best-paid teachers in Pierce County and about the fifth-highest paid among the state's largest districts, behind teachers in Everett, Northshore, Seattle and Bellevue, according to state data.
The Legislature included in its state budget a 1.9 percent cut in teacher pay but left it up to school districts to figure out how to save that money. Some districts have made cuts elsewhere, some have cut teacher pay, and others have worked out compromises with their local teachers union.
The News Tribune reports that on the issue of pay, the district said Sunday it has offered teachers two options.
They could maintain the current pay schedule and sacrifice pay for one personal day, one individual optional training day and one schoolwide training day. Or they could accept an effective 1.35 percent cut in the salary schedule. In exchange, teachers would be allowed to schedule 2.5 furlough days.
The district said it has also offered to keep class size maximums at the current level. The union wants to decrease class sizes, but the district says subtracting one child per class could cost the district about $1.8 million a year.
Extracurricular athletic activities will continue as planned, even with the teachers striking, the News Tribune reported.
https://www.foxnews.com/us/school-district-looks-for-court-to-order-striking-teachers-back-to-work