S.C. Mom Confessed to Killing Children Before Sinking Car in River, Authorities Say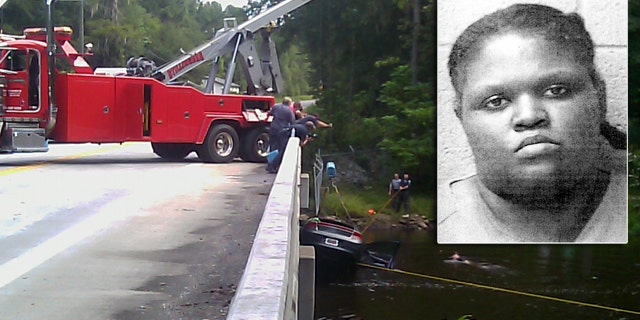 The mother of two dead toddlers confessed to suffocating the children before strapping them into her car and driving her vehicle into a river, South Carolina authorities say.
Orangeburg County Sheriff Larry Williams told reporters Tuesday that 29-year-old Shaquan Duley has been charged with two counts of murder after her sons' bodies were pulled from the Edisto River on Monday.
Williams said Duley told police she was distraught after a dispute with her own mother and killed her children by putting her hand over their mouths.
"The children were dead when they were placed into the water," Williams said, adding that there were many inconsistencies in the mother's initial account that she'd been in an accident. Duley originally told police her two young sons were trapped in her submerged car after it plunged into the river.
"There was no evidence to be discovered of any accident of any type," he said.
Williams added that Duley, an unemployed mother of three, "just wanted to just get rid of the children" because she did not have the financial means to support them.
"This was a young lady that was in trouble, in trouble in more ways than she realized," he said. "She was in trouble and she didn't know where to turn."
He added that the responsibilities of being a mother were too much for Duley, who showed no signs of remorse during an overnight interview with authorities.
Two-year-old Devean C. Duley and 18-month-old Ja'van T. Duley were dead in their child seats by the time divers got to the car Monday near a rural boat landing on the North Edisto River in Orangeburg, some 35 miles south of Columbia, the state capital.
The Highway Patrol was notified around 6:15 a.m. that a woman needed help getting her children out of a car. Duley, who did not have a cell phone, had walked some distance down the country road by the boat landing and flagged down a passing motorist to call the Highway Patrol.
Williams said investigators thoroughly investigated how a traffic accident could have happened at the boat ramp, about 20 yards upstream from a main road that crosses the North Edisto River in Orangeburg, some 35 miles south of Columbia, the state capital.
A woman who watched divers pull the toddlers' limp bodies out of the car near her home said she couldn't understand why the boys' mother didn't bang on her door for help. Ramona Milhouse, whose side porch door is steps from the river, said at first Monday she thought the boys were unconscious, until she realized their bodies were being taken to the ambulance with no attempt to revive them.
"It sounds fishy to me," the 81-year-old Milhouse said. "If that was an accident, that woman would've been over here screamin' and hollerin' and really raising the devil."
Milhouse said when she and her husband woke up and looked outside, rescue workers were already at the car, and she could see the head of one boy above the water. The car had to come from the boat landing, on the other side of a concrete bridge adjoining her property, and down the slow-moving river, said Milhouse, who's lived full-time at the riverside home for about 35 years.
"It's real low," she said, so it could have taken awhile.
The car windows were up, and she heard rescuers say the ignition was on. She watched as the car was pulled down the middle of the river and hauled onto the bridge with a crane.
Besides the Milhouses, a mobile home and a mechanic's shop are also nearby.
Local residents said they, too, were suspicious.
Shakeyia Baxter said the main road was heavily traveled in the mornings and would have been especially busy on Monday -- the first day of school. Baxter stopped by the boat ramp, which is littered with empty beer cases and discarded soda bottles, on her way home from work to tuck silk flowers into a sign that warns of high levels of mercury in the fish. Lily pads dotted the dingy water by the ramp, and mosquitoes swarmed.
"My heart goes out to them," said Baxter, a 30-year-old mother of two. "I would have been doing everything I could to get those kids out of that car seat."
Duley is set to be arraigned later Wednesday.
The Associated Press contributed to this report