Restaurant halts golf game after official complains golf balls littering Alaska river
By ,
Published July 26, 2016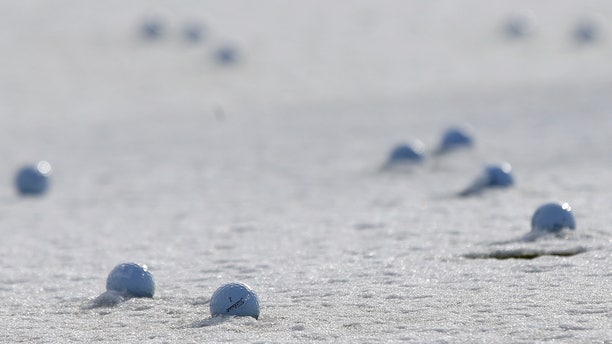 A complaint has driven a Fairbanks hotel and restaurant to stop offering patrons the opportunity to smack golf balls across the Chena River.
Pike's Landing suspended the long-running game after a complaint that most golf balls fell short of the "green" about 100 yards away on the far side of the Chena, entered the water and washed downstream, possibly endangering wildlife.
Mike Solter, a water rules compliance manager for the Alaska Department of Environmental Conservation, confirmed Monday that Pike's Landing had suspended the game but is looking for a way to resume it.
"This is something that, as I understand it, is important to them and they would like to continue it," Solter said. "We want to work with them to see if there's a way we can make that happen."
Pike's Landing is owned by former state Rep. Jay Ramras. Messages seeking comment were not immediately returned.
The game was stopped after a complaint by Anchorage environmental activist Rick Steiner, a former University of Alaska Fairbanks professor, who stopped at the restaurant on the way back from a trip to the upper Noatak River in the Gates of the Arctic National Park. Steiner in an email said Alaska's rivers are "sacred shrines" that should be respected and protected.
"Disposing of golf balls in them does the opposite," he said.
Steiner asked the DEC to investigate what appeared to be a clear violation of state and federal water pollution regulations -- intentionally discarding plastics into a salmon stream.
"Golf balls are a prominent component of plastic marine debris in the global ocean, and they are often mistaken as prey items by seabirds and other marine animals," he said.
They easily flow downstream, he said, and at the rate of 1 mph, could reach the Bering Sea in one to two months. Scores of golf balls have been found in in dead albatross stomachs on coral atolls in the central Pacific, Steiner said, and in the stomachs of dead whales.
Golfers at Pike's Landing aim for a green under a sign that says, "Love Alaska." Solter said it was his understanding that the game has been going on for years. Solter said he could not outline the specific hazards of golf balls in rivers.
"I would agree that it's something that doesn't belong in the river," he said.
Pike's Landing could look into biodegradable balls, Solter said, an alternative that Steiner finds unacceptable.
"They would contribute organic matter to the river system as salmon are migrating and spawning," he said.
Steiner recommended Pike's Landing pay reasonable restitution for decades of plastic pollution in the form of a contribution to the Gulf of Alaska Keeper, a group dedicated to removing marine debris. Solter said the DEC is not close to considering any sort of penalty.
The game is not the only golf institution Steiner is targeting. He has asked DEC to investigate the Bering Sea Ice Golf Classic in Nome, a tournament played on sea ice about the same time mushers head to the coast city in the Iditarod Trail Sled Dog Race. Steiner cited a news article noting how many golf balls are lost in snow on top of sea ice.
"If indeed the Nome golf contest is using real, plastic polymer golf balls as was Pike's, it needs to be suspended as well, as it is also clearly illegal," he said.
https://www.foxnews.com/us/restaurant-halts-golf-game-after-official-complains-golf-balls-littering-alaska-river