Relatives believe family was in Annapolis mansion during fire, official says
A fire official says the relatives of six family members unaccounted for after a massive fire gutted a waterfront mansion believe they were inside at the time of the blaze.
Anne Arundel County Fire Capt. Russ Davies said Tuesday that the charred mansion is the primary focus of the search for the six missing family members. Davis has declined to identify them. On Tuesday, he wouldn't give further details about what their relatives said or why they believe the family was inside the mansion.
Federal investigators are traveling to the scene from across the country. Davies says a search will begin when crews stabilize the structure and pump out tens of thousands of gallons of water from the basement — likely Wednesday.
Some neighbors had said the owners of the seven-bedroom house were supposed to head out of town Tuesday, MyFoxDC.com reported.
Neighbors say some of those who are missing could be children, as the couple who lives in the house was due to leave Monday on a trip with some of their grandchildren. The husband and wife, Don and Sandy Pyle, are still missing. Pyle, 55, is the COO of Virginia-based IT firm Science Logic.
The blaze reduced the multimillion-dollar mansion near Maryland's capital to a scorched stone framework Monday.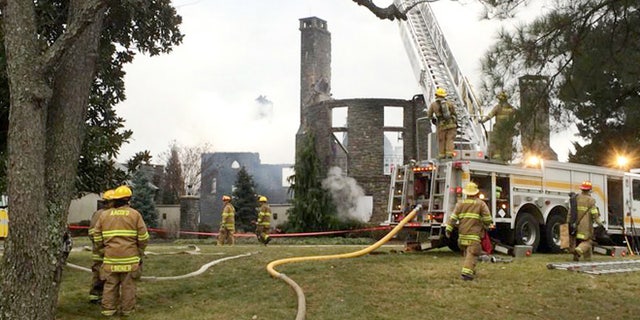 The Pyles built the home in the early 2000s.
Much of the house collapsed, and given the size of the structure, the ATF was brought in to help with the investigation. The ATF's specialized team arrives Tuesday, and they will begin searching for remains on Wednesday morning.
There are no initial signs of arson or anything suspicious.
The Associated Press contributed to this report