Rainbow-flag burning priest removed from Chicago parish
By Hollie McKay, ,
Published September 23, 2018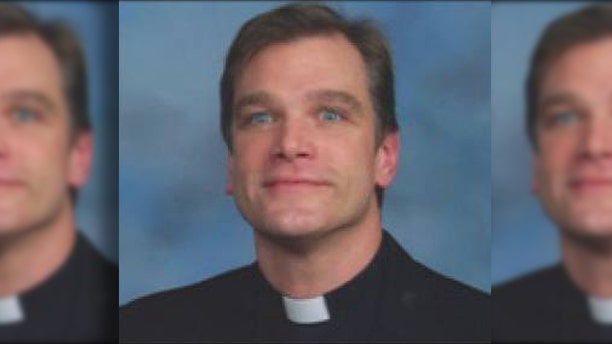 A Chicago priest who defied orders and went ahead in burning a rainbow flag – commonly known as the flag for LGBT pride – has been removed from his parish in the city's Avondale neighborhood.
Cardinal Blase Cupich had cautioned Father Paul Kalchik of the Resurrection Parish not to burn the flag, but he reportedly went ahead with it and recited a prayer of exorcism before fleeing.
The Archdiocese released a letter saying that "Father Kalchik needs to take time away from the parish to receive pastoral support," amid a swirl of allegations that Cupich had threatened – through his vicars – for Kalchik to be forcibly committed to St. Luke's Institute for further evaluation and treatment.
FORMER VATICAN DIPLOMAT CALLS FOR POPE FRANCIS TO RESIGN, CLAIMS HE IGNORED SEX ABUSE ALLEGATIONS
Kalchik first announced the flag would be burned in a church bulletin in early September, and was promptly warned by the Archdiocese of Chicago not to move forward with such an act. However, Kalchik did go ahead – later telling a local NBC reporter that the did so "in a quiet way" and that the flag, which also had a cross adorned over it, "was cut into seven pieces, so it was burned over stages in the same fire pit that we used for the Easter vigil Mass."
News quickly spread about the burning, drawing the ire of LGBTQ activists who protested outside the Avondale Church last week, calling what happened a "hate crime and simple."
WITH WORLD'S ATTENTION ON ROHINGYA MUSLIMS, CHRISTIANS IN BURMA ALSO FACE BRUTAL PERSECUTION
The rainbow flag, set alight by parishioners earlier this month, once hung in the back of the sanctuary. Kalchik had reportedly spoken out in recent months, and even written to Pope Francis, about his own trauma as a victim of a predatory Roman Catholic priest.
https://www.foxnews.com/us/rainbow-flag-burning-priest-removed-from-chicago-parish