Pro-life group offers $25,000 rewards to abortion abuse 'whistleblowers'
By ,
Published November 30, 2015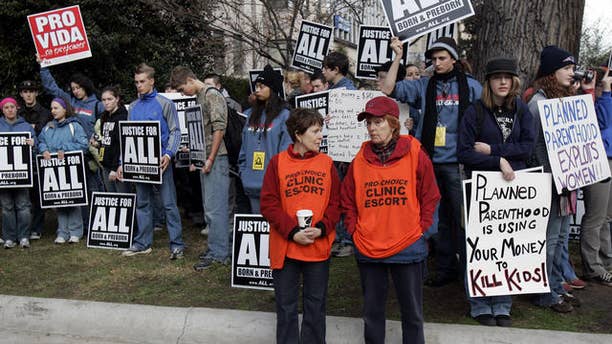 A well-known pro-life group is trying to get abortion clinic workers to turn on their employers, offering $25,000 checks to "whistleblowers" who come forward with evidence of criminal activity.
Kansas-based Operation Rescue is flooding the mailboxes of abortion practices around the country, hoping a generous cash offer will compel employees to report crimes at their clinic – ranging from botched operations and sex abuse to billing fraud and tax evasion.
Informants may qualify for the reward if the information they provide leads to the arrest and conviction of abortionists who are violating the law.
The latest round of mail appeals has so far netted "about a half dozen" credible informants around the country, the group's president, Troy Newman, told FoxNews.com.
Newman said he is actively working with prosecutors to bring charges against at least four lucrative clinics – from California to New York City – based on the confidential information he has received.
"Just about every law that is out there to protect women going into abortion clinics is being violated by abortionists," Newman said. "It's interesting the feedback we get."
Newman said his group sends the appeals directly to the 660 abortion clinics he claims are currently operating in the U.S., hoping that whoever collects the mail might feel compelled to report illegal activity by phone or email.
"They come in all different shapes and sizes," Newman said of his informants. "Most of them are pro-choice but they see the abuses that are going on. A $25,000 reward certainly pushes them to think about turning their bosses or co-workers in."
Newman cited a case in Massachusetts in which his group awarded a $25,000 check to Kim Nichols, who worked at a Hyannis abortion clinic run by Rapin Osathanondh.
Osathanondh was convicted in 2010 of involuntary manslaughter in the death of 22-year-old Laura Hope Smith, whom he had performed an abortion on.
Smith was 13 weeks pregnant when she visited Osathanondh's Women's Health Center on Cape Cod in 2007. Prosecutors claimed Osathanondh did not monitor Smith while she was anesthetized and failed to promptly call 911 when her heart stopped.
Information provided by Nichols on the woman's death and cover-up led to the arrest, conviction, and incarceration of Osathanondh, who served prison time and was stripped of his medical license.
But some pro-choice groups, like the Center for Reproductive Rights, call the mail campaign by Operation Rescue a "thinly-veiled attempt to harass abortion clinics" by forcing them to spend money defending themselves.
"There's no reason to think that abortion clinics are different than any other health care providers in this country," Janet Crepps, deputy director of the group's U.S. legal program, told FoxNews.com. "Even if it doesn't lead to any kind of arrests and convictions, that doesn't mean it's not going to be potentially very odious to abortion clinics."
https://www.foxnews.com/us/pro-life-group-offers-25000-rewards-to-abortion-abuse-whistleblowers