Police Say Calif. Woman Cut Off Husband's Penis
By ,
Published November 30, 2015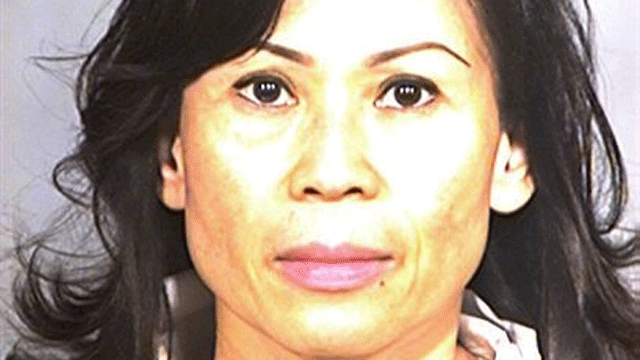 A Southern California woman remained jailed Wednesday after authorities said she drugged her estranged husband, tied him to a bed, cut off his penis and put it through a garbage disposal.
Suspect Catherine Kieu Becker spiked a meal and served it to the victim shortly before the attack Monday night, Garden Grove police Lt. Jeff Nightengale said.
The 60-year-old man felt sick, went to lie down and lost consciousness.
Becker, 48, then tied his arms and legs to the bed with rope, removed his clothes and attacked him with a 10-inch kitchen knife as he awoke, police said.
"He was conscious when his penis was removed," Nightengale said, alleging Becker then put it in the garbage disposal and turned it on.
The victim's name was not released by police.
The lieutenant said Becker called police to report a medical emergency and told arriving officers "he deserved it" before pointing to the room where the victim was found bleeding profusely.
The couple was married in December 2009, and the victim filed for divorce in May citing irreconcilable differences, court records show.
Prosecutors said Becker argued with the victim before the attack about friends staying at their home.
Becker was charged with one felony count of torture, one felony count of aggravated mayhem and sentencing enhancements for great bodily injury and personal use of a knife. If convicted of all counts, she could face life in prison without the possibility of parole.
Becker was due to appear in Orange County Superior Court later Wednesday.
On Tuesday, Becker was taken into custody without incident and refused to talk to officers further. Bail was set at $1 million.
No attorney for Becker was listed on booking documents. A telephone listing for her residence could not be located, and no one was home at the apartment.
The victim underwent surgery and was listed in good condition at University of California at Irvine Medical Center, hospital spokesman John Murray said.
The victim declined to comment when he was reached by phone Tuesday by the Orange County Register.
"This is a private matter," he said.
Police officers reported the victim was in "amazingly good spirits considering everything he has gone through," Nightengale said.
A call by The Associated Press to a phone number listed on court documents for the victim was answered Wednesday by a person who promptly hung up.
Neighbor Lourdes Painter said the couple did not have any children and seemed quiet. Becker and her husband lived in a second-story condo in the working class complex. Painter lives in the unit below them.
The condo belonged to the victim, but Becker was living there and slowly moving her things out, Nightengale said.
Detectives were analyzing the food served for dinner.
In 1993, Lorena Bobbitt cut off her husband's penis in Virginia and threw it out of her car window into a field on the side of the road. She claimed years of sexual abuse drove her to the attack, and she was acquitted by reason of insanity.
The penis was later reattached.
https://www.foxnews.com/us/police-say-calif-woman-cut-off-husbands-penis