Police release video of person of interest in DC quadruple homicide, mansion fire
By ,
Published May 03, 2016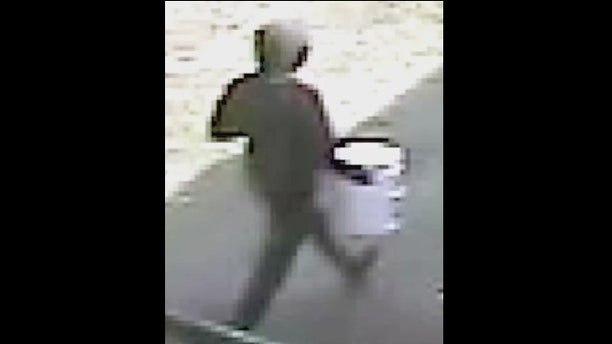 D.C. police released a video Saturday of a person of interest in connection to the murders of a family at a mansion that was later set ablaze, just blocks away from Vice President Biden's official residence.
Authorities said a corporate executive, his wife, their 10-year-old son and a housekeeper were killed inside a multimillion-dollar northwest Washington, D.C., home on Thursday afternoon and the fire was intentionally set.
At least three of the victims suffered stab wounds or blunt-force injuries and all four were homicide victims, Police Chief Cathy Lanier said Friday.
Lanier identified the couple as Savvas Savopoulos, 46, and his wife, Amy Savopoulos, 47. She said the other two victims had been tentatively identified as the couple's 10-year-old son, Philip, and a housekeeper, Veralicia Figueroa, 57, of Silver Spring, Md.
A blue 2008 Porsche 911 that belonged to the couple was found abandoned and torched in a church parking lot in New Carrollton, Maryland, about 35 miles away from the home, MyFoxDC.com reports.
The video released by police shows a hooded figure carrying a white object while running away from the scene where the car was left. Police believe the suspect may have driven the car.
Lanier said police have gotten a steady stream of information from residents, but they are still looking for details on any suspicious activity from around the Savopoulos' home from Wednesday through Thursday, as well as information on the car.
A $25,000 reward has been offered for information leading to an arrest. Authorities are offering no details about who might have killed them or why.
The couple had two older daughters who, according to neighbors, attend boarding schools out of state. The daughters are safe and police know their whereabouts, a police spokeswoman said.
There was no sign of forced entry at the house, and investigators were likely to be there for several more days combing through evidence, Lanier said Friday. The federal Bureau of Alcohol, Tobacco, Firearms and Explosives was assisting in the investigation.
"There's still a lot more that we don't know," she said.
Savvas Savopoulos was the president of American Iron Works, a building materials manufacturer based in Hyattsville, Md. A person who answered the phone at the company's headquarters declined to comment earlier Friday, and a message left after Savopoulos was identified was not immediately returned.
Messages left for relatives of Savopoulos were not returned on Friday.
The family home, valued at $4.5 million, is located blocks away from Vice President Joe Biden's official residence and near the Washington National Cathedral, which was preparing to host memorial services for the victims.
The couple's son attended St. Albans School, a private school adjacent to the cathedral, where counselors were on hand to assist grief-stricken students and staff.
"Our school community is grieving over this tragic situation at the home of one of our young students," Vance Wilson, headmaster of the school, said in a statement.
Lisa Lambert, who lives nearby but did not know the family well, said the slayings have residents frightened.
"Everyone in the neighborhood is incredibly unsettled about this," Lambert said. "They were well-liked. It's surprising to everyone."
The Associated Press contributed to this report.
https://www.foxnews.com/us/police-release-video-of-person-of-interest-in-dc-quadruple-homicide-mansion-fire