Patriots fans line up to turn in Aaron Hernandez jerseys
By ,
Published November 30, 2015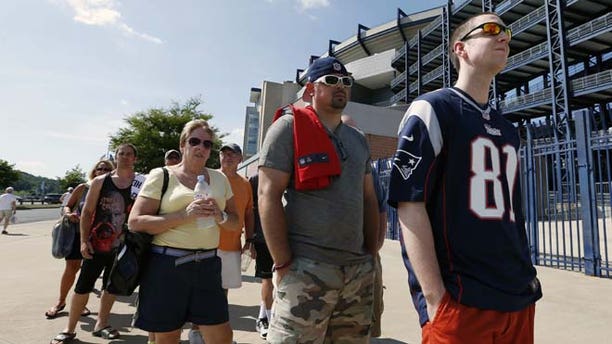 Ten days after the New England Patriots cut ties with star tight end Aaron Hernandez by releasing him hours prior to his arrest on charges of first-degree murder, hundreds of fans symbolically followed suit.
Saturday was the first day of a special two-day trade-in event held at the Patriots' official team store at Gillette Stadium in Foxboro, Mass. Fans who turned in their official replica No. 81 jerseys received a voucher, which they could exchange for a new jersey.
"We know that children love wearing their Patriots jerseys, but may not understand why parents don't want them wearing their Hernandez jerseys anymore," Patriots spokesperson Stacey James told MyFoxBoston.com. "We hope this opportunity to exchange those jerseys at the Patriots ProShop for another player's jersey will be well received by parents."
The Patriots tweeted that more than 1,200 people had accepted the free trade-in as of 5 p.m. Saturday. The most popular replacement jerseys belonged to defensive tackle Vince Wilfork, quarterback Tom Brady, defensive end Chandler Jones, and running back Stevan Ridley.
Hernandez was arrested on June 26 and charged with first-degree murder in the death of of 27-year-old semi-pro football player Odin Lloyd.
Click for the story from MyFoxBoston.com
https://www.foxnews.com/us/patriots-fans-line-up-to-turn-in-aaron-hernandez-jerseys