Oklahoma sheriff's office supervisors told to falsify reserve deputy's records, report says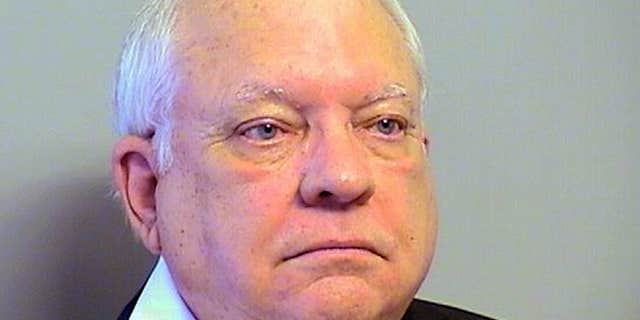 Supervisors at an Oklahoma sheriff's office were reportedly ordered to falsify a reserve deputy's training records, giving him credit for training and certifications he never received.
The Tulsa World, citing unnamed sources, reports that at least three of reserve deputy Robert Bates' supervisors at the Tulsa County Sheriff's Office were transferred to a different office after refusing to sign documents related to Bates' mandatory training.
Bates, 73, is accused of second-degree manslaughter in the shooting death of Eric Harris during an undercover mission April 2.
The paper reports the claims are corroborated by records, including a statement Bates made after the shooting saying that he was certified as an advanced reserve deputy in 2007.
Bates also said in the statement he received "active shooter training" from the Maricopa County Sheriff's Office in Arizona.
However, Lisa Allen, chief media relations official for that sheriff's office, told the World they had no record of him attending any training session. Allen said that type of training is only made available to members of the Maricopa County Sheriff's Office, making Bates ineligible to attend a class.
Dan Smolen, an attorney for Harris' family, has also raised questions about Bates' training. He believes Bates' training records were falsified and they do not exist anymore.
Sheriff Stanley Glanz told a Tulsa radio station earlier in the week that Bates was certified to use three weapons, including the revolver he used to shoot and kill Harris. Glanz did admit that the Sheriff's Office was not able to find the paperwork on those certifications.
"We can't find the records that she supposedly turned in," Glanz said. "So we are going to talk to her to find out if for sure he's been qualified with those" weapons.
Undersheriff Tim Albin rejected claims made that Bates' training records were falsified and that the supervisors who did not do them were transferred.
"The training record speaks for itself. I have absolutely no knowledge of what you are talking about," Albin said. "There aren't any secrets in law enforcement. Zero. Those types of issues would have come up."
Bates was classified by the Tulsa County Sheriff's Office as an "advanced reserve," the paper reports. Bates would have had to complete 480 hours of training to maintain that classification.
Bates turned himself in Tuesday after being charged Monday in Harris' death. He is free on a $25,000 bond.
The Sheriff's Violent Crimes Task Force was conducting an undercover operation when Harris was shot and killed. Officials say Harris had sold methamphetamine to undercover authorities and was in the act of selling them a stolen gun.
Once deputies moved into make an arrest, Harris sprinted from the truck and was pursued by deputies until he was brought to the ground. Bates shot Harris while he was on the ground and immediately said, "Oh, I shot him. I'm sorry."
Bates told investigators he meant to stun Harris with his Taser, but reached for the revolver by accident.
The Tulsa County Sheriff's Office said it would conduct an internal investigation of the shooting, but state Rep. Mike Shelton fears a growing mistrust of police after a series of high-profile killings by law officers around the country.
"There are too many variables here for me and anyone else to believe that this investigation is going to be impartial," Shelton, a Democrat from Oklahoma City, said Thursday. "We simply cannot afford to have the public's trust in our law enforcement eroded any further. We need to remove the appearance of personal and political biases from this case."
The Associated Press contributed to this report.