Oil trains put US on target for more derailments, warn experts
Activists call them "bomb trains," and they're likely rolling through a town near you.
The oil boom in North Dakota and Alberta, Canada, has put a record number of train cars on tracks carrying hundreds of thousands of barrels of crude oil each day all across the U.S. Several accidents have already happened, and local leaders say it is a matter of time until more occur.
"The fuels that they're carrying now are very volatile so, in a highly residential area, an accident like that would be devastating," Barrington, Illinois, Fire Chief Jim Arie told Fox News.
"The fuels that they're carrying now are very volatile, so in a highly residential area, an accident like that would be devastating."
For example, Arie points to a 2013 train derailment in Quebec, Canada, that killed 47 people and nearly obliterated the small Canadian town of Lac-Megantic. Massive fireballs shot into the sky for hours after several other recent derailments in West Virginia and Illinois.
With the increase in oil shipped by rail, the U.S. Department of Transportation predicts oil train derailments will be much more frequent in the coming years.
A 2014 report from DOT predicts an average of 10 oil train derailments a year over the next two decades. If any of the derailments are in populated areas, hundreds of people could be killed and likely more than $6 billion in damages assessed.
"We're no longer in a point of thinking if, quite frankly. The only thing we're concerned about now is when and where," said Arie, whose town outside Chicago sees 40 or more oil trains pass through each week.
Barrington is just one of thousands of towns along the 140,000-mile U.S. freight rail network seeing an increase in oil train traffic.
Arie, along with a host of other local leaders and elected officials across the country, is pushing the federal government to enact tougher safety standards on tank cars carrying crude oil. One of their biggest targets is also one of the most commonly used tank cars, the DOT-111 -- an older model that wasn't designed to carry oil, and is prone to puncturing in a derailment.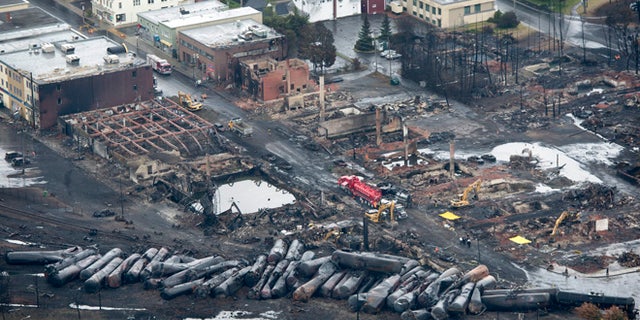 "The National Transportation Safety Board said these things (DOT-111's) are totally inadequate for the task to which we put them," said Rep. Peter DeFazio, D-Ore. "Since 1993 we've known that, and we still don't have a rule to require a modern, much safer tank car design here."
DOT missed a January congressional deadline for announcing the new safety standards, and is now expected to release them in May.
In the meantime, many critics are calling on the oil industry to immediately remove the roughly 100,000 DOT-111s still in service.
Oil producers, who own a majority of the tank cars, say DOT's delaying is preventing them from fully updating and retrofitting their fleet.
And oil industry groups warn that removing so many tank cars from service at once would have a dramatic impact on oil production, and would lead to higher energy and gas prices for American consumers.
"We need to move to that standard with that reinforced rail car as quickly as we can," said Jack Gerard, CEO of American Petroleum Institute. "But we also need to make sure we don't disrupt the current economy, which some estimate could cost consumers over $45 billion if we don't do this well."