North Carolina deputy on leave after viral video appears to show him tackling teen sisters
By Kathleen Joyce
Published December 12, 2018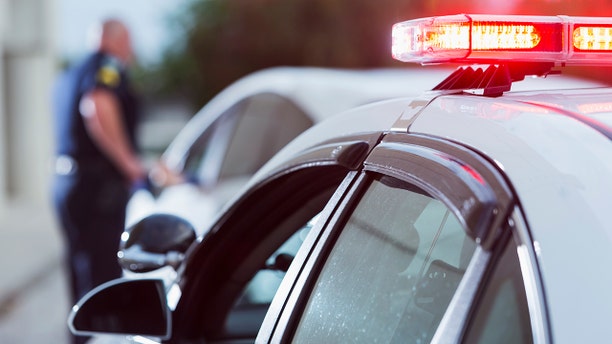 A North Carolina sheriff's deputy was placed on administrative leave after a viral video appeared to show him tackling teenage sisters to the ground.
The Harnett County Sheriff's Office asked the North Carolina State Bureau of Investigation to investigate, WTVD reported. The deputy involved wasn't identified.
The incident unfolded Monday, when two deputies were called to a house in Sanford after a complaint concerning "illegal drug activity," the station reported. The deputies said they smelled marijuana coming from a car parked outside the residence and, after investigating, allegedly found a gun under the driver's seat and learned the man in the car had active warrants.
A video posted on Facebook showed the man asking the deputy why he was "being detained."
NATIONAL GUARD SOLDIER CARRIES STRANDED BABY THROUGH SNOW AFTER HISTORIC NORTH CAROLINA STORM
The person filming, a 17-year-old girl, was heard saying to the deputy, "You said he's being detained because he's being jittery? That's what I heard you say."
A few moments later, the teenager's 14-year-old sister was seen telling the deputy he couldn't take her phone. One of the deputies is then seen slamming the teenager to the ground.
"Yo, what are you doing right now? She didn't do anything. Why are you doing that? What did she do?" the teenager filming asked.
The deputy was heard telling the 14-year-old she was under arrest.
A few moments later the deputy turned his focus to the other sister as she tried to pick up her sister's phone and tackled her to the ground.
"This is evidence," the deputy was heard saying regarding the cellphone.
"Ow! I didn't do anything," the girl replied. "I did absolutely nothing, sir."
MAN CHARGED IN NORTH CAROLINA GIRL'S MURDER LINKED TO 2016 RAPE CASE
The sisters were not taken into custody, ABC News reported.
The 17-year-old told WTVD she was "disgusted" by the incident.
She told WTVD she "strained her back" and is "in pain right now."
"I understand that they...felt like they were doing their job, but there's a different way it could have been approached," she said.
https://www.foxnews.com/us/north-carolina-deputy-on-leave-after-viral-video-shows-him-tackling-two-teen-sisters-to-ground