Newark mayor backs students occupying superintendent's office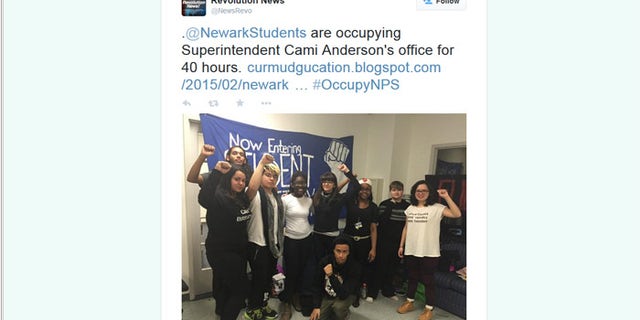 Students holed up since Tuesday in the office of the Newark, N.J., school superintendent in an effort to force her to meet with them or resign gained a powerful ally Thursday -- the city's mayor.
"They're obviously frustrated about not being able to have a voice in what happens around their own education," Newark Mayor Ras Baraka said at a news conference outside of school district headquarters Thursday.
"As the mayor of this state's largest city, I am also frustrated that I do not have a say-so in what is happening in the education of the children that exist and live in these communities," he said.
At least eight students, who call themselves the Newark Student Union, seized Superintendent Cami Anderson's office Tuesday night during a public schools advisory board meeting, and have remained on the floor where Anderson and other administrators have offices. They're protesting Anderson's leadership of the school district, including school building assignments and her support for charter schools.
The students claim the district is trying to "starve out" the Newark Student Union by purposely depriving them of food.
"For anyone tuning in right now, right now we're giving a live stream explaining what's going on. We have a food situation," one student is heard saying in the background of the live stream. "They haven't given it to us yet."
Another student said the protesters are surviving on chips and candy they brought in themselves Wednesday night.
"They are knowingly detaining our food," the student says. "As students, as people, we have a right to food. And we have a right to protest in this office."
In a letter to parents on Wednesday, however, Assistant Superintendent Brad Haggerty said the district "will continue to provide her with water, food, and access to a bathroom until you retake custody of your child."
A phone call placed to the superintendent's office by FoxNews.com on Thursday went unanswered. Spokespeople for the district and state Department of Education didn't immediately return calls Thursday from The Associated Press seeking comment.
Shortly after 10 a.m. Thursday, three female students appeared on a live stream from the superintendent's office, stating their mission in a brief statement. They urged anyone listening in the Newark area to join them in protest.
The district, meanwhile, said it hand-delivered letters Wednesday to parents of six students to ask them to pick their children up. Newark public schools spokeswoman Brittany Chord Parmley said Tuesday night that the district has tried to engage and listen to the students' concerns for the past several months.
"Despite our best efforts to work together, they have repeatedly ignored district requests to meet and engage in a constructive dialogue," she said in a statement. "While we appreciate their passion, this is not the appropriate forum to engage in productive conversation."
Former television talk show host Montel Williams tweeted a copy of one of the letters and claimed the district had Newark police officers deliver them to parents.
"Great job #camianderson - u have cops deliver threatening letters to parents of @NewarkStudents #occupynps ? Wow," Williams tweeted.
"Newark School Superintendent response to MASS student/teacher protest is bizarre. Students this fired up about their education = commendable," Williams wrote.
The students' remarks were met with chants from others in office, yelling, "Cami's got to go!" and, "Tell me what democracy looks like! This is what democracy looks like!"
At least one organizer of the student group is a college student from Rutgers University.
New Jersey has run Newark schools since 1995, and Baraka has said he wants New Jersey to return the district to the city's control. Anderson's administration and the One Newark plan involving the expansion of charter schools have met skepticism from city officials and Baraka.
Anderson, an ally of former Newark Mayor Cory Booker, was appointed by Gov. Chris Christie in 2011. On Thursday, Baraka said her contract was renewed Wednesday, though he didn't support the claim with specific details about his sources, The Star-Ledger reported.
The Associated Press contributed to this report.