New York university replaces 'king' and 'queen' titles with trio of non-gender specific roles
By Caleb Parke
Published October 19, 2018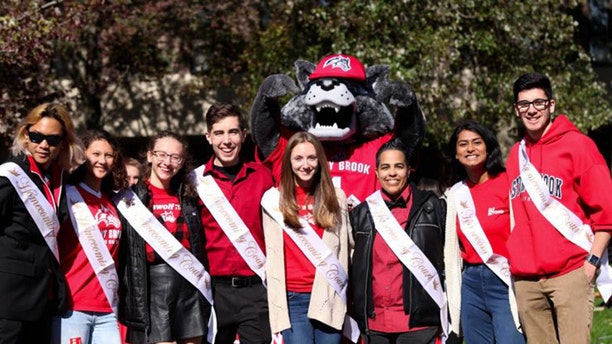 A public university in New York says it's ditching the traditional homecoming court titles and will instead crown three individuals, who may "identify as any gender," in the name of diversity and inclusion.
The Student Affairs Homecoming Committee at Stony Brook University said the change was made because some students were uncomfortable competing to be "king" or "queen," "especially those who identify as LGBTQ, especially transgender and non-binary students."
The traditional homecoming court roles had been used since 1984 at Stony Brook.
"So even more people get to have the honor of being royalty and showing that we support the cause of being inclusive," an SBU student, who supported the switch but was not identified, told WABC-TV.
Before axing the gender-specific titles, the school had let students who part of the court "choose the formal wear and regalia they most identify with and choose the gender they most closely identify with," said Rick Gatteau, Interim Vice President for Student Affairs and Dean of Students.
But this year, SBU went a step further. The three students chosen from a group of ten finalists will be crowned "royals" Saturday at the school's football game.
The university said the new court moves the focus "beyond gender," and nominees are judged on their performance in a talent show, level of school spirit and degree of campus involvement and activism.
MICHIGAN HIGH SCHOOL REPLACES HOMECOMING QUEEN WITH 'EXCELLENCE AWARD,' SPARKS DEBATE
The winners will each get to choose if they want to wear a crown or a tiara.
One nominee, Allilsa Fernandez, who identifies as nonbinary, told NEWS12 the new policy is "a dream come true."
"It doesn't take away anything or any opportunities from the existing population," fellow nominee RJ Samodal said. "It just presses on new opportunities and allows the student body to express themselves however they see fit."
PURDUE HOLDS GENDER-NEUTRAL HOMECOMING, HONORING 'ROYALTY' RATHER THAN KING, QUEEN
Stony Brook joins several other universities who have recently made similar homecoming title changes: Penn State University, Purdue University, Northwestern University, and the University of Iowa.
https://www.foxnews.com/us/new-york-university-replaces-king-and-queen-titles-with-trio-of-non-gender-specific-roles