Navy Leaders Defend Task Force Innovation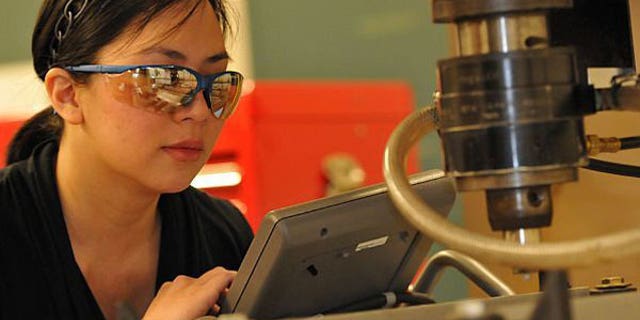 Navy Vice Adm. Philip Collum said Wednesday the Navy is determined through Task Force Innovation to break a military culture where officials and managers often find it easier and safer to say no to an idea than take a risk and say yes.
"A lot of times when these efforts come along, they are either … solely done at the uniform level or solely done at the civilian level," Collum said Wednesday at the Navy League's Sea-Air-Space exposition and conference. "Any one of those efforts, done that way, probably will fail. It will certainly never achieve the things they were intended to achieve."
Collum, deputy chief of Naval Operations for Fleet Readiness and Logistics, made the comment in response to a Marine officer's observation that similar efforts tried in the past had only short term benefits.
"The secretary of the navy and his staff are all over this … so is the Marine Corps staff," Collum said. "Chief of Naval Operations [Adm. Jonathan Greenert] absolutely believes in this. I haven't seen him pound his fist on the table too many times, but he did on this issue, because he probably believes this is what we need to do to positon us possibly to the end of this decade, or the end of the next decade or the decade after that."
The focus of the task force will be facilitating innovation in the areas of adaptive force packages, unmanned systems, non-lethal weapons, directed energy weapons and additive manufacturing, also known as 3D printing.
Thomas Hicks, Navy Deputy Under Secretary and Deputy Chief Management Officer, said the Navy and Marine Corps have a long history of innovation, and that he sees the task force's work being "about people and processes."
"How can we take out some of the friction points of those processes and really elevate and create opportunities for collaboration?" he said. "We've got remarkable people and technology, but when you look at the data there are a large number of people … who think they have ideas on doing their job better, but they don't necessarily feel their organization supports them."
"We need to turn that around to be successful," Hicks said.
One way the task force is knocking down barriers to its own staff is a website through which anyone can contribute ideas via email. The site also describes the overall mission of the task force and provides examples of Navy developed innovations.
Navy Secretary Ray Mabus established the task force in January to develop short- and long-term innovation goals, oversee and coordinate them across the Navy Department, and get rid of bureaucratic impediments that stand in the way.
The task force includes special advisors to Mabus as well as representatives from the Assistant Secretaries of the Navy, the Deputy Undersecretary of the Navy Policy, the General Counsel, and the Office of Naval Research.
Collum noted that the task force, itself, is not designed to innovate, but to develop and push for policies that create and maintain an adaptive workforce. Its job also is to make sure that the Navy views information as an asset and to facilitate emerging operational capabilities getting to the fleet without unnecessary delays.
-- Bryant Jordan can be reached at Bryant.jordan@military.com.