Mystery surrounds Arizona teen's disappearance as family holds out hope
By ,
Published November 30, 2015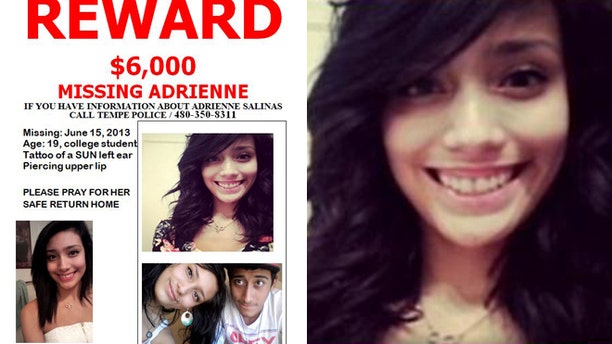 The mother of a 19-year-old Arizona woman made an emotional plea for her daughter after she vanished last week on her way to visit her boyfriend after what her father described as a small argument, MyFoxPhoenix.com reported.
Suzanne Coss, the mother, told Adrienne Salinas to hang on and assured her that authorities will find her.
The Gateway Community College student was last seen in the early morning hours of June 15 leaving her Tempe apartment after a party to visit her boyfriend in Scottsdale. Police said a witness saw Salinas' car hit a curb around 3:45 a.m., and then drive off with two flat tires.
Salinas walked a quarter mile back to her apartment and called a cab around 5 a.m., the report said. She asked to be picked up at a nearby convenience store.
Police said her cellphone either died or was turned off minutes after the call was placed. The cab driver says Salinas never showed up at the store. Police said neither the cab driver, nor her boyfriend are considered suspects in the case.
The FBI has joined in the search as family members continue to distribute fliers and speak to media outlets to expand the search.
"We want to make sure we are doing everything possible," Sgt. Mike Pooley, Tempe police spokesman told AZCentral.com.
"It's just a nightmare. We have to suppress those negative thoughts, the worst case scenario is not something that's going to motivate us," Rick Salinas, Adrienne's father told MyFoxPhoenix.com.
"We have to focus and pray and put all of our energy into positive thoughts," he said.
Her family is also concerned for her health, as her father said she had surgery on a collapsed lung in February.
He also said she may have been emotional over a small argument she was having with her boyfriend, and the car crash may have added to her distress, MyFoxPhoenix.com reported.
Police searched Tempe Town Lake last week but came up empty.
The family is offering a $6,000 reward for information in the case. Salinas is described as 5 feet, 6 inches tall, weighing 110 pounds with black hair and has a tattoo of a sun near her left ear.
Click for more from MyFoxPhoenix.com.
The Associated Press contributed to this report.
https://www.foxnews.com/us/mystery-surrounds-arizona-teens-disappearance-as-family-holds-out-hope