Missing Colorado mom's phone was used to text 3 days after she vanished, police say
By Katherine Lam
Published December 11, 2018
A cellphone belonging to the Colorado mom who vanished after Thanksgiving was used to send a pair of mysterious texts three days after she was last spotted in public with her 1-year-old daughter, cops said Tuesday, as the search for the woman intensified.
Kelsey Berreth was reported missing by her mother 10 days after she was last seen or heard from. Surveillance video shows Berreth buying groceries with her daughter inside a Safeway supermarket in Woodland Park on Thanksgiving Day, and her fiancé, Patrick Frazee, then met her to pick up the couple's daughter.
Authorities on Monday revealed one of the text messages sent after she was last seen indicated Berreth planned to be gone the week after Thanksgiving — but she never returned home.
The last location her cellphone pinged was in Gooding, Idaho, nearly 700 miles away from her home. Berreth's text to her employer at Doss Aviation — a company that provides flight training for the U.S. military and international armed services — stated she wouldn't be at work the following week.
"Kelsey's phone gave a location near Gooding, Idaho on November 25th at 5:13 p.m.," Woodland Park Police Chief Miles De Young said.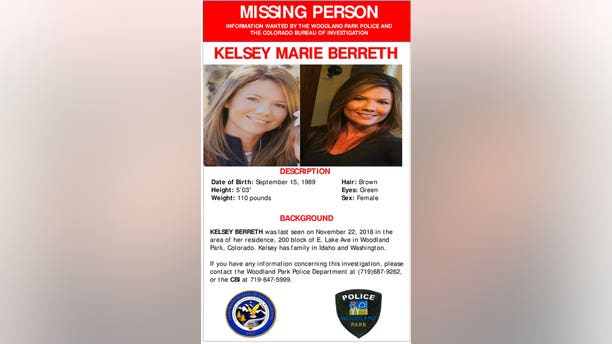 Another text message was sent to Berreth's fiancé, Patrick Frazee, though it's unclear what was said and it's not clear Berreth was even the person sending the messages.
SEARCH FOR KELSEY BERRETH, MISSING COLORADO WOMAN, INTENSIFIES AS MOTHER SAYS 'SOMEONE KNOWS WHERE SHE'S AT'
Berreth's mother, Cheryl Berreth, put out a public plea Monday for the 29-year-old's safe return.
"Kelsey we just want you home. Call us if you can. Someone knows where she's at," Cheryl Berreth said in a news conference on Monday afternoon. "She's not the kind that runs off. This is completely out of character."
Cheryl added: "Kelsey loves her God. She loves her family and friends and she loves her job. She's reliable, considerate and honest."
The concerned mother said her family has relatives in Idaho, but they said Kelsey never showed up at their homes. Kelsey also never indicated any intention to visit those relatives, the Colorado Springs Gazette reported.
All of Berreth's belongings, besides her purse, were still at her Woodland Park home after her disappearance. Her two cars remain in Colorado, puzzling investigators as they search for the 29-year-old.
When asked if Berreth's fiancé is a suspect, De Young said Frazee is the "father of Kelsey's daughter and we're going to leave it at that."
"This is a missing persons case," he added.
Anyone with information on Berreth is urged to call the tip line at 719-687-9262.
https://www.foxnews.com/us/missing-colorado-mom-sent-texts-from-cellphone-3-days-after-she-went-missing-police-say