Members of migrant caravan remain defiant after US again denies border entry
By ,
Published April 30, 2018
About 200 migrants trying to cross the U.S. border remain stalled in Mexico while American officials refuse to admit most, if not all, of them.
About two dozen women, young children and transgender migrants were escorted toward the processing center by Mexican officials on Sunday – but they were stopped just as they reached the border.
Dozens of others remained camped either on blankets. They are prohibited from approaching the San Ysidro border crossing near San Diego.
A U.S. Customs and Border Protection official said the border facility had reached capacity.
Members of the caravan said they would not give up, setting up a possible showdown with the U.S.
Irineo Mujica of Pueblos Sin Fronteras, the group organizing the caravan, says the U.S. refusal to process the migrants is a "farce" aimed at avoiding having to deal with the Central American asylum seekers.
The developments came as Vice President Pence toured a 30-foot replacement fence in Calexo, Calif.
From the beginning, the migrant caravan juggled a double-edged sword. It welcomed publicity but not the criticism that came with it. After President Trump criticized them as a symbol of lax U.S. laws and false claims of persecution, its leaders doubled down, attacking Trump personally as insensitive and indifferent.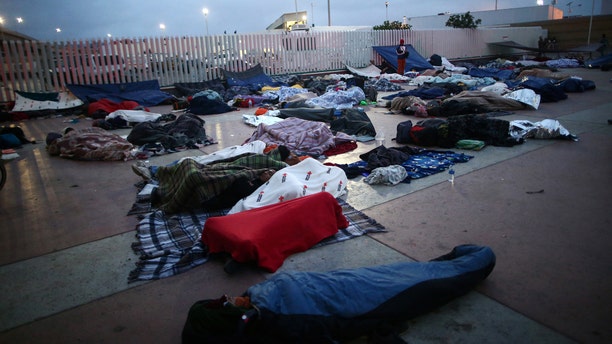 "We are not a country of white nationalists. There's a reason we have the Statue of Liberty. We are a country that goes to war to protect the human rights of others," said Nicole Ramos, a U.S. attorney representing the migrants. "We've created these situations in Central America. It is our responsibility to help protect the victims that we created."
Trump has commented frequently on the caravan since it started in Mexico on March 25 near the Guatemala border and headed north to Tijuana. His broadsides came as his administration vowed to end what officials call "legal loopholes" and "catch-and-release" policies that allow people requesting asylum to be released from custody into the U.S. while their claims make their way through the courts, which can take years.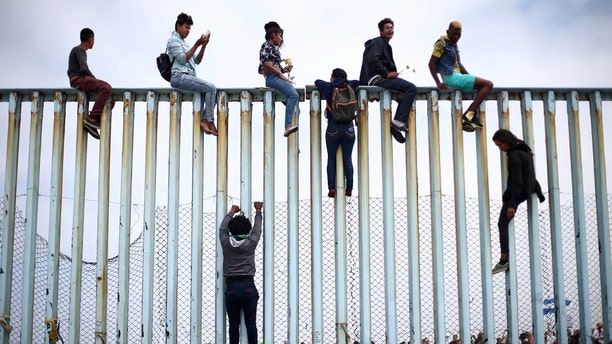 Attorney General Jeff Sessions has called the caravan "a deliberate attempt to undermine our laws and overwhelm our system." Homeland Security Secretary Kirstjen Nielsen said asylum claims will be resolved "efficiently and expeditiously" and warned that anyone making false claims could be prosecuted.
The administration's stern warnings left organizers in disbelief that border inspectors were not ready for them.
"They have been well aware that a caravan is going to arrive at the border," Ramos said. "The failure to prepare and failure to get sufficient agents and resources is not the fault of the most vulnerable among us. We can build a base in Iraq in under a week. We can't process 200 refugees. I don't believe it."
Includes reporting by The Associated Press.
https://www.foxnews.com/us/members-of-migrant-caravan-remain-defiant-after-us-again-denies-border-entry