Mass resignations leave Indiana town without any police
By ,
Published July 05, 2017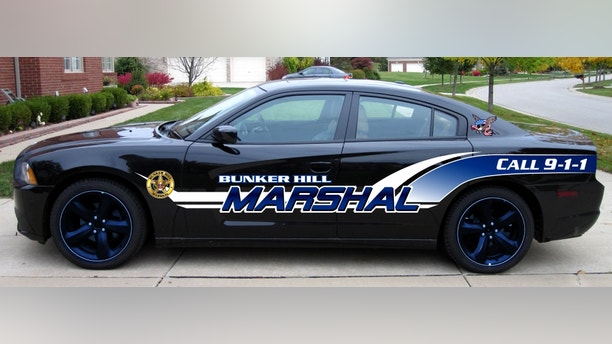 It might be a bit easier to avoid a traffic ticket in Bunker Hill, Indiana, these days.
The entire police force patrolling the small town resigned en masse Monday night, citing a lack of communication, insufficient gear and requests to "do illegal, unethical and immoral things," Fox 59 reported.
MLB RELIEVER QUITS BASEBALL TO FIGHT CRIME
"We have had issues with the town board and there are some activities there where I felt like they were serving their own agenda," said Michael Thomison, who served as Bunker Hill Town Marshal for four years.
Thomison and four reserve deputies – the full force – submitted their letters of resignation to the town council, listing a host of issues including being tasked by council members with running background checks on adversaries. The cops said if they declined, they were threatened.
Officers were also allegedly forced to share one set of body armor.
FALLEN POLICE OFFICERS HONORED WITH SPECIAL CHRISTMAS TREE
"I did not want to send someone out there with bad body armor so I would take mine off and provide it to the other officers," Thomison said.
Council President Brock Speer said the council was "blindsided" by the resignations, but council members accepted the resignations with little comment.
Miami County Sheriff Tim Miller said county deputies will ensure residents are protected until a new marshal is hired. Deputies will patrol the town and respond to calls.
But Bunker Hill leaders are also battling other key resignations.
Citing personal reasons, Council Vice President Jim Panther submitted his resignation from the board, which will take effect at the end of the year, and Bunker Hill Building Commissioner Bill Gornto's resignation leaves the town without a building department.
"Due to the actions of the current town council, I find myself unable to continue in this job," Gornto wrote in his resignation letter. "This means you now have to notify the state building department that you no longer have a valid department."
Bunker Hill, located about 75 miles north of Indianapolis in Miami County, had a population of 888, according to the 2010 Census.
The Associated Press contributed to this report.
https://www.foxnews.com/us/mass-resignations-leave-indiana-town-without-any-police