Man gets 4 to 10 years in prison for lighting match in Vegas pet shop with 27 dogs in cages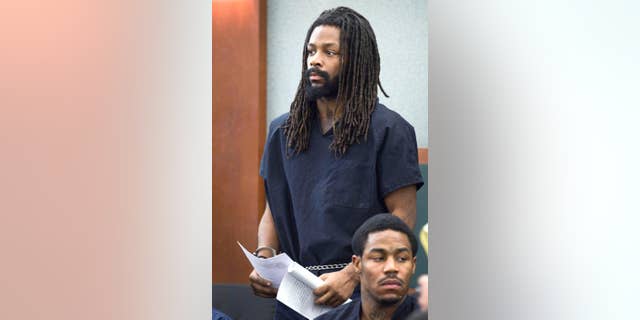 LAS VEGAS – Apologies didn't sway a Nevada judge who sentenced a man on Monday to four to 10 years in prison for setting fire to a pet shop where 27 puppies and dogs were rescued after sprinklers doused flames.
Kirk Bills turned to family members and animal rights advocates in the courtroom and said he wished he could take back what he had done.
But Clark County District Court Judge David Barker said Bills acted "hand in hand" with former shop owner Gloria Eun Hye Lee, who Barker sentenced last week to five to 14 years in prison for arson, insurance fraud and attempted animal cruelty in the January 2014 fire.
"You're the one who chose to light the match," the judge told Bills. "You couldn't have possibly not known those were living creatures in these cages."
Defense attorney Roger Bailey asked for leniency and a two-to-five year sentence.
With Bills' mother sobbing in a row of family members including Bills' wife, Bailey cast Bills, 28, a one-time boxer, as a pawn and Lee, 36, as the queen in an extramarital affair and a plan to torch the Prince and Princess pet shop for insurance money.
"He fell under the guise of a woman who manipulated him," Bailey said.
"He's an adult," the judge replied.
Lee stunned the courtroom last week with the announcement that she was three months' pregnant and the father was her husband, from whom Lee was estranged at the time of the fire.
Barker said he thought Lee was trying to affect the sentence and still gave her nearly the maximum time that prosecutor Shanon Clowers sought.
Bills was caught on black-and-white store security video pouring a liquid on the floor of the pet shop and setting the fire while Lee collected files in an office.
The incident sparked intense interest and protests from animal rights advocates after Lee was arrested in Las Vegas shortly after the fire. Bills was arrested days later in his former hometown, Crown Point, Indiana.
The animals became the focus of an ownership battle before they were raffled in March to raise money for local animal shelters.
Bills said Monday the plan wasn't for the dogs to die, but for sprinklers to cause enough water damage for Lee to collect insurance money, break up with her husband and start a new business.
Bills pleaded guilty in October to felony arson and misdemeanor attempted animal cruelty, and avoided trial on a total of 31 felonies.
Bailey said that with good behavior behind bars and time already served in jail, Bills could be eligible for parole by 2018.