Los Angeles school board agrees to relocate students plagued by methane gas leak
By ,
Published May 03, 2016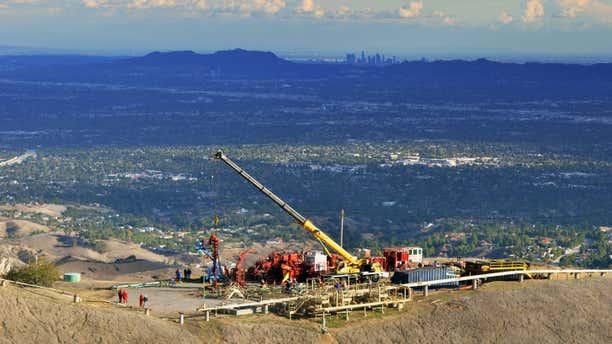 The Los Angeles Unified School District decided Thursday it will relocate about 1,900 students from schools near a gas leak that has sparked hundreds of illness complaints and evacuations.
The LA school board declared an emergency and authorized relocating students from Porter Ranch Community School and Castlebay Lane Charter School. The move is set to take place after winter break and could last until June.
A staff report cited disruption from absenteeism, visits to the health office and student transfers to other schools.
District officials also plan to sue Southern California Gas Co. if necessary to recoup the costs that are amounting because of the gas leak in Aliso Canyon, according to the Los Angeles Times. Total figures weren't released because officials were still totaling the costs, Mark Hovatter, head of facilities for Los Angeles schools, told the Times.
The leak in an underground well was detected in October. It's sending huge amounts of methane into the air, tinged with a foul-smelling chemical.
Southern California Gas Co. says it supports the relocation and is sorry some students and staff had what it calls short-term symptoms from the odor. It says health agencies haven't found any long-term risk.
The gas company is currently on the hook for residents wishing to leave their homes temporarily. Javier Mendoza, a spokesman for the gas company, told the Los Angeles Times more than 4,500 have asked about temporary housing and about 1,800 have already moved.
The gas leak in Aliso Canyon was detected on Oct. 23. The Los Angeles County Department of Public health determined shortly after that the leak is mostly methane and does not pose a risk to public health. However, residents in the area have reported nausea, headaches, nosebleeds, vomiting and other symptoms.
The Los Angeles Times reported that since the start of the gas leak nearly 90 students have checked out of Porter Ranch Community School and 30 others have taken up an independent study, senior administrator Vivian Ekchian said.
About 29 students have left Castlebay and 97 signed up for an independent study, she said.
Attempts to plug the leak have been unsuccessful. According to the Times, the gas company plans to drill a relief well and then sealing off the leaking shaft by plugging it with concrete. The entire process is estimated to take four months.
According to the newspaper, a California Air Resources Board report found that the leak is releasing about 50,000 kilograms of methane an hour and boosting California's emissions of the gas by 25 percent.
The Associated Press contributed to this report.
Click for more from the Los Angeles Times.
https://www.foxnews.com/us/los-angeles-school-board-agrees-to-relocate-students-plagued-by-methane-gas-leak