LIVE UPDATES: Protests continue across America in wake of George Floyd death
All times ET.
2:15 a.m. Sunday: California National Guard soldiers were being deployed in Los Angeles following a request from Mayor Eric Garcetti. The mayor said he asked California Gov. Gavin Newsom for 500 to 700 members of the Guard to help secure the city.
Los Angeles police used tear gas to break up a crowd of about 200 to 300 people at Rodeo and Santa Monica Boulevard after the gathering was declared illegal, FOX 11 of Los Angeles reported.
In the Bay Area, looters tore through stores in Emeryville, smashing windows and running off with merchandise, FOX 2 of the Bay Area reported.
Violence in San Francisco prompted Mayor London Breed to issue a curfew at 8 p.m. local time. She also asked Gov. Newsom to place National Guard personnel on standby, FOX 2 reported.
In Phoenix, police declared a mostly peaceful march to be an unlawful assembly -- the third straight night such a declaration was issued, according to FOX 10 of Phoenix.
In Portland, Ore., police reported at least 16 arrests as demonstrators ignored a city curfew, OregonLive.com reported.
Initially peaceful protests in Seattle grew violent as the night wore on -- and two AR-15 rifles were reported stolen from police vehicles but were later recovered, the Seattle Times reported.
9:20 p.m. -- A photo was posted to Twitter showing looting and damage at Bayside Shopping Center in Miami.
9:08 p.m. -- The New York Post reported that the NYPD was preparing its detectives to serve as backup out on the street, in an effort to counter the civil unrest from recent protests
"Detectives must be in uniform — hats and bats, in cop slang — until further notice and be ready to be deployed if needed in a rare order the Police Department sent out to detectives via email Saturday," according to The Post.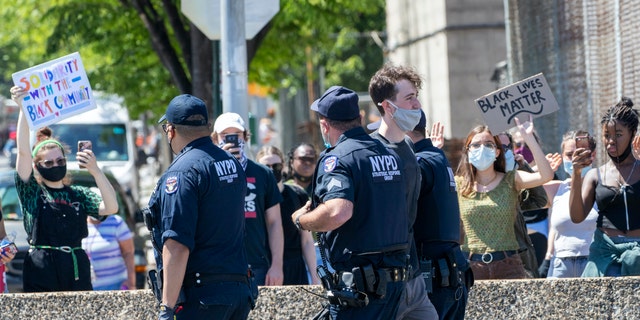 8:32 p.m. -- Beverly Hills, Calif., instituted a curfew for Saturday evening starting at 8 p.m. and ending at 5:30 a.m. Sunday.
"I'm asking everyone to stay at home," Mayor Les Friedman said. "Thousands of protestors marched through our City streets on Saturday to call attention the devastating circumstances surrounding the death of Minneapolis resident George Floyd. While most of the protestors were peaceful and there were no injuries, there were multiple incidents of vandalism in the City. The safety of the Beverly Hills community remains our top priority at all times."
The curfew prevents anyone from being upon public streets, alleys, parks, or any public places while in effect.
8:30 p.m. -- Utah Gov. Gary Herbert confirmed on Twitter that he has activated the state's National Guard.
"We condemn violence and looting," he wrote. "I have activated the National Guard to help control the escalating situation in downtown Salt Lake City. I once again call on all who are protesting to do so peacefully."
GEORGE FLOYD CASE: AG BARR PROMISES 'JUSTICE WILL BE SERVED' AMID NATIONWIDE PROTESTS
8:19 p.m.  -- The Philadelphia Office of Emergency Management (OEM) posted a video update to Twitter responding to the day's protests saying, that those who have issues cannot resort to violence as a means of getting what they want.
8:13 p.m. -- Seattle Mayor Jenny Durkan announced a curfew starting at 5 p.m. for Saturday and Sunday, in response to protesters.
"BREAKING: Mayor Jenny Durkan has announced a curfew starting at 5 p.m. on Saturday and Sunday in response to the downtown Seattle protests. The curfew will be in effect from 5 p.m. to 5 a.m.," The Seattle Times tweeted.
7:29 p.m. -- A video posted to Twitter on Saturday evening showed protesters in Chicago physically clashing with police as a bystander filmed the confrontation. The crowd surrounds one police officer and begins to hurl objects in his direction after pushing him repeatedly. It then becomes a free-for-all of plainclothes citizens and uniformed officers hitting one another.
MINNEAPOLIS WOMAN ON RIOTS, LOOTING AFTER GEORGE FLOYD'S DEATH: 'I HAVE NOWHERE TO GO NOW'
6:55 p.m. -- Garcetti tweets updates about curfew and what areas of the city it will be applied to.
"Currently, the curfew will apply to downtown Los Angeles between the 110 fwy on the west, Alameda on the east, and 10 fwy on the south, and 101 fwy on the north between 8 p.m. and 5:30 a.m.," he wrote.
6:54 p.m. -- Los Angeles Mayor Eric Garcetti announced a partial curfew for the downtown area from 8 p.m. to 5:30 a.m.
6:47 p.m. -- The city of Atlanta said a 9 p.m. curfew will be effect Saturday.
6:45 p.m. -- Philadelphia announced a "mandatory city-wide curfew" effective 8 p.m. Saturday through 6 a.m. Sunday.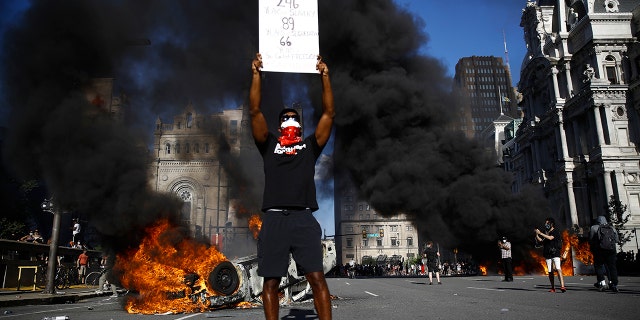 "Only persons with essential duties will be permitted outdoors," the Philadelphia Police tweeted.
CLICK HERE TO GET THE FOX NEWS APP
Stay with Fox News Channel and FoxNews.com for continuing coverage. The Associated Press contributed to this report.