Last resort: Drought prompts California city to consider firing up desalination plant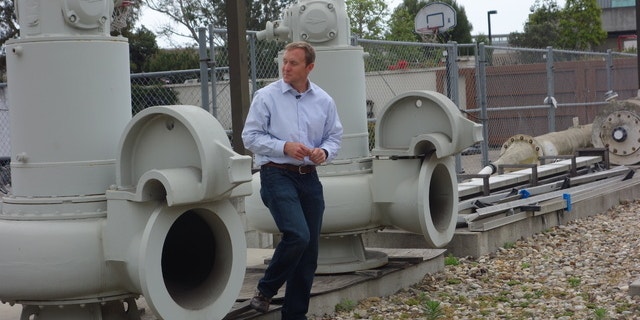 The last time California was this parched, Santa Barbara built a desalination plant - an expensive fix that immediately paid off when it started to rain.
"We're glad we have it, but I wish it would rain."
The plant was completed in 1991, turned on for a test run and then shut down when the skies opened up and dumped what has since been known as the "miracle rain" on California. For the last 24 years, the Charles Meyer Desalination Plant in the city neighborhood known as the Funk Zone has sat idle. The technical term for the condition of the reverse-osmosis plant is "long-term storage mode," but the current drought has the city on the brink of restarting the plant even if it costs as much as $40 million to do it, and even it if means Santa Barbara residents will be drinking, bathing and washing clothes in the most expensive tap water in America.
"It's a supply of last resort," Santa Barbara Director of Public Works Rebecca Baork told FoxNews.com. "We're glad we have it, but I wish it would rain."
Last month, the city of 90,000 got approval from the Central Coast Regional Water Quality Control Board to reactivate the plant, according to Noozhawk. The next step is a green light from the powerful California Coastal Commission. But to get the plant back up and running, the city will have to invest in new filters, pay an engineering firm to write up a reactivation plan for the facility and have major rehabilitation work done to the plant. But purifying Pacific Ocean water sucked in from three-quarters of a mile out to sea may be the only option left for Santa Barbara. The city has trucked in water from far-away locations and put restrictions on usage that have left lawns brown and flowers wilted.
The conservation efforts cut usage by nearly a quarter for the period from July to December.
The city has been in a Stage II drought since May 2014. Stage III is as bad as it gets, said Santa Barbara water resources manager, Joshua Haggmark. He believes Santa Barbara could reach that flashpoint as early as May.
Desalination plants typically use reverse osmosis, a process that pushes saltwater through a membrane. While Santa Barbara hopes to start the process with an existing plant, researchers in the drought-stricken state have been looking toward the Pacific for a solution for a while. A team of researchers from Humboldt State University and the University of Southern California has developed a new process called Reverse Osmosis-Pressure Retarded Osmosis, according to ScienceDaily.com. They hope to implement those systems at various locations in the state in the future, but the technology won't produce tap water for at least several years.
Traditionally desalinated water costs about $1,500 per acre foot, a standard measurement that equates to 326,000 gallons. That compares to $100 per acre foot for water from old sources that fed Santa Barbara, such as Lake Cachuma and Gibraltar Reservoir. And while wealthy city residents as Oprah Winfrey, George Lucas and Ellen DeGeneres can afford to pay the higher prices, not everyone in Santa Barbara can.
There are other costs. Environmentalists worry that the plant's giant intake pipes, even with new, one-millimeter screens, will suck up fish eggs and microorganisms, according to the Wall Street Journal. One of the process' byproducts is a super-salty brine that can cause harm to ecosystems when discharged back into the ocean.
And engineers say desalinated seawater is so pure - and lacking in minerals - that it is actually bad for plumbing.
Haggmark said the city has agreed to put money toward a mitigation project that would make up for the marine habitats that would be negatively affected by putting the plant back online.
But the best solution of all could still be in play. As with the last time thecity of Santa Barbara fired up the Charles Meyer Desalination Plant, the rains could be coming. The National Oceanic and Atmospheric Administration is predicting above-average rainfall for the next three months, which is a "glimmer of hope" during the drought, Haggmark told the council earlier this month.