Las Vegas pet store owner gets 5-year sentence in arson case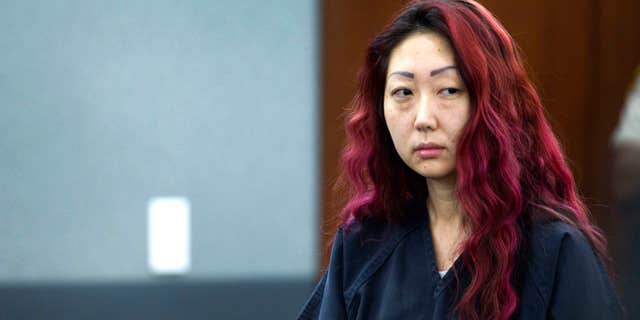 LAS VEGAS – A former Las Vegas pet shop owner who was caught on surveillance video torching her business before 27 puppies and dogs were rescued last year failed to sway her sentencing judge with a courtroom announcement Wednesday that she was three months pregnant.
Clark County District Court Judge David Barker said he thought Gloria Eun Hye Lee, 36, was using her pregnancy to try to get him to hand down a lesser sentence.
He sentenced Lee to five to 14 years in state prison — nearly the maximum that prosecutor Shanon Clowers sought.
Clowers accused Lee of using her pregnancy in a manipulative bid for a "get-out-of-jail-free card."
Lee's attorney, Tom Pitaro, didn't immediately respond later to messages.
Clowers noted that Lee told the court the father of her child was her husband, from whom Lee was estranged at the time of the January 2014 fire at the Prince and Princess pet shop in southwest Las Vegas, and who she once tried to blame for the crime.
Store security video showed Lee removing files in an office while co-defendant Kirk Bills poured liquid on the floor around locked kennel cages and ignited it.
Lee pleaded guilty in October to arson, insurance fraud and attempted animal cruelty charges in a plea deal that had 28 other charges against her dismissed.
Bills pleaded guilty to arson and attempted animal cruelty. He'll be sentenced Monday. His lawyer, Roger Bailey, said he hopes for leniency and a two-to-five year sentence that, with time already served, could get Bills out of prison as early as next year.
Ceiling fire sprinklers quickly doused the flames, and none of the 27 animals was fatally injured before firefighters arrived.
But the incident sparked intense passions among animal rights advocates who picketed the courthouse for nearly every court appearance. Lee was arrested in Las Vegas shortly after the fire. Bills was arrested days later in Crown Point, Indiana.
It also touched off a weekslong ownership battle that ended when 25 rescued puppies were raffled in March 2014 for $250 apiece to benefit a foundation that runs the local Lied Animal Shelter. Two adult dogs were placed by a rescue group called A Home 4 Spot.