Johns Hopkins reverses ban on detailed pro-life display
By Maxim Lott, ,
Published May 03, 2016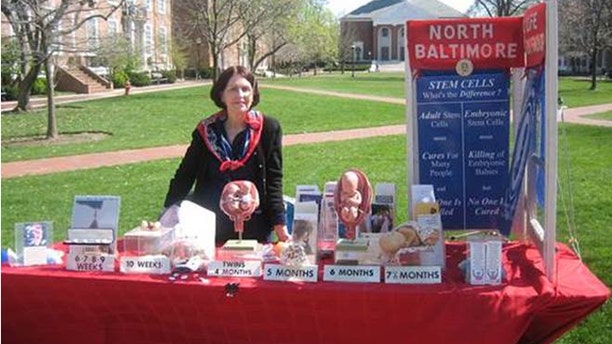 Officials at prestigious Johns Hopkins University on Tuesday reversed a decision banning a pro-life display that had appeared for decades at the school's Spring Fair, after FoxNews.com inquired about the matter.
The display, a fixture at the fair for 30 years, was sponsored by the student group JHU Voice for Life. It shows models of unborn fetuses in various stages of development, but was initially rejected this year on the grounds that it "contains triggering and disturbing images." The decision to reject the display's presence at the fair, which takes place from April 24-26, was made by a student committee in conjunction with faculty advisers.
"We've reviewed your pictures with our advisers and have determined that your display contains triggering and disturbing images and content," read an email the committee sent to JHU Voice for Life.
"I certainly find it ironic that a university that has dedicated itself to the advancement of medicine and biology would find displaying medically accurate fetal models disturbing and offensive."
The student group behind the display immediately charged that the decision was discriminatory against pro-life views, noting that the whole point was to be "disturbing" and get students at the Baltimore school, which specializes in medical training among other disciplines, to think.
"Abortion is disturbing, that's the reason we have such a table," Andrew Guernsey, the president of the group, said.
On Tuesday, FoxNews.com emailed questions to the students involved in the decision. Forty minutes later, the student committee informed Guernsey by email that the display would be allowed.
In a statement to FoxNews.com, the student committee explained:
"We… were wrong in our initial decision and, upon further reflection, have decided we will not impose restrictions on the displays presented by any community groups at Spring Fair... The committee values free speech."
They also noted that the pro-life group itself had never been banned from the fair; only the display showing the stages of development in the womb had been prohibited.
Experts on free speech say attempts to restrict pro-life arguments are very common on campuses throughout the country.
"Attempts to censor pro-life speech on campus has been a consistent problem throughout my entire career," Greg Lukianoff, president of the Foundation for Individual Rights in Education (FIRE), told FoxNews.com.
"Pro-life speech is often very unpopular speech on campus, and too many campuses and students have little tolerance for it."
Guernsey said that the faculty adviser responsible for the initial rejection was Assistant Director of Student Activities Janet Kirsch. She did not respond to a request for comment.
Guernsey added that if they had allowed censorship based on something being "disturbing," that would allow banning almost anything.
"Will gay and lesbian groups be banned from Spring Fair because some religious people find homosexual activity 'disturbing'?" he asked.
The attempt to ban the display is only the latest attempt by some on campus to stop the group from spreading its message. Two years ago, a pro-choice group on campus submitted a complaint arguing that the pro-life display constituted "harassment", and the student government tried to forbid "JHU Voice For Life" from being recognized as an official student group, before eventually being overruled.
So at Hopkins, for now, the pro-life group and the fetal development display have survived.
"I certainly find it ironic that a university that has dedicated itself to the advancement of medicine and biology would find displaying medically accurate fetal models disturbing and offensive," Guernsey said. "I mean, these are images shown in high school textbooks."
The author, Maxim Lott, can be reached on Facebook or at maxim.lott@foxnews.com
https://www.foxnews.com/us/johns-hopkins-reverses-ban-on-detailed-pro-life-display