Hurricane Michael's damage in Mexico Beach, Florida, captured on drone video
By Elizabeth Zwirz
Published October 11, 2018
Newly obtained drone footage shows Hurricane Michael's extensive damage to Mexico Beach, Florida, after the powerful storm made landfall Wednesday.
Debris and sand-covered streets, destroyed buildings and flooding are among the devastation shown in the video.
More wreckage, including displaced boats and shattered roofs, are also visible along a body of water dotted with docks. The drone also shows an open stretch of what appears to have once been waterfront homes and buildings.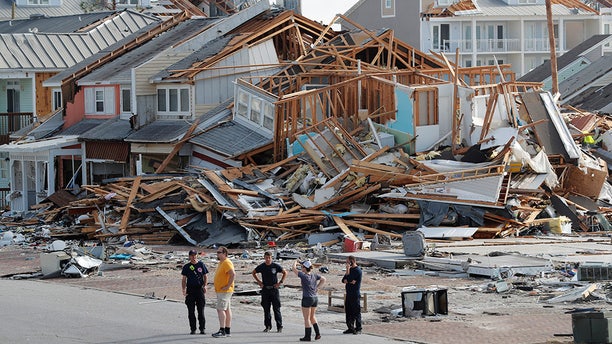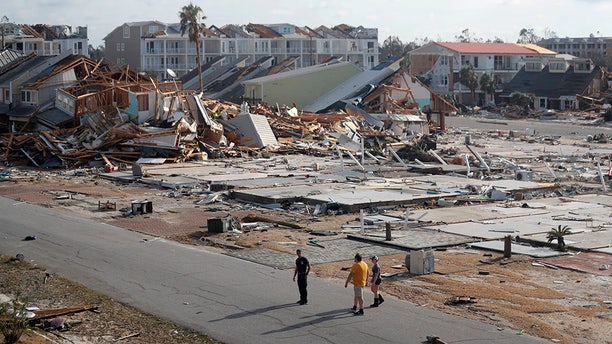 HURRICANE MICHAEL DEVASTATION IN PANAMA CITY, FLORIDA SEEN IN DRONE VIDEO, PHOTOS
As of Thursday afternoon, Michael was a tropical storm bringing fierce winds to the Carolinas, as well as flash flooding to portions of North Carolina and Virginia, according to the National Hurricane Center.
But upon landfall Wednesday afternoon, just north of Mexico Beach, the storm was a Category 4 with maximum sustained winds reaching 155 mph and a storm surge of 9 feet.
A National Guard team responded to Mexico Beach and found 20 survivors overnight, and more crews were pushing into the area in the morning. The fate of many residents is unknown, authorities told The Associated Press.
State officials said 285 people in Mexico Beach refused to leave ahead of the hurricane despite a mandatory evacuation order.
AS HURRICANE MICHAEL TOPPLES TREES, WHO IS RESPONSIBLE FOR THE CLEANUP?
Similar drone footage captured the devastation in Panama City, just west of where the hurricane made landfall. The video -- taken by storm chaser Brett Adair -- showed how wind and rain ravaged Jinks Middle School. The building was so damaged that Adair was able to fly the drone through the school's gym.
Hurricane Michael is the most powerful hurricane to hit the continental U.S. in more than 50 years.
https://www.foxnews.com/us/hurricane-michaels-damage-in-mexico-beach-florida-captured-on-drone-video