Hundreds of US entrepreneurs make pitch to Walmart
By Casey Stegall, Maggie Kerkman, ,
Published June 29, 2017
It started with a temper tantrum.
Jessica Gore's then 2-year-old son was in the middle of a store, wailing for a dropped lollipop, when she thought, "If I could just spray this with something and give it back to him, the meltdown would be totally averted."
That's how her product, "Tasty Clean" was born. It's a anti-bacterial spray that's edible and tastes like candy, with all-natural ingredients -- that happens to sanitize surfaces.
Jessica is now marketing her invention to other parents who can use it for pacifiers, bottles, toys, dental retainers, anything. She also thinks athletes could benefit from it to spray their mouth guards, if they happen to fall in the dirt.
"There's no such thing as the three second rule, scientifically speaking," she chuckles.
Gore is one of hundreds of small business owners who were invited to pitch their products to Walmart buyers, at the retail giant's corporate headquarters in Bentonville, Arkansas. For the fourth year, the retailer is hosting a one-day "Open Call" event where entrepreneurs from around the country gather to pitch their products. Five hundred businesses from 47 different states were selected from the thousands that applied. It's the kind of thing that can launch a business, like Gore's, into the stratosphere.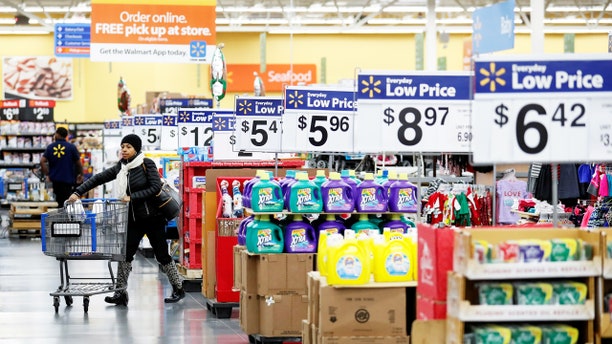 CHRISTIE BRINKLEY: IT'S AN EXCITING TIME TO BE 'SIXTY' IN BUSINESS
"It would be the most amazing experience ever, you know, for my kids to be able to see mommy's spray in Walmart," Gore said. "It would just blow their minds."
The benefits to entrepreneurs are obvious. Business owners get quick access and face-to-face time with the people who can get their products into Walmart and Sam's Club stores, across the country, as well as online. There will be some 750 meetings in just one day and it's estimated that about half will receive a deal. Even if a product isn't selected for a contract with Walmart, the companies get valuable advice about packaging, pricing and distribution. Some companies are encouraged to make changes and try again next year.
Walmart says the entire event benefits the company as well. Walmart executives say they find great new products each year.
"We want to see products of all types. We want to see them across categories, from companies large and small. We see a lot of great new products and a lot of great innovation," said Cindi Marsiglio, Walmart's Vice President of U.S. Manufacturing and Sourcing.
All of the products must be made in America, so the event helps get Walmart further along on its goal of spending an additional $250 billion (over ten years) on products that support American jobs.
"We believe that it will create as many as 1 million new American jobs, both directly and indirectly," Marsiglio said.
But what's most interesting about the day is what you hear about the individual products from each entrepreneur. There are the Banana Wave guys from Florida, roaming Walmart's halls in banana suits pitching their non-dairy banana drink, a recipe from the founder's grandmother.
There are the Beard Balm guys from Detroit, donning loud pattern pants and sporting huge beards to pitch their facial hair-grooming product.
All the entrepreneurs are hoping for a coveted green ticket which means they've been green lighted to get a deal from Walmart. Most have spent years working toward this moment, having suffered failures and rejection, all to get their product into the hands of consumers. The fate of their hopes and dreams may rest in the space of a single , 30-minute meeting, here.
Turns out, it was a successful meeting for Jessica Gore. Her product, "Tasty Clean," will be picked up by at least 100 Walmart stores, with the possibility of expanding to even more in the future.
https://www.foxnews.com/us/hundreds-of-us-entrepreneurs-make-pitch-to-walmart