Group defies VA auditor's demand for whistle-blower records
By Joshua Rhett Miller, ,
Published November 22, 2015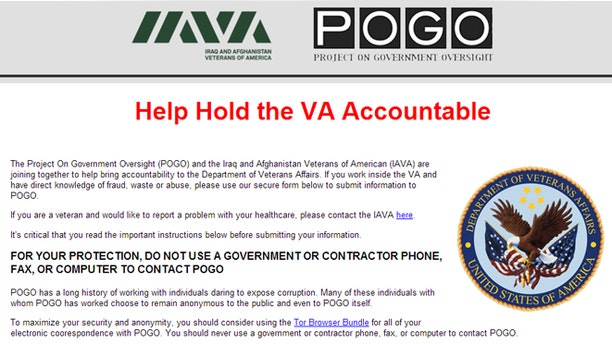 A private watchdog group vowed to defy a federal auditor's demand that it turn over all the complaints it has collected from would-be Veterans Affairs whistle-blowers.
"They're barking up the wrong tree," Project on Government Oversight spokesman Joe Newman told FoxNews.com. "It's not something we're going to do. We've never revealed a whistle-blower's name and we won't do it in this case. We've been subpoenaed before."
The Department of Veterans Affairs' inspector general made the demand in a May 30 subpoena, shortly after FoxNews.com reported that POGO was collecting tips and information on alleged abuse and mismanagement at VA medical facilities. The VA subpoena demands all records the nonpartisan, independent watchdog has received from current or former VA employees pertaining to "wait times, access to care, and/or patient scheduling issues" at VA facilities in Phoenix or elsewhere. The group's spokesman, however, told FoxNews.com that it will not be complying with the order.
[pullquote]
POGO Executive Director Danielle Brian and attorney Scott Amey wrote in a letter to Acting VA Inspector General Richard Griffin that the group does not plan to provide the requested documents by a June 13 deadline, citing its freedom of speech, press and association rights as they related to whistle-blowers.
"Moreover, complying with the administrative subpoena would undercut and harm the very purpose for which POGO was founded and functions," Brian and Amey wrote in a letter dated Monday. "POGO's good government advocacy and investigative reporting activities and our ability to persuade whistle-blowers to reach out to our organization are values protected by the First Amendment."
If the group were to comply with the subpoena, it would lead to "irreparable damage" to POGO's mission of uncovering systemic problems within federal agencies, the letter continues.
"POGO serves as a complement to government investigative sources, including inspectors general, as federal employees are often reluctant to deal with agency officials out of fear for their own livelihoods, as well as intimidation by colleagues," it reads. "Complying with the IG's administrative subpoena would serve to undercut and even vitiate the very reasons for POGO's existence and the public's interest in resolving the VA's longstanding failures."
POGO formally requested that the subpoena be revoked and promised to issue an investigative report to assist the VA inspector general without identifying the sources of the group's reporting.
Last Thursday, federal officials announced that dozens of VA workers who came forward with stories of mismanagement and patient abuse said they have faced retaliation within the scandal-scarred agency. In one case, a VA employee with a spotless record over two decades was suspended after reporting patients had been inappropriately restrained, according to one of 37 such complaints filed with the U.S. Office of Special Counsel (OSC). In another case, an employee claimed to have been demoted after disclosing alleged mishandling of patient-care funds. The employee was temporarily reassigned and an investigation is still ongoing, OSC officials said.
The complaints, which involved VA facilities in 19 states, appear to show a culture that discourages whistle-blowing, according to officials at the OSC, which is probing the claims.
"Receiving candid information about harmful practices from employees will be critical to the VA's efforts to identify problems and find solutions," Special Counsel Carolyn Lerner said in a statement Thursday. "However, employees will not come forward if they fear retaliation."
POGO and the Iraq and Afghanistan Veterans of America launched VAOversight.org on May 15 to offer potential whistle-blowers a confidential channel to report abuses within the VA health care system. As of Monday, roughly 700 people have submitted tips, Newman said, with roughly 25 percent coming from current or former VA employees.
Former VA Secretary Eric Shinseki resigned last month following widespread criticism over excessive waiting periods for care and falsified records at VA facilities nationwide that provide medical care to about 9 million veterans and family members. Shinseki, a former Army chief of staff and four-star general, also promised prior to his exit that whistle-blowers would not be penalized for speaking up.
"I can't explain the lack of integrity among some of the leaders of our health care facilities," Shinseki told a conference on homeless veterans last month. "This is something I rarely encountered during 38 years in uniform.
"I will not defend it because it is indefensible. But I can take responsibility for it, and I do," he continued. "Given the facts I now know, I apologize as the senior leader of the Department of Veterans Affairs.''
Veterans in Phoenix, for example, waited an average 115 days for appointments, or five times longer than the Phoenix VA had reported, Griffin told a Senate committee last month.
The Associated Press contributed to this report.
https://www.foxnews.com/us/group-defies-va-auditors-demand-for-whistle-blower-records