General Says Army Must Stop Banking on 'Leap-Ahead' Technology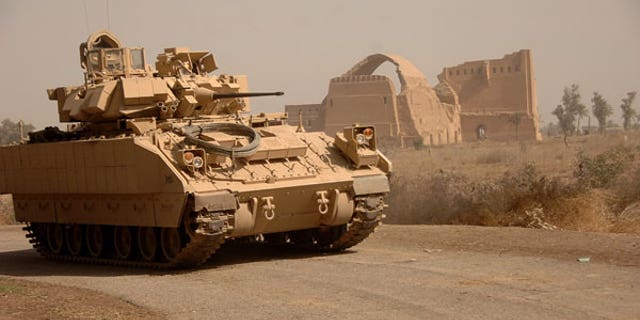 The U.S. Army's advanced technology czar said Tuesday that the service must focus on accelerating the innovation of attainable technologies instead of risking it all on "leap-ahead" capabilities that rarely make it to the battlefield.
"First of all, I think the biggest risk that we have today is the development of concepts that are inconsistent with the enduring nature of war," Lt. Gen. H.R. McMaster Jr., deputy commanding general/futures director of the Army Capabilities Integration Center, told an audience at the Association of the United States Army's winter meeting.
Too often, leaders make the mistake of assuming that new technologies will change the way nations fight wars and "this is one fallacy that I think could build vulnerabilities into our national defense," he said.
McMaster, who is one of the Army's most respected combat intellectuals, acknowledged that the lure of developing "leap-ahead" technologies has plagued previous Army modernization efforts.
The Army spent billions of dollars developing its Future Combat Systems effort only to see it fail when then-Defense Secretary Robert Gates killed the 27-ton Manned Ground Vehicles portion of FCS in the 2010 budget while criticizing the advanced design as ill-suited to survive current battlefield threats.
It's unrealistic that "we can develop some sort of leap-ahead capability that we can look far into the future and we can decide here is the capability we want to have and it is going to be so darn good and unassailable that we are going to be able to have decisive effects on the enemy with this leap-capability," McMaster said.
After the demise of FCS, Army officials quickly took aim at the Ground Combat Vehicle, an effort to replace the Bradley fighting vehicle with a technologically advanced fighting vehicle that would last far into the future.
Five years later, Congress cut most of the funding for the over-weight, over-budget vehicle program in the face of mandatory budget cuts under sequestration.
But the Bradley replacement program is still a key priority to the Army, McMaster said.
"The future fighting vehicle is something we have needed. The Bradley is already approaching obsolescence," he said. "We need a new fighting vehicle. We did a non-developmental study based on the requirements that we generated from the Ground Combat Vehicle ... and what we found is we have certain armored vehicles that had an element or some of the requirements that we needed, but none of them put it all together.
"And this is one of those areas where you don't want to have the second best fighting vehicle," he said. "When you are up against the enemy in close combat, you want smoking boots on the other end. You don't want a fair fight."
Currently, the Army is working on a draft of the Combat Vehicle Modernization Strategy, McMaster said.
"We can't just develop a new thing only; we have to develop a new thing, we have to sustain what we have, we have to improve other things that we have ... we have to take on a broad range of activity to maintain that advantage over the enemy," McMaster said.
-- Matthew Cox can be reached at matthew.cox@military.com.