Fundamentalist fail: Muslim woman calls for reform despite attempts to silence her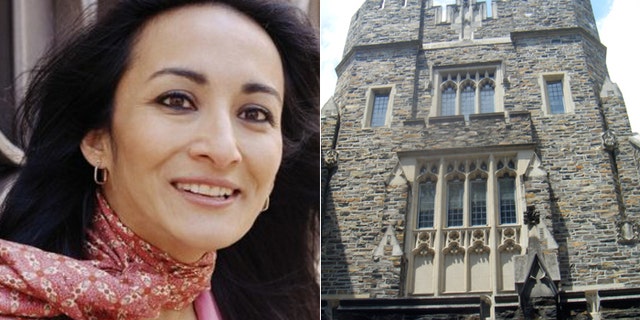 Asra Nomani wanted to talk to students at Duke University about how Muslim women such as she are marginalized and silenced by extremists within their faith, but what happened next may have proven her point better than any speech.
Nomani, a former Wall Street Journal reporter and author of "Standing Alone: An American Woman's Struggle for the Soul of Islam," claims her invitation to speak at the North Carolina school was rescinded after Duke's Muslim Students Association complained she was an Islamophobic sympathizer. The school eventually deemed the whole affair a "misunderstanding," and Nomani gave her speech last Tuesday to an audience numbering only about a dozen. But her point had already been underscored.
"I would have come here to speak to just one person," Nomani told the gathering, according to her recounting in Time magazine. "To me, it is simply a victory to stand before you."
Nomani advocates a progressive, feminist interpretation of Islam, at odds not only with violent extremists in the Middle East and Africa, but also with millions of non-violent fundamentalists around the world. In her book, Nomani tells of confronting the sexism and intolerance in her local mosque and fighting for the rights of modern Muslim women who chafe under repressive rules and regulations imposed by reactionary fundamentalists.
"By standing on stage, I was standing up to the forces in our Muslim communities that are increasingly using tactics of intimidation and smears ..."
According to Nomani, the Duke University Center Activities and Events told her the appearance had been scratched after the president of the Duke chapter of the Muslim Students Association accused her of having a nefarious "alliance" with "Islamophobic speakers."
The treatment of Nomani echoed similar incidents at Brandeis University, where Somali-born activist and former Muslim Ayaan Hirsi Ali was uninvited from a speaking engagement last year amid an outcry from the Council on American-Islamic Relations and the Muslim Students Association, and at University of South Dakota, where student groups protested the screening of "Honor Diaries," a documentary about crimes against Muslim women.
Duke University, in Durham, experienced similar controversy this year when officials reacted to the murders of police and employees at the French satirical magazine Charlie Hebdo in January by announcing the Muslim call to prayer would be conducted from the chapel bell tower. At the time, school officials said the move was intended to dispel stereotypes about Muslims.
"With the recent attacks in Paris and Pakistan and renewed conflict in Nigeria, there is much negative press focused on parts of the Muslim world," said Associate Dean for Religious Life Christy Lorr Sapp. "From ISIS to Boko Haram to Al Qaeda, Muslims in the media are portrayed as angry aggressors driven by values that are anti-education and anti-Western."
But the school canceled the plan after a tide of criticism, including from the Rev. Franklin Graham, son of the Rev. Billy Graham, and a powerful, North Carolina-based voice in the evangelical community.
The school denied it was also reversing itself in the latest controversy, telling Time magazine Nomani's invitation was never really rescinded.
"Duke is strongly committed to free expression and open discussion of controversial issues," a school spokesperson said. "We regret that there was a misunderstanding among our students and staff that made it seem like Ms. Nomani was no longer invited to speak at Duke. Once we became aware of it, Duke immediately let Ms. Nomani know that she was welcomed to speak with our students and the larger community, which she did."
Nomani vowed to continue to stand up for her interpretation of her faith, regardless of criticism from fellow Muslims.
This experience goes beyond feminism to a broader debate over how too many Muslims are responding to critical conversations on Islam with snubs, boycotts and calls for censorship, exploiting feelings of conflict avoidance and political correctness to stifle debate," she wrote in Time magazine. "As a journalist for 30 years, I believe we must stand up for America's principles of free speech and have critical conversations, especially if they make people feel uncomfortable.
"By standing on stage, I was standing up to the forces in our Muslim communities that are increasingly using tactics of intimidation and smears such as "Islamophobe," "House Muslim," "Uncle Tom," "native informant," "racist" and "bigot" to cancel events with which they disagree," she added.