Friends: NJ student didn't express anti-gay views
By ,
Published December 01, 2015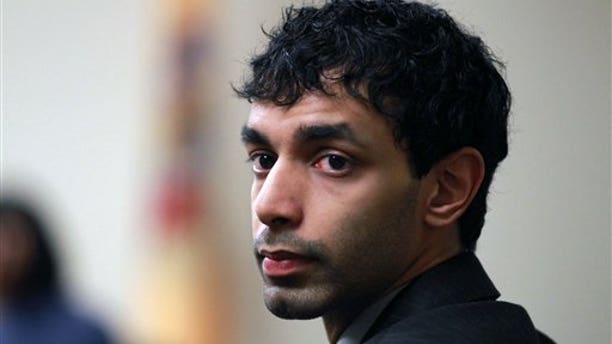 They never knew Dharun Ravi to say anything bad about gays — but they also never discussed it with him.
That was what seven character witnesses had to say Friday in the trial of Ravi, a former Rutgers University student accused of using a webcam to spy on his roommate's intimate encounter with another man.
Ravi, now 20, is accused of using a webcam for the central crime, then using Twitter, instant messages and texts to tell friends about it. He's charged with 15 criminal counts, including bias intimidation and invasion of privacy.
His roommate, Tyler Clementi, committed suicide by jumping off the George Washington Bridge in September 2010, just days after the alleged spying.
Most of the men called by defense lawyers were software engineers and current or former business associates of Ravi's father. All of them said they had never known Ravi to express any anti-gay views.
But on cross-examination, they all said they had never discussed the issue with him.
"Why would that come up?" said one of the men, Anil Kappa, a business partner of Ravi's father when First Assistant Middlesex County Prosecutor Julia McCLure asked how often he had discussed homosexuality.
The men, all of whom appeared to be middle-aged, said they never followed Ravi on Twitter, or exchanged text messages or instant messages with him.
Those communication means are central to the case.
The seven men testified in a total of about one hour. Their brief appearances on the witness stand were a contrast to the prosecutor's case, in which nearly two dozen witnesses were called over 10 days.
Defense lawyers also called an investigator to testify. Frank DiNinno, who works at the Middlesex County prosecutor's office, was mentioned often by prosecution witnesses.
A handful of the Rutgers students who testified referred to him as "Frank," and Ravi's lawyers appeared to be trying to raise the idea that he was too friendly with the students.
On the stand Friday, Altman asked him about his many interviews with students. In each case, he asked whether the purpose of the interview was to find out whether Ravi expressed anti-gay bias.
And each time, DiNinno said he was just trying to find out all he could about what happened in the dorm, though he conceded that Ravi's views were one element.
DiNinno was also asked details about his 32 interviews for the case — many of them with Rutgers students.
He's expected to be back on the witness stand Monday morning when testimony resumes.
___
Follow Mulvihill at http://www.twitter.com/geoffmulvihill
https://www.foxnews.com/us/friends-nj-student-didnt-express-anti-gay-views