FOX NEWS FIRST: Trump believes Kavanaugh smear is backfiring on Dems for midterms; Wall Street on edge
Published October 11, 2018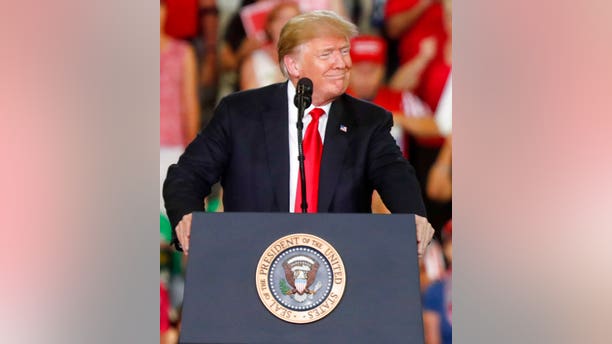 Welcome to FOX News First. Not signed up yet? Click here.
Developing now, Thursday, Oct. 11, 2018
THE LEAD STORY - President Trump suggested in an interview with FOX News that momentum in the midterm elections has shifted toward Republicans because of Democrats' "disgraceful" smear campaign against Brett Kavanaugh during his Supreme Court confirmation hearings ... "I think we are doing really well," Trump told FOX News' Shannon Bream on "FOX News @ Night" on Wednesday. "I am looking at the Senate votes and races that we thought we were not even going to contest we are now winning ... Very importantly, I'm looking at the same thing in the House. A lot of it has to do with the horrible abuse now-Justice Kavanaugh suffered at the hands of these Democrats last week. It was disgraceful. They went absolutely crazy. They disgraced their party, and they disgraced themselves."
In the wide-ranging interview, Trump said he plans to announce a successor for the departing U.S. Ambassador to the United Nations Nikki Haley over the "next week or two," and deflected criticism for holding a rally in Pennsylvania the same day Hurricane Michael barreled through the Florida Panhandle.
WHEN THEY GO LOW, DEMS GO LOWER? - The most prominent names in the Democratic establishment seem to be embracing Republican criticism that the radical left has taken over the party and appears to be encouraging aggressive tactics against political foes .... On Monday, Hillary Clinton said Democrats could not be civil with Republicans in the age of Trump and now former U.S. Attorney General Eric Holder apparently has forsaken calls for civil discourse.
Speaking on Sunday at a campaign event for local Georgia Democratic candidates, Holder flatly rejected former first lady Michelle Obama's widely cited call for civility and instead seemingly urged Democrats to brawl with Republicans. "It is time for us, as Democrats, to be as tough as they are, to be as dedicated as they are, to be as committed as they are," Holder told a crowd of campaign volunteers and candidates. "Michelle always says -- I love her; she and my wife are like, really tight, which always scares me and Barack -- but Michelle always says, 'When they go low, we go high.' No. When they go low, we kick 'em."
After raucous applause, Holder, who served in the Obama administration from 2009 to 2015, added: "That's what this new Democratic Party is about." Holder clarified later: "When I say 'kick 'em,' I don't mean do anything inappropriate, don't do anything illegal. But we've got to be tough."
MICHAEL'S DEADLY WRATH: Hurricane Michael weakened to a tropical storm early Thursday as it hovered over south-central Georgia, the National Hurricane Center said ... The powerful storm made landfall as a Category 4 hurricane and ripped through the Florida Panhandle with 155 mph winds and 12-foot waves that left a trail of destruction in its wake. Rick Reichmuth, FOX News' chief meteorologist, said Michael was the fourth most powerful storm to ever make landfall in the U.S. in terms of wind, and the third most powerful in terms of pressure, at 919 mb. The storm has killed at least two people in Florida, including one child, according to reports. An unidentified man was killed by a fallen tree in the Panhandle, while a child was killed in Seminole County.
AFTER THE FALL: Equity futures are pointing to more pain for investors come Thursday morning, the day after Wall Street slumped on a heavy selling of technology and internet stocks ... Dow Jones futures were falling by 0.9 percent. The S&P 500 was dropping by 0.7 percent and the Nasdaq Composite was down by 0.6 percent. Asian markets were broadly lower. Japan's benchmark fell by an unusually wide margin of 3.9 percent and China's main index lost 4.3 percent. Markets in Hong Kong, South Korea, Australia and Southeast Asia recorded similar declines. U.S. stocks plunged Wednesday, with the Dow Jones industrial average recording its largest single-day point drop since February. Big tech stocks helped fuel the selling as investors weigh the threat of rising U.S. treasury yields and global trade spats.
The Dow tumbled 831.83 points, or 3.15 percent, to 25,598.74. The S&P 500 fell 94.66 points, about 3.3 percent, to 2,786.26. The tech-heavy Nasdaq Composite slipped 315.97 points, or 4.08 percent, to 7,422.05 - a three-month low. The losses were widespread, and stocks that have been the biggest winners on the market suffered steep declines. Apple and Amazon, the two most valuable companies in the S&P 500, each had their worst day in two and a half years.
ELECTION DAY BOMB PLOT THWARTED: Federal officials have charged a New York man with manufacturing an explosive device, saying he planned to set off a 200-pound bomb at the National Mall in Washington on Election Day, killing himself and possibly many others ... Paul Rosenfeld, 56, was arrested on Tuesday after the Department of Justice was tipped off by an unidentified person in Pennsylvania who claimed Rosenfeld sent text messages and letters stating that he "planned to build an explosive device" that would go off Nov. 6 as a way to "draw attention to his political belief in 'sortation.'" (Sortation is an ancient Greek method of randomly selecting government officials.)

AS SEEN ON FOX NEWS
THE UNITED STATES OF VENEZUELA? -  "I think we have the Dem's slogan for 2020 -- 'Zebra: It's what's for dinner.'"  –  Greg Gutfeld, on "The Five," praising President Trump's USA Today op-ed warning of the dangers of the Democrats' shift toward socialism and noting that residents of socialist Venezuela are so short on basic necessities that they have resorted to eating zoo animals. WATCH
WATCH OUT FOR: President Trump's scheduled lunch meeting at the White House with unapologetic supporter, hip-hop artist Kanye West. All-time NFL great Jim Brown will also be in attendance.
THE 2018 MIDTERMS
FOX News Halftime Report: FOX News Power Rankings: Pump up the volume.
Trump unloads on Dem U.S. Sen. Bob Casey at fiery Pennsylvania rally.
Kennedy: The fight over midterm issues has begun.
2018 Midterms: Stay with FOX News for full coverage and analysis.
IN THE SPOTLIGHT: MISSING JOURNALIST MYSTERY
Saudi ruler ordered detention of missing journalist Jamal Khashoggi, report says.
Trump demands answers from 'highest levels' of Saudi government over missing journalist.
Senators trigger journalist disappearance probe, possible sanctions against Saudi Arabia.
TRENDING
Instagram to use artificial intelligence to spot bullying in photos.
Rescue dog throws perfect 'alley-oop' in viral video.
Mount Vesuvius caused victims' heads to explode, blood to boil: study.
THE SWAMP
Ryan Zinke under consideration to succeed Haley as UN ambassador, sources say.
Cruz Senate bill on 'Human Shields' draws bipartisan support.
Richard Pinedo, California man who sold bank accounts to Russians, sentenced to prison.
ACROSS THE NATION
Armed man arrested near California park where camper was shot dead in front of daughters: cops
San Francisco school board president drops Pledge of Allegiance.
Arrested limo company operator bore 'sole responsibility' for deadly crash, police say.
Chinese spy charged with trying to steal U.S. aviation trade secrets: officials.
MINDING YOUR BUSINESS
Lampert won't bail out Sears this time.
Democrats push health care vote ahead of midterm elections.
Big U.S. razor makers get a pass on Trump's steel tariffs.
Colin Kaepernick files to trademark image of his face.
CVS, Aetna $69B merger wins DOJ approval.
Nine mistakes to avoid before retirement.
FOX NEWS OPINION
Patrice Lee Onwuka: Don't underestimate Kanye (and Trump).
Judge Andrew Napolitano: What if the whole purpose of an independent judiciary is to be anti-democratic?
Colin Reed: Trump shouldn't underestimate Elizabeth Warren as a 2020 opponent (and it's not why you think).
HOLLYWOOD SQUARED
Peggy McCay, 'Days of Our Lives' star, dead at 90.
American Music Awards ratings plunge 29 percent with politically charged show.
'Austin Powers' actor Verne Troyer's death ruled a suicide.
DID YOU HEAR ABOUT THIS?
Scary 'Dynamoterror' dinosaur discovered.
Bar slammed on Facebook for 'To-Kill-Her' tequila drink. 
Easter Island discovery: Experts unravel mystery of ancient statues.
STAY TUNED
FOX Nation is coming! - Sign up now and find out about its exciting launch! CLICK HERE to take a sneak peek at the FOX Nation lineup.
On Facebook:
Check out 'FOX News Update,' our new Facebook-exclusive news program!
On FOX News: 
FOX & Friends, 6 a.m. ET: Fallout from Hurricane Michael. Judge Andrew Napolitano on whether Democrats could pursue impeachment against Associate Supreme Court Justice Brett Kavanaugh. U.S. Sen. Cory Gardner, R- Colo., speaks out about threats his family has received. Gregg Jarrett weighs in on Deputy Attorney General Rod Rosenstein's testimony on Capitol Hill being delayed. Terry Bradshaw talks "Thursday Night Football." (Tonight's game on FOX: Eagles at Giants, 8:20 p.m. ET)
Tucker Carlson Tonight, 8 p.m. ET: Special guests include: Alan Dershowitz, Harvard law professor emeritus
On FOX Business:
Mornings with Maria, 6 a.m. ET: Special guests include: Gulf Shores Mayor Robert Craft; Pensacola Mayor Ashton Hayward; Florida Attorney General Pam Bondi; Sen. Pat Toomey, R-Pa.; Michael Sonnenfeldt, Tiger 21 chairman.
Varney & Co., 9 a.m. ET: Health and Human Services Secretary Alex Azar; U.S. Sen. Roger Wicker, R-Miss.; U.S. Rep. Louie Gohmert, R-Texas; U.S. Rep. Carlos Curbelo, R- Fla.; Darrell Scott, CEO of Urban Revitalization Coalition.
Cavuto: Coast to Coast, Noon ET: Joe Lieberman, former U.S. senator from Connecticut and Democratic VP nominee.
On FOX News Radio:
The FOX News Rundown podcast: After the contentious confirmation of Supreme Court Justice Brett Kavanaugh, Democrats and Republicans are turning their attention to the health care fight. Jared Halpern, FOX News Radio national correspondent, and FOX News politics editor Chris Stirewalt discuss. Republicans are Democrats are in a heated battle over the Senate seat in President Trump-favored West Virginia. Jake Zuckerman, political reporter for the Charleston Gazette-Mail, breaks down the race between incumbent Democrat Sen. Joe Manchin and his challenger, State Attorney General Patrick Morrisey. Plus, commentary by Judge Andrew Napolitano.
Want the FOX News Rundown sent straight to your mobile device? Subscribe through Apple Podcasts, Google Play, and Stitcher.
The Brian Kilmeade Show, 9 a.m. ET: The mystery of the missing Saudi journalist, the midterms and fallout from Hurricane Michael will be the leading topics of debate with Dana Perino and Chris Wallace.
The Tom Shillue Show, 3 p.m. ET: Democratic strategist and FOX News contributor Jessica Tarlov and comedian Kevin Downey Jr. join Tom Shillue's nightly panel to discuss the viral #HimToo meme and the latest news of the day!
#OnThisDay
 
1991: Testifying before the Senate Judiciary Committee, Anita Hill accuses Supreme Court nominee Clarence Thomas of sexually harassing her; Thomas re-appears before the panel to denounce the proceedings as a "high-tech lynching."
1986: President Ronald Reagan and Soviet leader Mikhail S. Gorbachev open two days of talks concerning arms control and human rights in Reykjavik, Iceland.
1968: Apollo 7, the first manned Apollo mission, is launched with astronauts Wally Schirra, Donn Fulton Eisele and R. Walter Cunningham aboard.
FOX News First is compiled by FOX News' Bryan Robinson. Thank you for joining us! Enjoy your day! We'll see you in your inbox first thing Friday morning.
https://www.foxnews.com/us/fox-news-first-trump-believes-kavanaugh-smear-is-backfiring-on-dems-for-midterms-wall-street-on-edge