FOX NEWS FIRST: Quotas for immigration judges; Speculation about a possible Trump-Putin meeting at the White House
By ,
Published April 03, 2018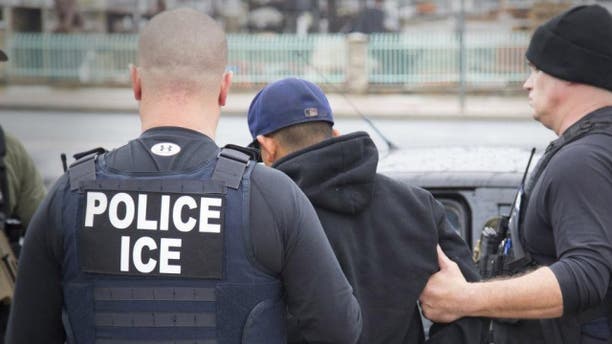 Welcome to Fox News First. Not signed up yet? Click here.
Developing now, Tuesday, April 3, 2018
The Trump administration will set up quotas for federal immigration judges to speed up deportations, Fox News confirms
A 'caravan' of more than 1,000 Central Americans en route to the U.S. draws President Trump's ire and highlights the failures of Mexico and the Obama administration in securing the southern border
The Trump administration raises the prospects of a Trump-Putin meeting at the White House
The Justice Department sues California over its power to override federal land sales
The wife of fired FBI Deputy Director Andrew McCabe breaks her silence to 'set the record' straight about political contributions to her campaign, the Hillary Clinton email investigation and her husband's alleged conflicts of interest  
Villanova defeats Michigan 79-62 to win their second NCAA men's championship in the last three seasons
THE LEAD STORY - IMMIGRATION QUOTAS FOR 'PRODUCTIVITY,' TRUMP LAMENTS 'OBAMA JOKE': Trump administration officials said they will impose quotas on federal immigration judges in an attempt to speed up deportations, Fox News has confirmed ... A Justice Department official cited enormous court backlogs. "These performance metrics... are designed to increase productivity and efficiency in the system without compromising due process." Meantime, President Trump lamented the sluggishness of the deportation process in a series of tweets Monday night. "As ridiculous as it sounds, the laws of our country do not easily allow us to send those crossing our Southern Border back where they came from. A whole big wasted procedure must take place. Mexico & Canada have tough immigration laws, whereas ours are an Obama joke. ACT CONGRESS," Trump tweeted. The Justice Department's Executive Office for Immigration Review says judges must complete 700 cases a year to earn a satisfactory grade. They currently are completing an average of 678 cases per year, according to the Justice official.
U.S.-BOUND 'CARAVAN' DRAWS TRUMP'S IRE, ILLUSTRATES OBAMA-MEXICO FAILURE: Though Mexico claimed just four years ago it had "absolute control of the southern border," the planned stringent security checks appear to have broken down -- or been bypassed -- by the caravan of more than 1,000 Central Americans making their way through the country en route to the United States ... The group, which is expected to reach the Mexico-U.S. border by mid-April, has drawn the attention and ire of President Trump, who on Monday blasted Mexico for not using its "absolute power" to stop the caravan. "Mexico has the absolute power not to let these large 'Caravans' of people enter their country. They must stop them at their Northern Border, which they can do because their border laws work, not allow them to pass through into our country, which has no effective border laws," Trump tweeted.
Many of the border laws Trump was speaking about were passed after a surge of unaccompanied minors from El Salvador, Guatemala and Honduras passed through Mexico on their way to the U.S. in 2014. The influx prompted the Obama administration to enact emergency measures to stem the flow on its side of the border. Meanwhile, Mexico said it would also step up enforcement on its southern border, and planned to stop people from boarding freight trains while opening new border control stations.
PUTIN COMING TO WASHINGTON?: The Trump administration sparked speculation of a meeting between President Trump and Russian leader Vladimir Putin at the White House amid escalating tension between the United States and Russia ... The Trump administration says it is amenable to a White House meeting between President Donald Trump and Russian President Vladimir Putin, raising the prospect of the Russian president's first Washington visit in more than a decade. White House press secretary Sarah Huckabee Sanders said the White House was among "a number of potential venues" discussed in Trump's telephone call last month with Putin. The Kremlin said earlier Monday that Trump invited Putin during the call. Both sides said they had not started preparations for a potential visit. Putin last visited the Oval Office in 2005 during a White House meeting with President George W. Bush.
NEW CHAPTER IN THE CALIFORNIA-TRUMP ADMINISTRATION WAR: The Justice Department has filed a lawsuit against California over a state law giving it the power to override the sale of federal lands ... The suit marks the latest battle between President Trump and the nation's most populous state, where Democrats have tried aggressively to thwart the president's agenda. Last month, Sessions visited Sacramento to announce he was suing California over laws that restrict cooperation with federal immigration authorities. Under the law, which was passed in September, California has the first right to purchase federal lands or to arrange for a specific buyer. Lawmakers had expressed concerns that the Trump administration would allow more logging, oil drilling or development. The Justice Department says California's law, which took effect Jan. 1, is delaying land sales -- even for projects that have been in the works for years -- and is depressing their value.
'TIME TO SET THE RECORD STRAIGHT': Jill McCabe, the wife of former FBI Deputy Director Andrew McCabe, denied that contributions to her 2015 Virginia Senate campaign from a top Hillary Clinton ally's political organization played any role in the FBI investigation into Clinton's personal email server ... McCabe broke her silence Monday in a Washington Post op-ed titled, "The president attacked my reputation. It's time to set the record straight." Jill McCabe wrote that claims the contributions from Virginia Gov. Terry McAuliffe's political action committee had any influence on the Clinton email probe "could not be further from the truth. In fact, it makes no sense." She continued, "Andrew's involvement in the Clinton investigation came not only after the contributions were made to my campaign but also after the race was over."
WILDCAT DOMINANCE: In the end, there was just no stopping Villanova. And there was no stopping Donte DiVincenzo. The redshirt sophomore scored 18 points in the first half to help Villanova pull away from Michigan as the Wildcats defeated the Wolverines 79-62 at the Alamodome in San Antonio Monday night to capture their second NCAA men's basketball championship in three seasons ...  The win not only capped a 36-4 campaign for Villanova, it also capped one of the great three-season runs in college basketball history. Since the start of the 2015-16 season, the Wildcats have won 103 games and lost just 13.
AS SEEN ON FOX NEWS
OBAMA'S INFLUENCE LINGERS: "Catch and release is alive and well ... Obama holdovers within the agency are implementing those same policies that were in effect under the Obama administration."– Hector Garza, on "The Ingraham Angle," saying officials from the Obama administration are continuing to implement old policies while the Trump's proposed border wall and DACA remain in limbo. WATCH
A GAME PLAN FOR CHINA: "Here's the reality. We either deal with this [China and its tariff on the U.S.] now or our kids are going to be dealing with it 10 years from now. They're not going to have the same leverage." – Trish Regan, on "Outnumbered," suggesting that the United States renegotiate with China now after being slapped with more than $3 billion of surcharges on hundreds of U.S. imports in retaliation for tariffs Trump imposed on imported steel and aluminum products. WATCH
THE SWAMP
Saudi Arabia's crown prince slams Obama's Iran nuke deal, backs Israel's right to exist.
Trump seeks arbitration in Stormy Daniels case.
Democratic Rep. Esty says she won't seek re-election after abuse claims against ex-staffer.
EPA's Pruitt plans to ease Obama-era automobile emissions standards.
THE CULTURE WARS
After Confederate statue controversy, cities move to tear down monuments seen as offensive to Native Americans.
Air Force veteran sues after being pulled from ceremony mid-speech.
Todd Starnes: Air Force reverses decision to punish colonel for his religious beliefs.
MAINSTREAM MEDIA MADNESS
Matt Lauer puts apartment where he was fired up for sale.
CNN'S Jim Acosta slammed for 'harsh,' 'inflammatory' questions to Trump in front of children.
CNN mocked for glorifying JFKs 'legendary' infidelity after harping on sex allegations against Trump.
ACROSS THE NATION
Man shot in head on Facebook Live as friends played with guns, cops say.
Trump supporter attacked by two women at D.C. restaurant, police say.
Police legally seizing guns under 'red flag' laws.
MINDING YOUR BUSINESS
Wall Street gets black eye as traders stampede out of tech | Amazon sees biggest point drop ever after Trump criticism.
GM will stop reporting monthly U.S. vehicle sales.
Walmart unveils global money transfer service.
Panera Bread data breach exposes customer records.
FOX NEWS OPINION
Cal Thomas: We're heading for a breaking point in Washington.
Sorry, Planned Parenthood, your radical pro-abortion culture war is failing.
Fools for Christ? Easter, April Fool's, and God's plan as 'divine comedy.'
HOLLYWOOD SQUARED
Perez Hilton: Many boys who take dance class 'end up being gay.'
Kathy Griffin wants audiences to laugh off her infamous Trump photo.
Katy Perry shows off her Jesus tattoo on Easter as battle with nun rages on.
DID YOU HEAR ABOUT THIS?
FBI cracks its oldest case of mysterious Egyptian mummy's head.
Four-eyed lizard roamed the Earth 49 million years ago, researchers say.
'Killer clown' wedding photo shocks newlywed on her anniversary.
STAY TUNED
On Fox News: 
Fox & Friends, 6 a.m. ET: Judge Andrew Napolitano on the Justice Department's new lawsuit against the state of California; the founder of the free-range parenting movement on why parents are more paranoid than ever; Sen. Rand Paul on President Trump's recent calls for immigration reform and "no more" to DACA; DHS Secretary Kirstjen Nielsen on caravan of migrants apparently en route to the U.S. border.
Tucker Carlson Tonight, 8 p.m. ET: Part 2 of Tucker's week-long series on "Tech Tyranny" - how Big Tech is impacting our daily lives, our culture, our country and our politics.
On Fox Business:
Mornings with Maria, 6 a.m. ET: Guests include: Record producer Harvey Mason, Jr.; Bruce Clark, Moody's auto analyst; John Tuttle, NYSE Global Head of Listings.
Cavuto: Coast to Coast, Noon ET: David Stockman, former budget director under President Reagan.
On Fox News Radio:
The Fox News Rundown podcast: President Donald Trump raised some eyebrows after news spread that he invited Russian President Vladimir Putin to the White House. Former White House press secretary and Fox News contributor Ari Fleischer discusses previous presidential meetings with Putin and what this one could look like. There has been another big retail breach, this time more than five million credit and debit card numbers have been compromised at Saks Fifth Avenue and Lord & Taylor. Cyber security expert Morgan Wright discusses why these breaches continue to happen and how consumers can protect themselves. Plus, commentary from Brian Kilmeade.
Want the Fox News Rundown sent straight to your mobile device? Subscribe through Apple Podcasts, Google Play, and Stitcher.
The Brian Kilmeade Show, 9 a.m. ET: Allen West on the possibility of a Trump-Putin meeting at the White House; White House Deputy Press Secretary Hogan Gidley on Trump's recent comments on the need for immigration reform; Rep. Scott Taylor on immigration reform and the new direction for the VA.
#OnThisDay
1996: "Unabomber" Theodore Kaczynski is arrested at his remote Montana cabin.
1968: Martin Luther King Jr. delivers what turned out to be his final speech, telling a rally of striking sanitation workers in Memphis that "I've been to the mountaintop" and "seen the Promised Land. I may not get there with you. But I want you to know tonight that we, as a people, will get to the Promised Land!" (Dr. King would be assassinated less than 24 hours later.)
1882: Jesse James is shot to death in St. Joseph, Mo., by Robert Ford, a member of James' gang.
Fox News First is compiled by Fox News' Bryan Robinson. Thank you for joining us! Enjoy your day! We'll see you in your inbox first thing Wednesday morning.
https://www.foxnews.com/us/fox-news-first-quotas-for-immigration-judges-speculation-about-a-possible-trump-putin-meeting-at-the-white-house