FOX NEWS FIRST: New era in Supreme Court as Kavanaugh begins tenure; Clinton speaking tour announced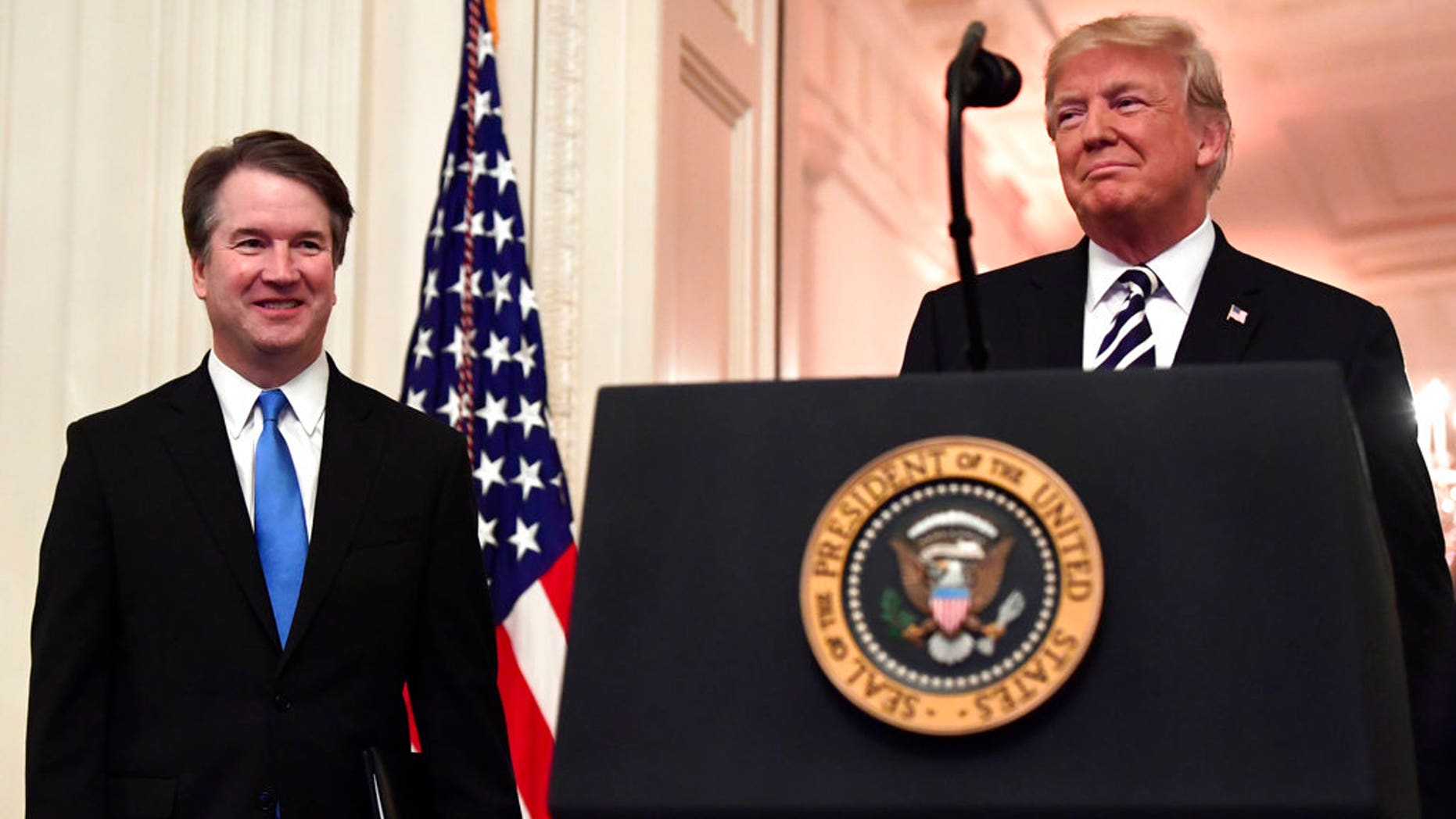 Welcome to FOX News First. Not signed up yet? Click here.
 
Developing now, Tuesday, Oct. 9, 2018.
THE LEAD STORY - SUPREME JUSTICE JUSTICE KAVANAUGH TAKES THE BENCH, AMID CLOUD OF CONTROVERSY: New Supreme Court Justice Brett Kavanaugh has vowed to be a non-partisan "team player on a team of nine" as he takes his seat on the high court on Tuesday, but Democrats will not likely let himsettle into his new job peacefully ... Kavanaugh has become election rallying cry among Democrats in the final weeks before the November midterms. Democrats have vowed to continue to investigate Kavanaugh and even threatened to impeach him. Meanwhile, President Trump and Republicans say the FBI's investigation of uncorroborated sexual misconduct allegations and subsequent Supreme Court confirmation have cleared Kavanaugh of any alleged wrongdoing and that he should be allowed to carry out his duties on the bench.
Speaking at a swearing-in ceremony in the East Room of the White House Monday evening, Trump apologized to Kavanaugh and his family "on behalf of our nation" for what he called a desperate Democrat-led campaign of "lies and deception" intent on derailing his confirmation. Now, it remains to be seen how long Associate Supreme Court Justice Kavanaugh will be haunted by the war over his confirmation.
THE CLINTON WORLD TOUR: Bill and Hillary Clinton have announced they will embark on an international 13-city speaking tour shortly after November's midterm elections, with tickets running as high as $745 and speculation swirling that the former secretary of state could announce yet another presidential bid ... The tour, which kicks off in Las Vegas, is set to run from November 2018 to May 2019. It will include several stops in the U.S. and Canada, and will cover the high-profile couple's thoughts on "one of the United States' most controversial and unpredictable presidential elections," according to the event's organizer, Live Nation, which also handles speaking arrangements for former First Lady Michelle Obama and musicians like Taylor Swift and Jay-Z. That focus is poised to rankle liberal commentators who have pushed for Clinton to stop focusing on her unexpected loss in the 2016 race, to allow for new candidates and issues to emerge.
ALL EYES ON MICHAEL: A state of emergency was issued in Alabama on Monday as "dangerous" Hurricane Michael continues to barrel toward the U.S., with the potential to hit the Florida Panhandle mid-week ... The storm — which was upgraded to hurricane status earlier Monday — was "bringing hurricane-force winds and heavy rainfall to western Cuba" as storm surge and hurricane warnings have been issued for the northeastern area of the Gulf Coast. The Gulf Coast is forecast to see tropical storm conditions Tuesday night or early Wednesday, ahead of the hurricane activity expected for Wednesday. Alabama Gov. Kay Ivey on Monday declared a state of emergency for the entire state as the storm pushes its way toward the southern U.S.
Meanwhile, Florida residents are bracing for Michael's impact. Residents were filling sandbags and boarding up their homes as Hurricane Michael gained strength over warm waters and barrels toward Florida's northeast Gulf Coast. The hurricane was located about 425 miles south of Apalachicola and 455 miles south of Panama City, Florida, according to the National Hurricane Center's 2 a.m. ET advisory on Tuesday.
OPIOID CRISIS ON THE CAMPAIGN TRAIL: From the bustling streets of Philadelphia to the rural farmlands of Mercer County, nearly every community in Pennsylvania has been rocked by the opioid crisis – and the problem keeps worsening ... In 2016, more than 4,600 Pennsylvanians died as a result of drug abuse. It has affected the lives of thousands more. For Jose Benitez, the executive director of a needle exchange clinic in Philadelphia, dditional funding and attention to the opioid crisis is a tipping point in the Pennsylvania midterm election. He hopes to see lawmakers who are educated on addiction and can provide innovative solutions.
The opioid problem is emerging as a major issue during the midterm elections, particularly in areas hard hit by the growing crisis. A recent analysis by the Wall Street Journal shows that ads mentioning the opioid crisis have aired more than 50,000 times in congressional and gubernatorial races across 25 states. Just four years ago, at around this time, it had only been mentioned 70 times, the Journal reported.
GIANT GOOGLE+ FAILURE: Google shuttered its consumer Google+ site, after the company discovered a software glitch that gave outsiders potential access to private profile data ... According to Google, a software glitch in the social site could allow outside developers to potentially access private profile data from up to 500,000 accounts from 2015 through March 2018. The company cannot confirm which users's data were impacted. Additionally, the company didn't disclose to its customers the data breach for fear of damaging its reputation as well as facing a potential for a regulatory inquiry, according to The Wall Street Journal.
MAKE 'YE' GREAT AGAIN: Kanye West – one of President Trump's most famous supporters – is expected to meet with the president at the White House on Thursday, The New York Times reported ... The Times cited two unnamed sources who said West will meet with Trump son-in-law and senior adviser Jared Kushner and have lunch with Trump. West is reportedly expected to talk about the criminal justice system and job opportunities for former convicts. The 41-year-old rapper, who announced on Twitter last week he's changing his name to Ye, delivered an impromptu speech supporting President Trump at the end of his "Saturday Night Live" performance last week.
AS SEEN ON FOX NEWS
DEM LESSONS FROM KAVANAUGH BATTLE -  "The lessons of their defeat are pretty clear. 'Creepy Porn LawyerS' make bad national spokesmen, screaming mobs of child activists scare normal people who are watching at home, it is in fact possible to go too far and [Democrats] did."  – Tucker Carlson on "Tucker Carlson Tonight," offering his takeaways on Democrats' failure to derail Brett Kavanaugh's Supreme Court nomination. WATCH
TRENDING
North Korean leader Kim Jong Un wants Pope Francis to visit: report.
Controversial 'sex island' making a comeback.
Some of Hitler's last relatives are living secret lives on Long Island.
Mysterious 'ghost' radio emissions have been found - and no one knows what's causing them.
THE SWAMP
Watchdog presses FEC for audit on Maxine Waters fundraising practices.
Trump, Rosenstein meet on Air Force One in wake of 'wire' report.
Anthony Weiner set for early prison release.
ACROSS THE NATION
FBI informant listed as owner of limousine in deadly New York crash.
ICYMI: Barbara Bush marries beau in private ceremony.
Army to control overseas combat drones from U.S.
Bride poses for wedding photos alone after alleged drunken driver killed firefighter husband.
MINDING YOUR BUSINESS
Trump expected to hike ethanol limit in gasoline.
Oil prices to rise on two factors, says former Shell Oil president.
ICYMI: Hope Hicks joins 'New Fox' as chief communications officer.
Stocks pare losses in volatile session.
USPS vs. Trump: Employees protest privatization.
Ford to cut salaried workforce in restructuring plan.
Netflix to open New Mexico facility, pledges $1B economic boost.
FOX NEWS OPINION
Cal Thomas: Kavanaugh debate was Senator Susan Collins' finest hour.
Dave Bossie: Chaos is the Democrats' only strategy for 2018 and beyond.
Hans von Spakovsky: What will Kavanaugh mean for the Supreme Court?
HOLLYWOOD SQUARED
Kathy Griffin defends Stephen Colbert writer who tweeted out against Kavanaugh.
Roseanne is 'missed' on 'The Conners,' John Goodman says.
Busy Philipps claims James Franco assaulted her while filming 'Freaks and Geeks.'
DID YOU HEAR ABOUT THIS?
Terrifying climate change warning: 12 years until we're doomed.
Girlfriend's 'controlling' list of 22 rules for boyfriend goes viral.
Five eerie 'UFO sightings' that sparked rumors of alien life.

STAY TUNED
FOX Nation is coming! - Sign up now and find out about its exciting launch!
On Facebook:
Check out 'FOX News Update,' our new Facebook-exclusive news program!
On FOX News: 
 
FOX & Friends, 6 a.m. ET: Special guests include: Tomi Lahren; Sean Spicer, former White House press secretary under President Trump; Sebastian Gorka, former deputy assistant to President Trump; Tom Homan, former acting director of ICE; and Jedediah Bila discusses her new book "#DoNotDisturb."
Special Report with Bret Baier, 6 p.m. ET: A look at President Trump's expected decision to rise the ethanol limit in gasoline.
Tucker Carlson Tonight, 8 p.m. ET: A look at the ploitical fallout from Brett Kavanaugh's Supreme Court confirmation ... is a red wave coming in November?
On FOX Business:
Mornings with Maria, 6 a.m. ET: Special guests include: Stephen Harper, former prime minister of Canada; U.S. Rep. Lee Zeldin, R-N.Y.; Kathryn Rooney Vera, Bulltick Capital Markets head of Global Research; Doug Wead, presidential historian.
Varney & Co., 9 a.m. ET: Van Hipp, chairman of American Defense International, Inc.; Bill Simon, former president and CEO of Walmart; Ted Malloch, chairman and CEO of Global Fiduciary Governance LLC; Jim Brulte, chairman of the California Republican Party.
Cavuto: Coast to Coast, Noon ET: John Hannah, former national security adviser to Vice President Dick Cheney.
The Intelligence Report, 2 p.m. ET: Steve Forbes, Forbes Media chairman; Sean O'Hara, president of Pacer ETFs; David Nelson, chief strategist for Belpointe; Eric Beach, Great America Alliance co-chairman; Scott Bolden, former D.C. Democratic Party chairman.
Countdown to the Closing Bell, 3 p.m. ET: Nebraska Gov. Pete Ricketts; Emily Skor, Growth Energy CEO.
On FOX News Radio:
The FOX News Rundown podcast: On Saturday, 20 people died in a limousine crash near upstate New York in the country's deadliest transportation-related accident since 2009. FOX News' Bryan Llenas and Jim Luff, consultant for Limousine Charter & Tour magazine, discuss industry and safety standards. While more young voters say they're enthusiastic about voting in November's midterm elections, history shows they don't turn out as much as older voters and are even less likely to turn up at the polls during midterms. Audrea Taylor Decker, founder and president of Im2moro, a conservative non-profit organization, discusses why this demographic has a usually low turnout. Plus, commentary by "Media Buzz" host Howard Kurtz.
Want the FOX News Rundown sent straight to your mobile device? Subscribe through Apple Podcasts, Google Play, and Stitcher.
The Brian Kilmeade Show, 9 a.m. ET: Fallout from Brett Kavanaugh's Supreme Court confirmation battle and the midterms will be the hot topics of debate with the following special guests: Allen West; New York Post columnist Michael Goodwin; Chris Stirewalt; Axios political reporter Jonathan Swan; Ed Edwards.
The Tom Shillue Show, 3 p.m. ET: Sebastian Gorka, FOX News contributor and former deputy assistant to President Trump, joins Tom Shillue to discuss his new book, "Why We Fight: Defeating America's Enemies - With No Apologies" and the latest news of the day!
#OnThisDay
 
1985: The hijackers of the Achille Lauro cruise liner surrender two days after seizing the vessel in the Mediterranean. (The hijackers killed passenger Leon Klinghoffer during the standoff.)
1930: Laura Ingalls becomes the first woman to fly across the United States as she completes a nine-stop journey from Roosevelt Field, N.Y., to Glendale, Calif.
1888: The public is first admitted to the Washington Monument.
FOX News First is compiled by FOX News' Bryan Robinson. Thank you for joining us! Enjoy your day! We'll see you in your inbox first thing Wednesday morning.