FOX NEWS FIRST: Governors races the big focus in Tuesday's primaries; Trump responds to Omarosa's N-word charges
By ,
Published August 14, 2018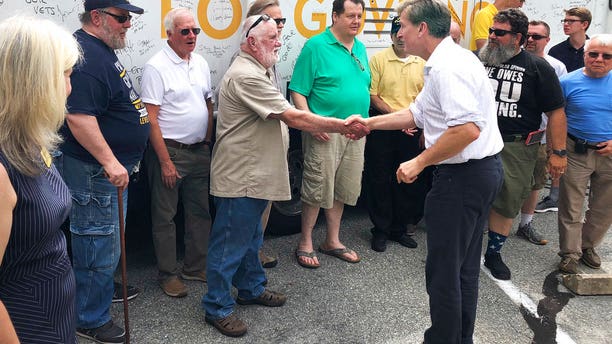 Welcome to FOX News First. Not signed up yet? Click here.
Developing now, Tuesday, August 14, 2018
Several gubernatorial primary races across the country will be closely watched Tuesday as Republicans hope to weaken Democratic control in New England and progressive voters look to nominate the nation's first-ever transgender candidate for governor
President Trump's attorney, Rudy Giuliani, tells FOX News' Sean Hannity that former CIA director John Brennan should face a grand jury for his role in spreading Trump-Steele dossier that allegedly helped launch the Russia investigation
President Trump is denying Omarosa's claims that he used the N-word on the set of "The Apprentice" as the war of words between the White House and the former reality star continues
A car has slammed into barriers and pedestrians outside the Houses of Parliament in Britain, sparking terror fears
FBI official Peter Strzok has been fired over anti-Trump texts, and a GoFundMe page set up since his firing has raised more than $200,000
Disturbing details of the 'extremist Muslim' compound that allegedly trained children to kill teachers emerged Monday as a judge cleared the way for five defendants to be released on bond
Prosecutors in the fraud trial of ex-Trump campaign manager Paul Manafort rested their case on Monday; the defense could call its first witnesses Tuesday
THE LEAD STORY - Hotly contested gubernatorial primary races across the country could make history on Tuesday, as Republicans hope to continue to erode Democratic control of New England governorships and progressives look to nominate the nation's first-ever transgender candidate to a state's highest office ... In deep-blue Connecticut, which went for Hillary Clinton by double-digits in the 2016 presidential campaign, Bridgeport Mayor Joseph Ganim and wealthy businessman Ned Lamont are competing for the Democratic nomination to succeed deeply unpopular Gov. Dan Malloy.
The GOP currently holds the governorships of four out of six states in the region, including Vermont, Maine, Massachusetts, and New Hampshire. New England, long a liberal stronghold, has been home to something of a Republican insurgence in recent years, with GOP candidates attributing their success to a healthy mixture of fiscal conservatism, socially moderate views and a willingness to collaborate with political rivals.
Meanwhile, in Vermont, Republican Gov. Phil Scott is running for re-election – and is favored to win it. No sitting governor has been defeated in Vermont since 1962, but Democrats have two candidates running who could make history, and some Republicans remain upset about Scott's decision to sign gun-control legislation into law earlier this year. Christine Hallquist is vying to be the first openly transgender woman to serve as a U.S. governor. Another Democratic gubernatorial candidate in Vermont is hoping to make history as well: Ethan Sonneborn, a 14-year-old boy who took advantage of the state constitution's lack of an age requirement to hold office.
JOHN BRENNAN THE 'QUARTERBACK': Rudy Giuliani, a personal attorney for President Trump, on Monday slammed former CIA Director John Brennan and said he should face a grand jury for his role in peddling the salacious Trump dossier that kicked off the "phony" Russia investigation ... Giuliani, who spoke exclusively with FOX News' Sean Hannity, called Brennan the "quarterback" who took the unverified dossier from ex-British spy Christopher Steele and passed it along to then-Senate Minority Leader Harry Reid, D-Nev. "Unless he's the biggest idiot intelligence agent that ever existed—although he never really did much intelligence work—it's false. You could look at it [the dossier] and laugh at it," Giuliani said.
The former New York City mayor also said special prosecutor Robert Mueller is a "puppet." The precise origins of the Russia probe remain unclear. Officials have previously pointed to comments Trump adviser George Papadopoulos allegedly made about Russian dirt on Hillary Clinton as touching off the investigation in July 2016.
TRUMP SLAMS 'WACKY AND DERANGED' OMAROSA: President Trump has denied former White House aide and reality star Omarosa Manigault-Newman's claims that he used the N-word during her time on "The Apprentice," calling her "wacky" and "deranged" with "zero credibility" with the media ... "[Producer] Mark called to say that there are NO TAPES of the Apprentice where I used such a terrible and disgusting word as attributed by Wacky and Deranged Omarosa. I don't have that word in my vocabulary, and never have. She made it up," Trump tweeted Monday night. "Look at her MANY recent quotes saying such wonderful and powerful things about me - a true Champion of Civil Rights - until she got fired."
TERROR FEAR IN BRITAIN: British authorities on Tuesday swarmed the scene outside the Houses of Parliament after a car slammed into pedestrians and protective barriers in what is being eyed as a possible terror attack ... The male driver has been detained and the country's counter-terrorism command is leading investigation. It is unclear how many people were injured. None of those hit are in serious condition, authorities said. There are "dozens" of armed police at the scene, Sky News reported. The car slammed into barriers that had been extended following the Westminster Bridge attack.
STRZOK DOWN: Former FBI agent Peter Strzok took his anti-Trump rhetoric public on Monday, setting up a defiant Twitter account as a GoFundMe page set up to cover his "legal costs and lost income" raised more than $200,000 hours after his firing ... Strzok, who played a lead role in both the Russian meddling and Hillary Clinton email probes but became a political lightning rod after the revelation of text messages critical of Trump, wasted no time blasting the administration and House Republicans in his new social media account. "Deeply saddened by this decision," Strzok wrote in the tweet shortly after his firing was announced Monday. "It has been an honor to serve my country and work with the fine men and women of the FBI." He attached an image of a statement from his attorneys that criticized his firing, saying "the FBI and the American people deserve better."
'TROUBLING FACTS' ... BUT NO THREAT: The children discovered at an "extremist Muslim" compound in New Mexico earlier this month were both trained to use firearms and taught multiple tactical techniques in order to kill teachers, law enforcement and other institutions they found corrupt, state prosecutors revealed on Monday ... The prosecutors provided more details about the accusations during a court hearing in which they asked that Siraj Ibn Wahhaj and four other defendants be held pending trial on child abuse charges. But Judge Sarah Backus ruled against prosecutors' request, saying that  although she was concerned by "troubling facts," prosecutors failed to articulate any specific threats to the community. She set a $20,000 bond for each defendant and ordered that they wear ankle monitors and have weekly contact with their attorneys.
It was also announced Monday that 3-year-old Abdul-ghani Wahhaj, who had been missing since December, allegedly died amid a ritualistic religious ceremony intended to "cast out demonic spirits," Reuters reported.
'THE GOVERNMENT RESTS': Prosecutors on Monday rested their case against Paul Manafort, the former Trump campaign chairman accused of bank and tax fraud in a case brought by Special Counsel Robert Mueller's team ... After a day of testimony from a bank executive, prosecutors announced in court: "The government rests." Manafort, 69, is facing tax evasion and bank fraud charges after being accused of hiding a "significant percentage" of income earned from his Ukrainian work from the IRS. He's also been accused of fraudulently obtaining millions more in bank loans, including while he was working on the Trump campaign.
It's unclear whether the defense will put forward witnesses or evidence or if the trial will head toward closing arguments. Last week, Judge T.S. Ellis III said he was limiting closing arguments to two hours for each side. Ellis is also expected to rule on several of motions Tuesday morning.
AS SEEN ON FOX NEWS
AMERICA'S REAL CRISIS: "White supremacy is not ubiquitous in America. It's not a crisis. It's not even a meaningful category. It's incredibly rare. You could easily live your entire life here without meeting a single person who believes anything like that ... What is a crisis in this country, a growing one, is left-wing extremism and violence. Our elites abet and encourage it. Our media pretend it doesn't exist." – Tucker Carlson, on "Tucker Carlson Tonight," ripping media coverage of the weekend protests marking the one year since the Charlottesville tragedy. WATCH
MUELLER PROBE BODY-STRZOK: "It's long overdue and it's a body blow to the Mueller investigation." – Judicial Watch President Tom Fitton, on "Outnumbered Overtime," sounding off on the firing of FBI agent Peter Strzok over anti-Trump texts. WATCH
THE SEARCH FOR MOLLIE TIBBETTS
Mollie Tibbetts investigators ask for help in identifying people who showed 'behavioral changes.'
Mollie Tibbetts, University of Iowa student, missing: Bill Hemmer dives deeper into the mystery disappearance.
TRENDING
'100,000 Pyramid' contestant's 'bin Laden' answer goes viral.
Hippo spanking at Los Angeles Zoo prompts police investigation, report says.
Ohio mother's 'grateful' note to 19-year-old who bought her Starbucks coffee goes viral.
THE SWAMP
Gov. Andrew Cuomo finally agrees to debate Cynthia Nixon.
West Virginia lawmakers impeach three state Supreme Court justices, citing 'over-the-top' spending.
Gore says Trump had 'less of an environmental impact so far' than previously feared.
ACROSS THE NATION
Father of Penn State student killed in hazing event wants more 'justice' after frat brother sentenced.
Firefighter dies battling Northern California's Mendocino Complex blaze.
Shooter in deadly Florida 'Stand Your Ground' case arrested for manslaughter.
Lunch lady sisters accused of stealing nearly $500G from Connecticut school system.
MINDING YOUR BUSINESS
U.S. putting 'final details' into Mexico trade deal, Trump economic adviser says.
Trump: Troops to see 'biggest pay increase' in a decade.
Best case, worst case for markets: Here's how it could play out.
These are the best and worst states for middle-class Americans.
Musk says Silver Lake, Goldman advising on taking Tesla private.
Icahn changes mind about Cigna-Express Scripts deal.
Netflix CFO David Wells to step down.
FOX NEWS OPINION
Karol Markowicz: The Trump-hating media's blatant hypocrisy -- even about media-bashing.
William Courtney: Here's how Russia will try to interfere in the 2018 elections.
Robert Charles: Here's how Trump can end the whole Mueller investigation farce.
HOLLYWOOD SQUARED
Sam Smith slammed for saying he doesn't like Michael Jackson.
John Lennon's last car was a Mercedes-Benz 300 TD Wagon, and you can buy it.
Anthony Bourdain's former New York City apartment has been listed at $14G per month.
DID YOU HEAR ABOUT THIS?
Stunning sphinx discovery: Workers make incredible find while fixing road.
Possible new species discovered in Siberia, researchers say.
Woman's death linked to bacteria from dog saliva, doctors believe.
STAY TUNED
On Facebook:
Check out 'FOX News Update,' our new Facebook-exclusive news program!
On FOX News: 
FOX & Friends, 6 a.m. ET: Special guests include: Businessman Foster Friess explains why he's running for governor in Wyoming. Peter Berg on directing Mark Wahlberg in the new movie "Mile 22." Why aren't the media more concerned about a possible jihadi compound in New Mexico being used to train kids to be school shooters? Former Trump campaign manager Corey Lewandowski reveals how Sacha Baron Cohen tried to dupe him for his new show, but he didn't take the bait.
FOX News @ Night, 11 p.m. ET: Special guest: Roger Stone
On FOX Business:
Mornings with Maria, 6 a.m. ET: Laura Wells, freelance journalist based in Turkey; Rep. Darrell Issa.
Varney & Co., 9 a.m. ET: Steve Hilton, host of "The Next Revolution With Steve Hilton"; John Kazanjian, VP of Services, Palm Beach County PBA; Rep. Mike Rogers; Betsy McCaughey, former lieutenant governor of New York and author of "Beating ObamaCare"; Jerry Bailey, former Exxon Arabian Gulf president.
Cavuto: Coast to Coast, Noon ET: Ed Lazear, former chairman of President Bush's Council of Economic Advisers; William McGurn, Wall Street Journal Editorial Board member.
On FOX News Radio:
The FOX News Rundown podcast: Peter Strzok was fired from the FBI on Monday.  FOX News Digital reporter, Brooke Singman and former FBI investigator Bill Daly weigh in. President Trump is said to want to sit down with Special Counsel Robert Mueller and his team to answer questions about the Russia probe. One of his personal attorneys, Jay Sekulow, joins the podcast to explain why he believes the investigation needs to end soon. Plus, commentary by Dana Perino.
Want the FOX News Rundown sent straight to your mobile device? Subscribe through Apple Podcasts, Google Play, and Stitcher.
The Brian Kilmeade Show, 9 a.m. ET: Former U.S. Attorney General Michael Mukasey on Robert Mueller's Russia probe and Paul Manafort's trial; Steve Hilton on Brexit regret in England; Andrew McCarthy on a potential Trump sitdown with Mueller and why a "perjury trap" could be set; former Mississippi governor Haley Barbour on the midterms and the escalation of leftist attacks on conservatives in public; Ron Hosko on the firing of Peter Strzok and the ramifications of declassifying documents related to the Russia investigation.
#OnThisDay
2003: A huge blackout hits the northeastern United States and part of Canada; 50 million people lose power.
1945: President Harry S. Truman announces that Imperial Japan has surrendered unconditionally, ending World War II.
1935: President Franklin D. Roosevelt signs the Social Security Act into law.
FOX News First is compiled by FOX News' Bryan Robinson. Thank you for joining us! Enjoy your day! We'll see you in your inbox first thing Wednesday morning.
https://www.foxnews.com/us/fox-news-first-governors-races-the-big-focus-in-tuesdays-primaries-trump-responds-to-omarosas-n-word-charges