Fort Lauderdale restores much of its water service, urges people to boil water
By Louis Casiano
Published July 18, 2019
A contractor repairing electrical lines at Fort Lauderdale Executive Airport accidentally damaged a 42-inch water main, forcing the city to shut off its water supply in order to repair the line and leaving thousands of residents and businesses dry for several hours Thursday.
Water service was restored to much of the city and its surrounding municipalities after crews patched up the break for a short-term fix, Mayor Dean Trantalis said at a news conference. Workers were building a concrete barrier to seal the break, which was expected to be completed by 10 p.m., he said.
Water pressure was lighter than normal but should be running normally by Friday evening, officials said.
The pipe was damaged Wednesday by a Florida Power & Light subcontractor, officials said. Crews responded and it collapsed, forcing the city to turn off its water supply.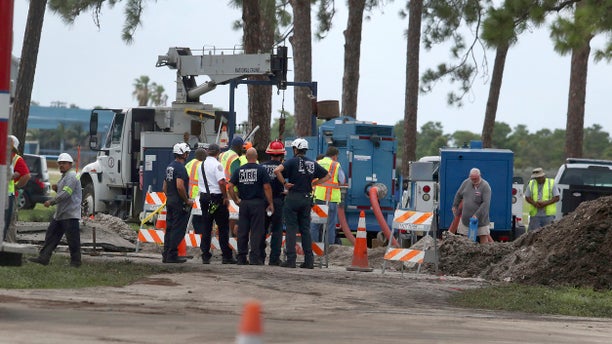 The water main delivered water from the city's wellfields to the Fiveash Regional Water Treatment Plant.
The contractor, Florida Communications Concepts, was cited for an unknown offense and an investigation into the incident was ongoing, Trantalis said. He added that the contractor was not doing work for the city or the airport.
"It was clearly something that they should not have done and it is clearly something that we're going to seek retribution for," he said. "I don't want our calm demeanor at this conference here right now to in any way suggest that we are going to hold back in our attempt to try to seek compensation."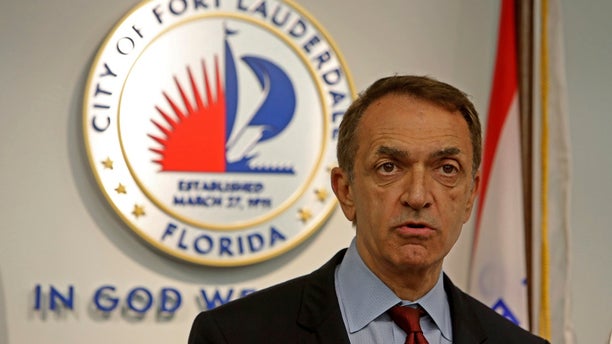 Most of the restaurants in the city's water service area have shut down and hotels were forced to evacuate, the mayor said. A boil water notice is in effect for the next 48 hours.
Bottled water distribution points throughout the city were expected to operate through Saturday night.
Some stores saw their water stock empty as shoppers purchased bottled water in anticipation of going days without water service. More than 100,000 residents in Fort Lauderdale and its surrounding areas initially were expected to be without running water into Friday.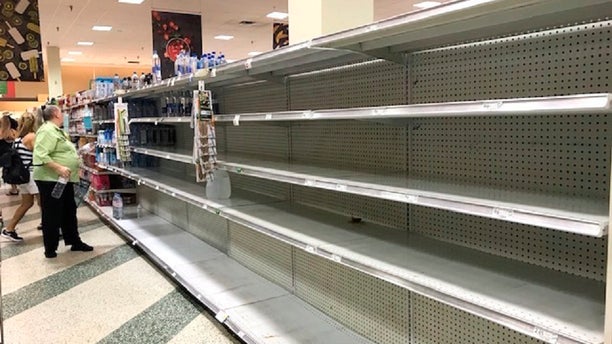 The popular Florida tourist destination -- which has a population of more than 180,000 -- announced this morning that "residents and businesses... and neighboring cities that receive their water from Fort Lauderdale should be prepared to be without water service for up to 24 hours."
Service was shut off beginning 7 a.m. Thursday. Temperatures there are forecast to be in the high 80s with over 65 percent humidity Thursday and Friday.
REASON FOR MASSIVE NYC BLACKOUT REMAINS A MYSTERY
The South Florida Sun-Sentinel was reporting that some hotels were evacuating for precautionary reasons as sprinklers cannot operate without water pressure.
Gov. Ron DeSantis said the state's Division of Emergency Management was delivering bottled water to the area and that officials will "monitor this situation closely."
The outage also affected several cities that get their water from Fort Lauderdale, including Port Everglades, Oakland Park, Davie, Lauderdale-by-the-sea, Sea Ranch Lakes, Tarmac and Wilton Manors, the city posted on Twitter.
"I think right now we just need to get the hole plugged," Trantalis said earlier.
CLICK HERE TO GET THE FOX NEWS APP
Florida Power & Light said it was working with the city to investigate the incident.
"We are aware of the situation in Fort Lauderdale where a third-party contractor struck a water main near the Fort Lauderdale Executive Airport while working on a Florida Power & Light Company construction project. We are investigating the incident and working with the city to respond," the company said in a statement to Fox News.
Fox News' Tyler Olson contributed to this report. 
https://www.foxnews.com/us/fort-lauderdale-water-main-break